CommLab India is Awarded With The Bronze Award by eLearning Industry as a Top eLearning Content Development Company, Globally
Hyderabad, India – Oct 12, 2020
CommLab India, the global leader in rapid eLearning solutions and authoring tools expert has been conferred the bronze award for 2020, by eLearning industry, for the company's initiatives in eLearning content development. This recognition consolidates CommLab India's position among the top-rated eLearning content development companies, globally.
CommLab India prides itself on offering real value to its customers, continuously striving to improve learning experiences. This has secured the company's present position among the top eLearning content development companies for 2020.
The secret of CommLab India's success is that it puts great value on customer satisfaction, considering it their top priority. Be it rapid eLearning solutions, customized end-to-end eLearning solutions, LMS implementation and support, or short microlearning modules, the company works closely with its customers to identify training needs and performance gaps, to design effective training solutions designed to meet business goals.
Every year, eLearning Industry evaluates hundreds of companies on excellence in eLearning development. The judging panel's evaluation was based on the following criteria: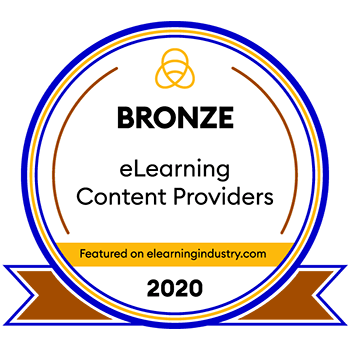 Growth potential
Social responsibility
Customer retention
Customer reviews
Employee turnover
Innovation in learning
Quality of content development
Expertise in training solutions
CommLab India has proved itself as the go-to vendor for quick and rapid learning solutions across various industries and verticals. The company's expertise in authoring tools, instructional design, and agile project management has made it a past master in eLearning content development, earning a spot among the top companies for eLearning development.
CommLab India's COO and Co-Founder, Dr. Ayesha Habeeb, had this to share about the company's achievement "We are thrilled to have been ranked as a consistent high-performer in eLearning development, earning us a special place among the top contenders. This award is a testimony to our contribution toward making learning experiences more effective and engaging for our customers."
About CommLab India:
CommLab India, with more than two decades' experience in the learning industry serving 100 International customers in 30+ countries, is one of the most sought-after global leaders for rapid eLearning solutions. It has been ranked first among top providers of Rapid eLearning and Blended Learning Solutions for 2020 by eLearning Industry.
With its formidable authoring tool expertise and decades of experience in corporate training and instructional design, CommLab India offers rapid eLearning solutions for speed, scale, and value… with any authoring tool for:
Converting of ILT material into instructionally sound, visually appealing, engaging eLearning curriculums, virtual sessions, and other digital learning formats
Converting legacy courses (from Flash or any other authoring tool) to HTML5, even when source files are not available
Translating English eLearning courses into 35 international languages – both text and audio