CommLab India's Thanksgiving Event
Hyderabad, India—December 17, 2020, CommLab India, the global leader in providing rapid eLearning solutions (for improved employee performance and increased ROI), celebrated the end of 2020 with its annual Thanksgiving event by feeding the needy. That they could do this together during the pandemic despite the physical distancing added a special sense of fellowship to this year's event—making it a truly memorable experience.
The CommLab India family battled all odds to prepare a sumptuous meal to feed 7,510 less privileged people in and around the City of Pearls, Hyderabad, in a two-day event. It was a pack of 2 Hyderabadi must-have dishes—Chicken Biryani and Double Ka Meetha (a dessert made of fried bread soaked in milk flavored with spices).
The first day saw the team do all the prep work for the Biryani—chopping and frying onions, extracting fresh lemon juice, and marinating the chicken with a special blend of curd and spices. All this while, the in-house chefs were busy preparing the dessert. The second day started much before sun-up with the chefs lighting firewood stoves to get the Biryani going. The rest of the team was busy packing 7000 individual packs of Biryani from the huge cauldrons, with small breaks in between to sip hot coffee—a warm and happy team bonding exercise in the chill of a December morning.
As the day progressed, teams of two set out to distribute the food packets on the streets, to old-age homes, hospitals, and orphanages—a special, hot, and freshly cooked meal enjoyed by all!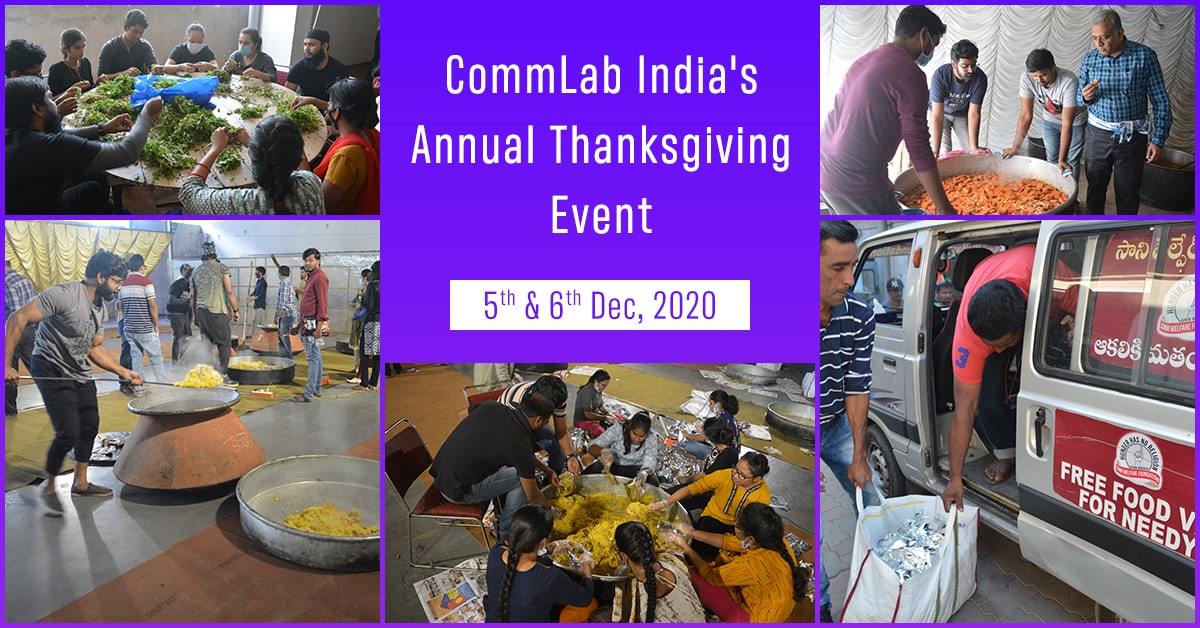 CommLab India believes in sharing and this year's Thanksgiving event was no exception. The event also gave new hires the opportunity to get to know people in other departments.
This is what Dr. Ayesha Habeeb Omer, COO, and Co-Founder of CommLab India, had to say about the annual Thanksgiving event:
We are happy that we could continue our tradition of spreading abundance and feeding the less fortunate, despite the challenges this year brought on. It was a poignant reminder of how much we have to be thankful for. Hope the coming year brings in true happiness, security, and health for all of us.
About CommLab India
CommLab India, with more than two decades' experience in the learning industry serving 100 International customers in 30+ countries, is one of the most sought-after global leaders for rapid eLearning solutions. It has been ranked first among the top providers of Rapid eLearning and Blended Learning Solutions for 2020 by eLearning Industry.
With its formidable authoring tool expertise and decades of experience in corporate training and instructional design, CommLab India offers rapid eLearning solutions for speed, scale, and value… with any authoring tool for:
Converting of ILT material into instructionally sound, visually appealing, engaging eLearning curriculums, virtual sessions, and other digital learning formats
Converting legacy courses (from Flash or any other authoring tool) to HTML5, even when source files are not available
Translating English eLearning courses into 35 international languages—both text and audio