EI Design Is #1 In The List Of Top eLearning Content Development Companies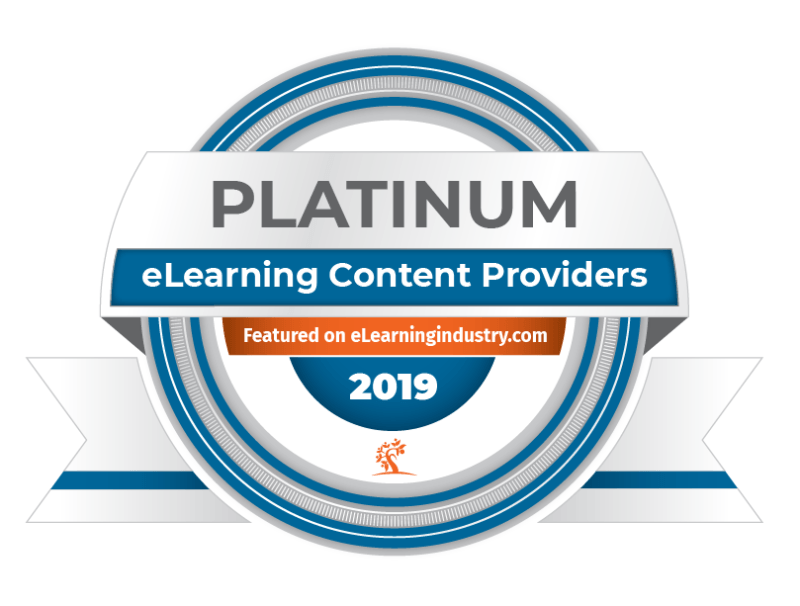 Energizing Learning for 5 consecutive years!
This an outcome of their sustained high performance and creating an impact on the eLearning landscape for 5 consecutive years.
This is not all. This position as a leading eLearning solutions provider has also been reaffirmed through several top global rankings in 2019.

"Our global customers consider us as a trusted partner for delivering strategic learning initiatives. Our research-based methodologies and processes have helped our customers to consistently achieve a superior learner experience leading to desired behavioral transformation. Our ability to provide measurable returns to our global clients on their spend on Learning and Development is unique," says Asha Pandey, Founder, and Chief Learning Strategist at EI Design.
"We owe our success to our strong Innovation and Solution Architecting Team, Project Execution Team, and Account Management Team. We follow a never say die attitude and always target to make it happen," adds Asha.
Besides delivering highly immersive learning solutions, EI Design has unique methodologies and processes that have helped its customers achieve:
Superior learner experience.
Behavioral transformation.
These two brand promises have helped EI Design reach a leading position in this competitive industry.
Whether you are trying to improve your employee engagement, performance, or create a positive ROI, EI Design has a solution for you!
Book a free demo with us today to learn how team EI Design can help you maximize the impact of your training and create a positive ROI.
Want to learn more? Log on to our website.
For amazing eLearning content, check out our blog.
About EI Design
EI Design is a leading Learning and Performance Support solutions provider that thrives on transforming learning—keeping it alive, relevant, impactful, and continuous.
A thought leader in innovation, we keep enhancing our solutions to create the right learner engagement and spark behavioral change.
In 2019, EI Design has been ranked #1 in the list of Top 20 eLearning Gamification Companies for 2019 by eLearning Industry Inc.
This builds up from their achievement of having won the top slots in the Top 20 eLearning Content Providers for Microlearning (#1) and Blended Learning (#2) for 2019.
In 2018, EI Design won GOLD by sustaining a high level of performance and creating a remarkable impact on the eLearning landscape. Prior to this, it has been ranked as #2 for three years in a row (2015, 2016, and 2017) in the eLearning Industry's list of Top 10 e-Learning Content Development Companies.
EI Design specializes in transforming learning for customers and learners with approaches that:
Provide "sticky" learning.
Provide predictive learnability or learning effectiveness.
Offer "just-in-time" learning to push knowledge acquisition to an application on the job.
Create high-impact learning experiences and a positive ROI.
EI Design creates learning experiences that are:
Motivating
Engaging and immersive
Relevant, relatable, and personalized
Challenging
Rewarding
These learning experiences will:
Create sticky learning.
Facilitate the application of learning.
Provide room for practice and proficiency gain.
Provide reinforcement to ensure the Forgetting Curve does not step in.
Influence or trigger behavioral change.
The range of EI Design's solutions includes approaches to:
Spice up learning experiences (through Microlearning, Social Learning, Gamification, and Personalized learning).
Adopt new immersive approaches like Virtual Reality (VR) and see your learning impact soar.
Create customized Learning Portals for specific initiatives in Formal Training, Performance Support, and Social Learning.
Evoke a sense of learner contribution and participation (through Content Curation).
Measure and enhance learnability/learning effectiveness.
Appeal to the millennial generation.
For more details, log on to EI Design.