Good e-Learning Recognized As A Course Market Leader For ITIL® Training
Good e-Learning today announced that it has been accredited as a 'Course Conductor Market Leader' for ITIL® training.
The Trusted Training Radar Report evaluated verified customer feedback gathered from over 7000 learners and corporate organizations that invested in ITIL training in 2018 and 2019. Course Conductor's work is based on a unique algorithm that considers 141 metrics within the categories of Customer Service, Learner Satisfaction, Quality of Customer Support, Quality of Course Content, Learning Environment, Achievement of Course Expectations, and Overall Contribution to the Training Industry.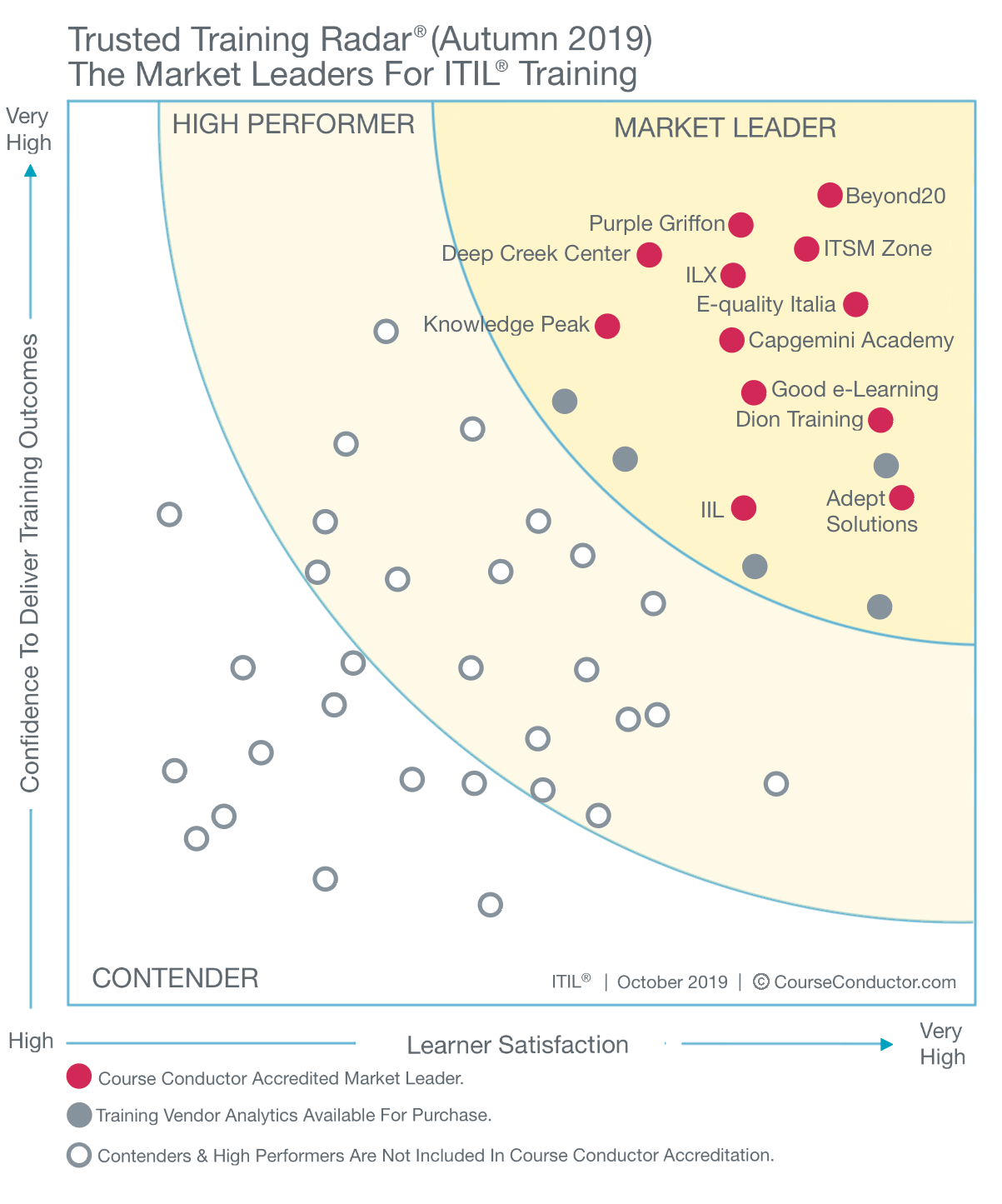 The report stated:
Good e-Learning customers provided excellent feedback about the overall quality of the learning platform, specifically highlighting the quality of design, the course content, and overall ease of use. Customers were also very pleased with the rapid responses to their queries as well as the breadth and quality of supporting information.
Andy Cooke, Head of Online at Good e-Learning, said:
We are incredibly proud to have achieved this title. Our team is been dedicated to providing both corporate and individual customers with eLearning experiences that not only enable certification, but also help students to build real practical knowledge and achieve their full potential.

We have always put customer experiences at the heart of what we do. With customer feedback driving the Trusted Training Radar Report results, earning the Course Conductor Market Leader accreditation is a huge achievement for us. We will continue to deliver the high standards customers have come to expect from us as we expand our portfolio across new agile, project management, and IT training markets.
Craig Kilford, Founder and CEO of Course Conductor, said:
Today's Learners have extremely high expectations about eLearning experiences, and rightly so. People want an intuitive platform, great content that enables them to develop their skills, and instant support whenever they need it. Based on the independent feedback Course Conductor received from corporate and individual learners, Good E-Learning has been very successful in meeting these expectations.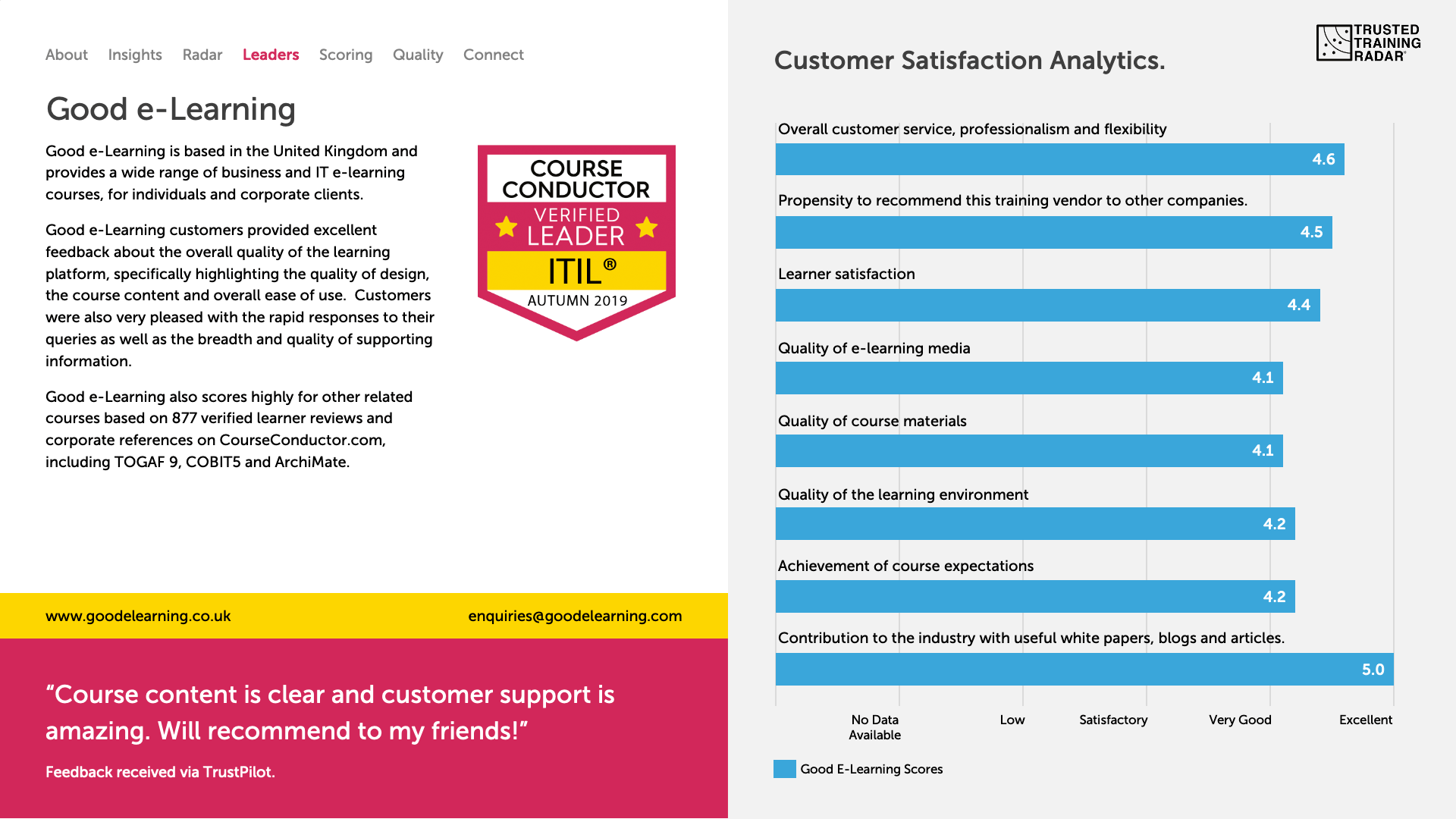 Verified customer feedback about Good e-Learning's courses:
Great content and platform. The video learning, mixed with interactive modules is modern, easy to understand and mobile-friendly.

The ITIL v4 training from Good e-Learning was organized in a way that I could focus on my weak points and the quizzes within the modules were a great recap. I took the mock exam a couple times and researched my answers... I passed the exam.
About Good e-Learning
Good e-Learning is an award-winning online training provider that covers many of the world's most prominent business and IT frameworks. The company has always had a focus on maximizing the value of the student experience. Courses are designed with long-term retention in mind, not just passing exams. Students are encouraged to explore their topics with a variety of free assets such as blogs, podcasts, and white papers. Good e-Learning also works with several industry-leading subject matter experts to both guarantee the accuracy of course content and improve it with practical insight.
The Good e-Learning course portfolio has achieved a great deal of high praise in the past. At The Open Group Awards 2018, the 'TOGAF 9 Certified' course won the 'Outstanding Certification Product' prize. The company was also named as 'Best Online Corporate Training Provider' in the 2019 CV Magazine Awards.
Production Manager Sean McKenna said:
Being recognized as an ITIL Market Leader by Course Conductor is a testament to the success of our collective approach. The learner journey is fundamental to what we do. Getting certified is certainly essential for students, but we believe in taking things a step further by enabling our learners to engage with wider professional communities. We also collaborate with industry leaders in IT Service Management to maximize the value of our offering.

At the end of the day, we consider our courses to be singular parts of a collective body of knowledge, which includes an expanding collection of YouTube videos, blogs, Twitter accounts, and more. This is certainly true for ITIL 4. By exposing students to this, Good e-Learning prepares them to excel as practitioners.
For additional information, please visit Good e-Learning's website or connect with us on Facebook, Twitter, Instagram, or LinkedIn.
Trusted Training Radar is a registered trademark of Course Conductor, LLC. 
ITIL is a registered trademark of AXELOS Limited. AXELOS Limited does not influence or endorse the content of the Course Conductor's Trusted Training Radar Reports.