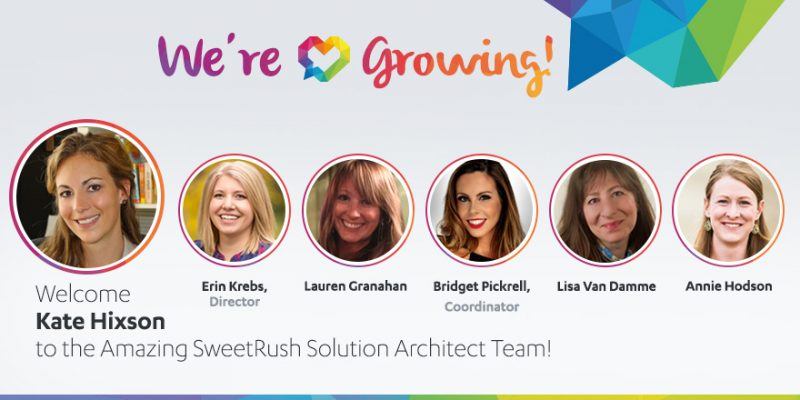 Kate Hixson Joins SweetRush Solution Architect Team
San Francisco, California, July 17, 2017 — SweetRush is pleased to announce that Dr. Kate Hixson has joined the company to provide expert consulting to clients seeking custom learning solutions. Hixson, who holds a PhD in educational technology from Nova Southeastern University, joins SweetRush with more than 10 years in the instructional design field and seven years working as a solution architect, a wealth of experience that will fuel her collaborations with SweetRush's clients.
Hixson has worked with clients all over the world—and some even out of this world, such as NASA, where she research with NASA on astronaut team training for Mars missions for her doctoral dissertation.
"One of my biggest passions is to be able to experiment with new technologies in a thoughtful way," says Hixson, who has voiced her excitement about SweetRush's breadth and depth of offerings in technology-based learning solutions. "Wrestling with business challenges and finding ways to authentically connect with an audience and change their behavior is what gets me up and going every day. Now, at SweetRush, I know just about every idea I can generate can become a reality. I am thrilled to have found this family of like-minded collaborators."
SweetRush's growing Solution Architect team consists of uniquely qualified individuals who bring a combination of instructional design, project management, and business consulting.
"SweetRush is unique in the industry in that we do not have salespeople in the traditional sense," says Erin Krebs, Director of Client Solutions at SweetRush. "From the moment new clients contact us, they are immediately in the hands of an expert learning consultant and architect who will recommend custom solutions designed to address their specific business drivers, audience, and objectives. We're so pleased to welcome Kate to our team—her deep experience in the learning and development field will be a huge asset to our clients."
"Finding high-caliber and multitalented folks to join our group of Solution Architects is never easy but is worth the effort," says Andrei Hedstrom, SweetRush Cofounder and CEO. "We feel it is important to add value from our first interaction with our client partners, and to us that means having people who win hearts and minds with good design solutions and not just good closing skills. Kate's experience, attitude, and values make her a perfect fit for our team."
Hixson, who lives in Denver, Colorado, enjoys hiking and camping in the Rocky Mountains with her husband and her Labrador, Annie Oakley. She can be contacted via her LinkedIn profile.
About SweetRush
Dream for a moment that you have the expertise and tools to positively impact the lives of others. You can affect mind-sets and behavior. You can help an organization grow, change, prosper, and thrive. The passionate pursuit of this expertise and the development of these tools have been at the heart of the success SweetRush has experienced collaborating with clients who share the same dream.
SweetRush's focus on team culture and mastery of performance improvement is reflected in loyal clients, a near-zero turnover of teammates, a 15-year track record of success, and a remarkable portfolio. Our work with clients has earned us gold awards from our peers and high ranking on the top training industry lists.
Every solution we deliver is infused with creativity. Instructional creativity allows us to discover effective and unique solutions to our clients' challenges. Artistic creativity spurs us to create visually exciting, engaging user experiences. Technical creativity allows us to embrace new capabilities and platforms as they emerge, such as gamification and mobile delivery. Cultural creativity empowers our clients to create the conditions that energize and empower their people and unleash the energy in their teams. Our Talent Solutions team applies the lens of creativity, building upon its unique knowledge of talent, team building, and learning and development, to craft a unique solution for clients who need the best temporary staff to augment their team. We apply the creative lens to all things, from project management to our treatment of our teammates, clients, and the planet.
We are over 100 people strong and have been in business since 2001. Every day, we give thanks for the trust of our world-class clients. Our deliverables span from analysis and curriculum mapping to the creation of blended training products, including live and virtual classroom and the gamut of custom-developed eLearning modalities.