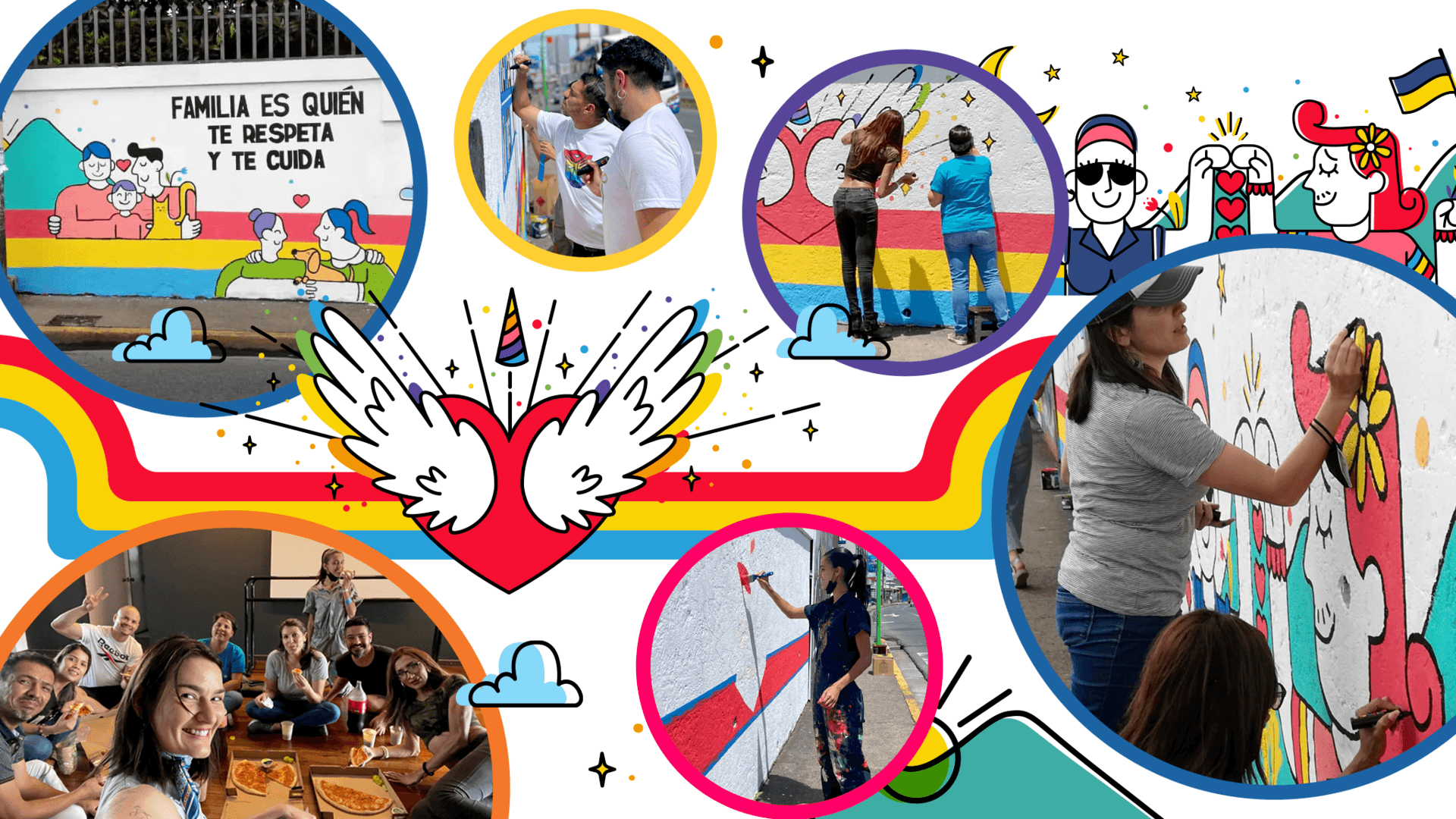 San Francisco, Calif., August 8, 2022 — SweetRush is proud to announce its collaboration with Casa Rara, a Costa Rican foster house foundation that provides care and shelter to LGBTQ+ youth in need, and local real estate developer Core to create a colorful new mural in San Pedro, Costa Rica, that celebrates families, inclusion, and acceptance. Employees from SweetRush and Core, as well as youth from Casa Rara, painted the mural, which features uplifting and empowering messages and images. The effort was led by Natalia Porrás, a local trans artist, and SweetRush Illustrator and 2D Animator Ana Xochilt Guillén.
Inspiration for the mural came from a question posed by Casa Rara: What does "family" mean? The question is a powerful one for the organization, which supports a young and vulnerable LGBTQ+ population when their biological families no longer accept them because of who they are.
"We celebrate the possibility to contribute with these thoughtful messages so the people who see them can reflect upon them and think about the importance of strengthening the values and family ties, aiming to support equality and respect for all people," said Shi Alarcón, Co-founder of Casa Rara.
SweetRush's relationship with Casa Rara began in 2019 through collaborations with SweetRush's Partners in Pride employee resource group (ERG), a dedicated group of talented, cross-functional teammates working together to positively impact the LGBTQ+ community and its allies through a variety of programs around the world.
Gonzalo Solorzano, SweetRush Client Experience Manager and Partners in Pride ERG lead, said: "The mural serves as a reminder that we are not only honoring those who came before us but also that the impact we are making right now serves the future. It's living in the past, present, and future: a three-dimensional impact."
"This incredible mural is a prime example of how a life-centered business shows up and expresses itself in a community," said SweetRush CEO and Co-founder Andrei Hedstrom. "It's also an example of how firms that work 100% remotely, like SweetRush, can reach out in the world and reshape physical spaces to reflect their values."
About SweetRush
SweetRush is trusted by many of the world's most successful companies to help them improve the performance of their employees. We are known for exceptionally creative and effective solutions that combine the best of Instructional Design with highly engaging delivery. Our work has earned a long list of awards and accolades in collaboration with our clients. Discover more at our website.
About Casa Rara
Casa Rara is a foster home created for Costa Rican LGBTQ+ youth who feel unsafe in their current situations. It provides both guided psychological, emotional, and financial support, as well as education designed to teach youth important health, wellness, and empowerment lessons. You can support Casa Rara by donating here.