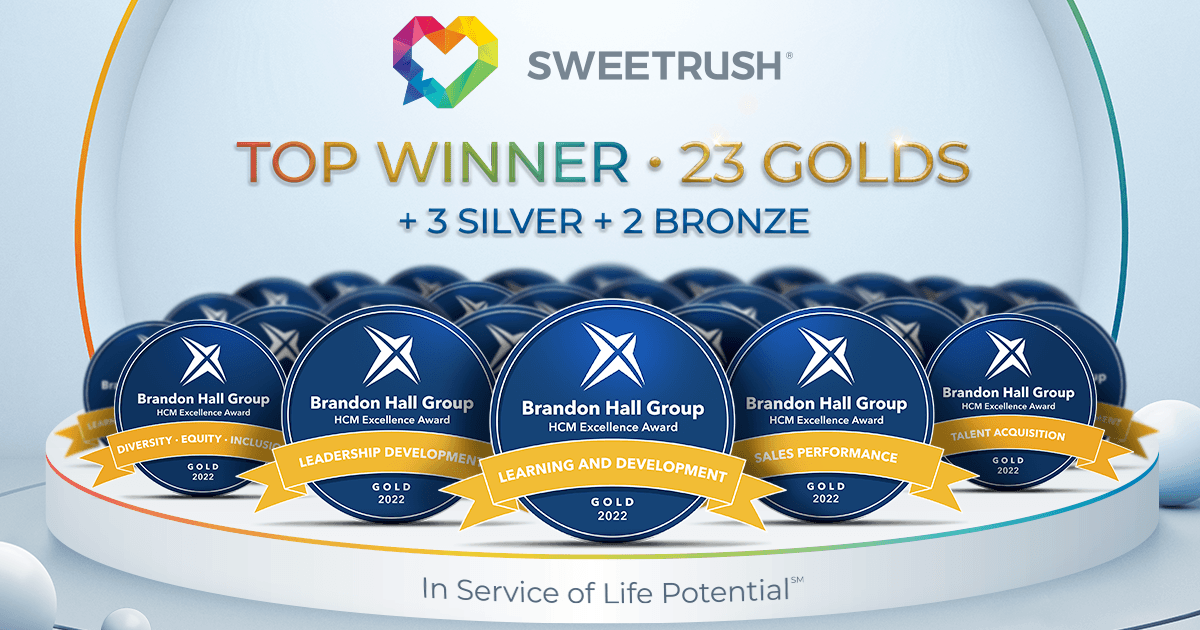 San Francisco, Calif., August 19, 2022 — SweetRush, the industry-leading provider of custom solutions for talent empowerment and people success, has won a record 23 Gold, 3 Silver, and 2 Bronze awards (28 total) at the 2022 Brandon Hall Group HCM Excellence Awards.
One of the top winners overall, SweetRush was honored in 15 distinct categories. These accolades are shared with the American Association of Critical-Care Nurses (AACN), the American Diabetes Association (ADA) and American Heart Association (AHA), Adidas, Bayer, Bridgestone Americas, Capgemini, the International Federation of Red Cross and Red Crescent Societies (IFRC), the Kraft Heinz Company, Sally Beauty, and the Society for Human Resource Management (SHRM).
"Once an afterthought, our L&D craft is being better understood by organizational leaders as an essential way to embrace and unleash potential," said Andrei Hedstrom, SweetRush CEO. "As our amazing team and client-partners discover new applications for our work together, we are reminded by these awards just how blessed we are to be in service of life potential. Education, still tragically under-resourced and underutilized, is a solution to much of the suffering in the world. We are proud to meet the challenges of our times with a way to help."
Highlights include:
Awards in 15 categories
7 Gold awards for leadership development
5 Gold awards for unique or innovative learning programs
3 Gold awards for association professional development, highlighting SweetRush's deep expertise in developing certification-type programs
Gold wins in diversity, equity and inclusion, and social/collaborative learning categories
SweetRush's winning collaborations with its client-partners have significant positive impact on learners, their organizations, and their families and communities. These initiatives:
Support new leaders as they move from individual contributor to supervisor roles
Help leaders of all levels become more connected and human-centered
Teach health care professionals how to take a holistic approach to patient care
Help R&D professionals prepare for their functional roles
Allow salespeople to practice in safe environments and improve selling skills
Help humanitarian teams save lives in crisis situations
These learning programs also represent the breadth and depth of SweetRush's L&D capabilities and expertise, including eLearning, video, learning games, scenario-based learning and simulations, social/collaborative learning, Virtual Reality and Augmented Reality, Virtual Instructor-Led Training, learning artifacts, and marketing/communications.
SweetRush works with clients in a wide array of industries, including business services, banking and finance, healthcare, consumer goods, automotive, retail, nonprofit, and pharmaceuticals.
SweetRush's 2022 Brandon Hall Group Excellence Awards:
23 Gold Awards
Best Unique or Innovative Leadership Program (3)
Best Association Professional Development Program (3)
Best Unique or Innovative Learning and Development Program (2)
Best Advance in Leadership Development (2)
Best Program for Sales Training and Performance (2)
Best Development Program for Frontline Leaders (2)
Best Advance in Custom Content (2)
Best Use of Blended Learning (2)
Best New Hire Onboarding Program
Best Learning Program that Supports and Promotes Diversity, Equity, and Inclusion
Best Advance in Creating an Extended Enterprise Learning Program
Best Use of Social/Collaborative Learning
Best Use of Video for Learning
3 Silver Awards
Best Advance in Competencies and Skills Development
Best Unique or Innovative Learning and Development Program
Best Unique or Innovative Leadership Program
2 Bronze Awards
Best Advance in Competencies and Skills Development (2)
Entries were evaluated by a panel of veteran, independent senior industry experts, Brandon Hall Group analysts, and executives, based upon these criteria: fit the need, design of the program, functionality, innovation, and overall measurable benefits.
If you'd like to speak to SweetRush about its award-winning approach to Learning and Development, visit the company website.
View the winners on the Brandon Hall Group website. Congratulations to all!
About SweetRush
SweetRush is trusted by the world's most successful companies to co-create custom solutions for talent empowerment and people success. We are known for human-centered, creative, and effective learning, culture, and leadership programs. Our work has earned a long list of awards and accolades in collaboration with our clients. Discover more at our website.
About Brandon Hall Group
Brandon Hall Group operates the largest and longest-running awards program in Human Capital Management. As an independent HCM research and analyst firm, they conduct studies in Learning and Development, Talent Management, Leadership Development, Diversity, Equity & Inclusion, Talent Acquisition, and HR/Workforce Management. These benchmark studies help organizations by providing strategic insights for executives and practitioners responsible for growth and business results.
Brandon Hall Group has also launched professional certifications for business and Human Capital Management professionals to upskill themselves and gain credentials for career advancement.