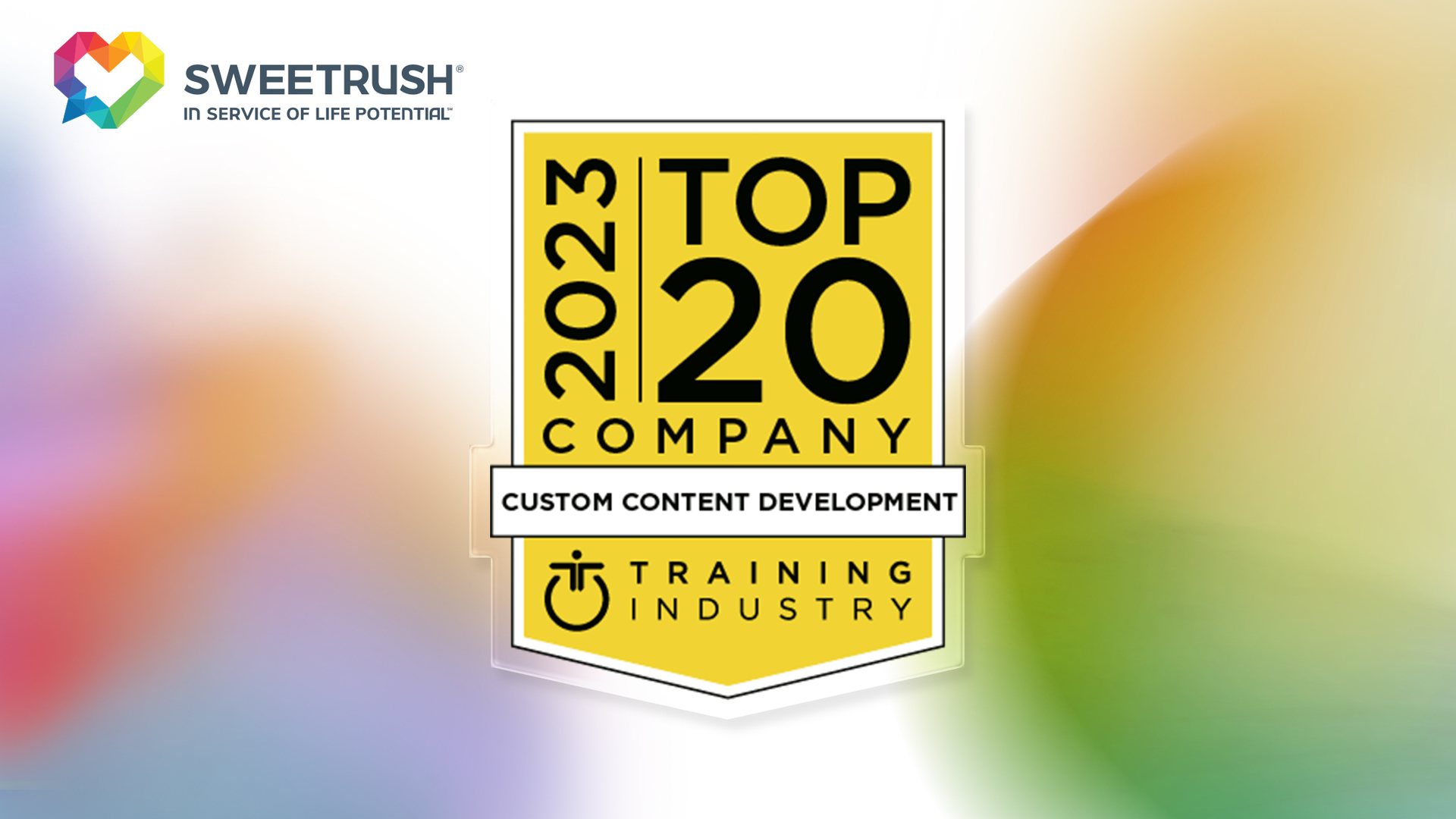 San Francisco, Calif., July 10, 2023 — For the ninth year in a row, SweetRush is honored to be included on Training Industry's 2023 Top 20 Training Companies™ list for Custom Content Development in corporate Learning and Development (L&D).
SweetRush employs a client and learner-engaged approach to discovery, analysis, and ideation, led by consultative learning experts, called Solution Architects, providing clients with end-to-end design and development of custom learning programs. As a thought leader in L&D—publishing annual Trends Reports, eBooks, webinars, and articles that push the industry forward—SweetRush's success in securing this accolade can be attributed to three distinct aspects: its client-centric focus, the array of innovative modalities to choose from, and its unwavering dedication to learner-centered design.
"Clients seek us out to solve their complex business and learning challenges, and because they align with our human-centered approach and dedication to the transformative power of education," said SweetRush CEO and Co-founder Andrei Hedstrom. "We believe that every learner deserves an experience that ignites their curiosity, fosters their growth, and unlocks their true potential while also amplifying their organization's mission and purpose. Our solutions are effective because they respect learners' time and energy, keep them engaged through memorable storytelling and relevant practice, and support them through every step of their learning journeys."
Many of SweetRush's world-class client-partners bring the learning experts on board early in the solutioning process to perform primary research, needs analysis, and understand their Key Performance Indicators (KPIs), making it clear what mutual success looks like for each project. SweetRush's CoDesign experience—inspired by design thinking—brings together learners, stakeholders, and learning experts to create learner-centered design solutions.
One of SweetRush's key strengths is storytelling, including diverse, inclusive, and relatable character-avatars that embrace a whole-person view and build empathy. No matter the modality or technique (emerging technologies, gamification, WebVR, and immersive learning), SweetRush has built its organization on centering learners.
SweetRush employs these award-winning learning techniques with its client-partners, including Hilton, Google, Bayer, Bridgestone, and Mondelēz International. This latest recognition comes on the heels of the company's #1 best sales training provider award, #1 best diversity and inclusion training provider award, inclusion in the Training Industry Top 20 Experiential Learning Technologies list, 3 Chief Learning Officer Awards, and 23 Brandon Hall Group awards in 2022 (totaling 147 Brandon Hall awards since 2017). The company is also Certified™ as a Great Place to Work®.
The Training Industry recognizes select companies that offer "the best training programs, products, and services on its Top Training Companies Lists" through extensive research, interactions with companies around the world, and thorough analysis.
"By developing engaging content, utilizing innovative technologies, offering quality UX design, and much more, these companies create a learning environment that's not only enjoyable but also satisfies the unique needs of the business," said Tom Whelan, Director of Corporate Research at Training Industry, Inc.
If you'd like to speak with SweetRush about its award-winning approach to custom training programs, get in touch to be connected to a consultative expert!
About SweetRush
SweetRush is trusted by many of the world's most successful companies to help them improve the performance of their employees. We are known for exceptionally creative and effective solutions that combine the best of Instructional Design with highly engaging delivery. Our work has earned a long list of awards and accolades in collaboration with our clients. Discover more on our website.