Is It The Right Time To Rollout Sales And Partner Training For Your Teams?
Sales training bolsters employee confidence so that they're able to seal the deal instead of letting minor customer apprehensions get in the way. This guide will address the "who" as well as the "why" for sales and partner training so that you can determine if it's a worthwhile investment for your organization.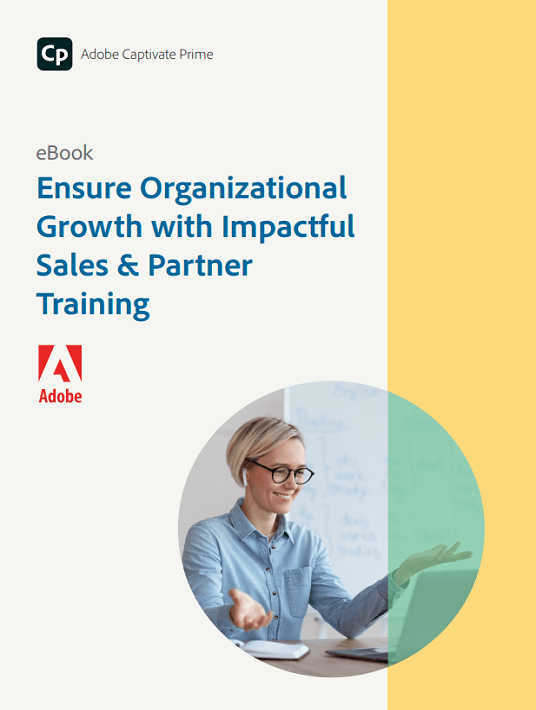 eBook Release
Ensure Organizational Growth With Impactful Sales & Partner Training
Bolster sales stats and staffer self-confidence with a solid sales & partner training strategy.
Who Are Sales And Partner Training Courses Intended For?
Sales and partner training is ideal for sales reps and external sales channels to help them meet a rapidly changing marketplace. However, it's also a must-have for internal sales employees who need to pitch your products or any staff member who interacts with customers, for that matter. As an example, customer service employees need to know the ins and outs of your latest product line so that they can offer recommendations and share upkeep tips.
5 Profitable Perks Of Sales And Partner Training Programs
Some organizations are on the fence about launching sales and partner training initiatives due to tight budgets or timelines. Maybe there's a product launch fast approaching or they simply don't have enough resources to go around. The reality is that sales training programs can be scaled to fit your needs. For instance, you might start with a JIT library to get the L&D ball rolling and offer bite-sized support, then move on to comprehensive certifications further down the line. Gradual implementation can help you achieve the following benefits:
Improve Customer Relations
Organizations see the correlation between sales training and a healthier bottom line. Employees have the essential skills and product knowledge to pick the right products and showcase the benefits. But sales and partner training also builds healthier relationships with your target consumers. Customers can rely on your team for insider info, such as maintenance instructions to increase value for money and add-ons to boost functionality. Furthermore, your employees and external partners engage with consumers tactfully, since they've honed their interpersonal abilities. For instance, they use active listening and persuasion skills to encourage customers to buy instead of resorting to coercive tactics like exaggerating product perks.
Mitigate Compliance Risks
Sales and partner training programs aren't just about perfecting the pitch. Trainees master the essential company policies and compliance regulations to reduce risks. For example, they understand which information to collect from customers during checkout to avoid data compliance breaches. Or, maybe they need to clarify the return guidelines with customers for the sake of full corporate transparency and to adhere to consumers' rights.
Reduce Churn Rates
Customers are more likely to bring in repeat business and refer friends if your sales team treats them with respect and is knowledgeable about your offerings. In other words, they don't try to push products that don't align with their needs or pain points. Educated consumers who are supported by your sales employees and external partners usually become loyal brand advocates because they're confident about their purchases. More importantly, they know they can count on your company to stand behind its products and services. An effective sales and partner training program also reduces employee turnover rates so that you don't have to foot the bill for new hire recruitment and training costs. Skilled workers who receive ongoing support are more likely to stay with your organization.
Empower Employees
You don't want staffers stepping onto the sales floor or setting up a client meeting if they're unprepared for the task at hand. Sales and partner training gives them all the building blocks they need to build up their self-assurance and reliance. They're empowered in the workplace because they know what to expect and how to handle the more problematic aspects of the job. After all, it can't all be commissions and satisfied customers 24/7. Your employees and external partners often have to contend with complaints, reluctant buyers, and other obstacles that have the potential to dig into your profit margin. Training gives them the skills and performance management tools they require to tackle each task with confidence.
Rapidly Address Emerging Challenges
New industry regulations, product features, and company protocols can be challenging for your sales employees and partners. For instance, team members must adapt their sales techniques based on fresh policies to avoid compliance breaches and increase buyer confidence. But, these aren't the only roadblocks your staffers must overcome. They may have to deal with coworker conflicts, slumps in the market, or changing industry trends. As an example, your top-selling product suddenly goes out of fashion and your employees/partners must quickly adapt their strategies to hit monthly goals. Training teaches them to always expect the unexpected and prepares them for every challenge that comes their way.
Sales And Partner Training Case Studies
Looking for real-world success stories that show the power of Adobe Captivate Prime in action? Here are a few sales and partner training case studies that demonstrate the transformational power the right LMS can have on your L&D initiatives:
Learn how GE Healthcare is making their learning and development programs future-ready with Adobe Captivate Prime.
Discover how this robust LMS has helped Destination Imagination foster a common understanding of their brand guidelines to offer equal opportunities for participants.
Find out how Adobe Captivate Prime is breaking down the accessibility barriers for IES Communications to grow their business by leaps and bounds.
Download the eBook Ensure Organizational Growth With Impactful Sales & Partner Training to learn the ins and out of sales online training and discover industry secrets. It's a must-read for organizations of all sizes, especially those looking for cost-effective ways to improve on-the-job performance.