Tips To Successfully Train Your External Sales Partners
It's not easy being the public face of a company from afar. To pitch products and provide standout service without a solid support system. For this reason, it's crucial to implement sales enablement training for external partners who bring their unique expertise into your organization. Product reps, call center staff, and service pros must continually hone their talents. Sales enablement gives them the tools they need to foster consumer loyalty and broaden your profit margins. But how do you deploy successful sales operations training when your partners have diverse backgrounds and experience levels?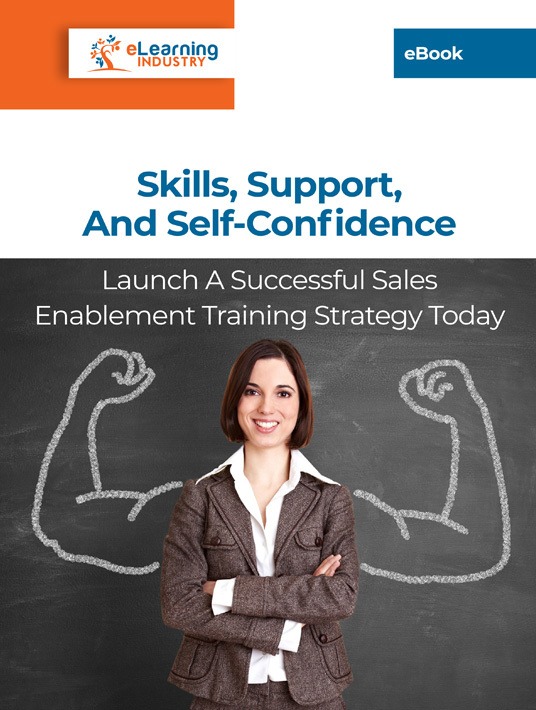 eBook Release
Skills, Support, And Self-Confidence: Launch A Successful Sales Enablement Training Strategy Today
Leverage the benefits of a successful sales enablement plan.
1. Identify Problem Areas And Partner Expectations
External partners have their own obstacles to contend with based on their positions, job tasks, and responsibilities. Even their customer base factors into the L&D equation. So, conduct online training assessments to identify hidden gaps and analyze your current sales enablement training for external partners strategy. Then survey partners to clarify their expectations and unique requirements. These research efforts can help you disclose individual problem areas and more widespread concerns within your own sales training strategy.
2. Evaluate Your Asset Library To Cut Online Training Costs
You probably already have resources on hand you can reuse in your external partner sales enablement plan. For example, your employee support repository contains numerous demo videos, product knowledge infographics, and live event recordings that are ideal for remote sales teams. You may have to modify the content to suit their online training needs and experience levels. However, polishing up existing assets is usually more cost-effective than developing new tools from the ground up.
3. Clarify Sales Sticking Points
Every employee and external partner has their strengths and weaknesses. But there are some pain points or customer challenges that are more prevalent than others. For example, one of the most common sticking points is the price point. Many clients are used to lower costs in the industry. Thus, your external partners must emphasize the perks of your product and how it differs from the competition. In other words, why the high quality and amazing customer service warrants the bigger price tag. Partners should be aware of these sales hurdles so that they're prepared and have the resources to overcome them.
4. Turn To In-House Experts
Employees who have been with your organization for some time can offer peer-based coaching or even create online training tools. Offer them an incentive to improve motivation and expand your online training library. For example, gamify the online training experience and offer points for every resource they contribute to the external partner repository. Don't forget about other external partners who have unique insights to offer either. Invite them to host live events or social media discussions to share their expertise with the group.
5. Engage Customers At Every Stage Of The Cycle
Encourage external partners to reach out to consumers at every stage of the buying cycle, especially at crucial touchpoints. They require targeted support resources to engage with prospects and repeat customers, alike. For example, video demos to identify qualified leads and follow up after the client signs the purchase contract. Partners should also know the needs, expectations, and common traits for every customer group. For instance, one customer profile/group is the "teetering" consumer who can't decide. They need a gentle nudge and product knowledge to make the commitment. Outline common excuses or areas for concern, as well as selling points or techniques that might win them over.
6. Make Resources Mobile-Friendly And Problem-Centered
Most external partners work on the go or are based in remote offices. Thus, one of the crucial sales enablement best practices to ease accessibility is mobile-friendly content. Sales teams and call center staffers must be able to get the information when they need it the most. The online training resources should also be centered on real-world problems that are relevant and meaningful. The goal is to encourage immediate practical application so that they retain the information and understand its perceived value. For example, include task simulations that give them the ability to practice new techniques. Or video demos to showcase a product in action and its many innovative uses. There should also be some customer conundrum JIT tools to handle difficult interactions. Like serious games that expose them to that ever-popular client who asks a million questions without making a purchase.
7. Let Business Reports Influence Your L&D Strategy
Business reports are a treasure trove of information for your sales enablement plan. For example, low external partner sales may indicate they lack certain skills or product experience. Evaluate charts and graphs to look for patterns. If 75% of your remote sales team miss their monthly targets, take a closer look at your L&D strategy. You can also get customer input to fine-tune your sales enablement best practices. How was their experience? Did the sales rep understand the product and demo it to their satisfaction? Were they able to answer all their questions? How likely are they to refer a friend? Compile the data to look for areas for improvement and develop online training resources that target the gaps.
Bear in mind that customers also benefit from sales enablement training for external partners. The more they know about your products and services, the more likely they are to become brand advocates. This also makes things easier for external partners, as consumers already have a basic understanding of your company and its offerings. So, consider a customer knowledge base or resource library where they can familiarize themselves with your brand. Sales teams can also use this as a selling perk to seal the deal and boost conversion rates.
If you want to learn more about implementing successful sales operations training, download our eBook Skills, Support, And Self-Confidence: Launch A Successful Sales Enablement Training Strategy Today. You will find all the information you need to train your sales team so that they gain the expertise and confidence they need to skyrocket their performance and offer unparalleled Customer Experience.