Learn How To Create Microlearning Content Quickly
Have you heard the term "microlearning" before? For any organization seeking to optimize their eLearning processes and get their learners to stay more engaged with their content, microlearning is truly transformative. Here's why.
What Is Microlearning Content?
Unlike traditional courses, microlearning delivers smaller chunks of content to the user instead of longer, less-focused content. Microlearning "lessons" are typically five minutes or less, which allows the user to learn with a lower cognitive load. This helps learners retain the information more easily, but it also allows your organization to create content much faster. When a topic needs to be covered in five minutes or less, you become more efficient at teaching this topic. Shorter content also means your learners will stay engaged instead of disengaging after a long piece of content. They can take on your eLearning content small piece by small piece and stay more engaged throughout the entire learning experience. Typically, microlearning content uses video and interactivity to make the most of this short time span.
5 eLearning Authoring Tool Features You Need
Learners prefer to get through your eLearning content more quickly; therefore, you want to become more effective at creating that content, which makes microlearning a perfect approach. In order to be fully supported in the creation of your microlearning content, here are 5 features you will need from your eLearning authoring tool.
1. Video Implementation And Editing
Video support is crucial when creating microlearning content. Video support is not just important in order for you to quickly create your content fast, it's also indispensable. Without video, you have no way of controlling the time frame of a lesson. For instance, if you use text and image-based slides, your users will only have one way of consuming the content and could get easily distracted.
On the other hand, a video has a set duration and can deliver content via 3 channels:
Audio, for those who learn better by listening
Text in the form of subtitles, for those who learn better by reading
Visuals, for those who learn better by seeing
Because video communicates via so many channels, it is easier for learners to remain engaged as well as to retain the information shown to them. Video also enables you to show situations or scenarios that closely resemble real-life situations. You can communicate more intricate situations, such as body language, facial cues, and specific techniques, that static images and text cannot properly explain.
2. User-Friendly Editor
You can have amazing video content and a great plan for what you want to include in your eLearning course. But if you are constantly fighting with your editor, you will not be able to create your content quickly and efficiently. Opt for a tool that doesn't force you to go through several steps to access a feature you need or make you guess where your much-needed tools are hidden. As an added bonus, look for an editor that is easy to use on several platforms, including mobile phones and tablets. You never know when you will need to take your content creation efforts on the go.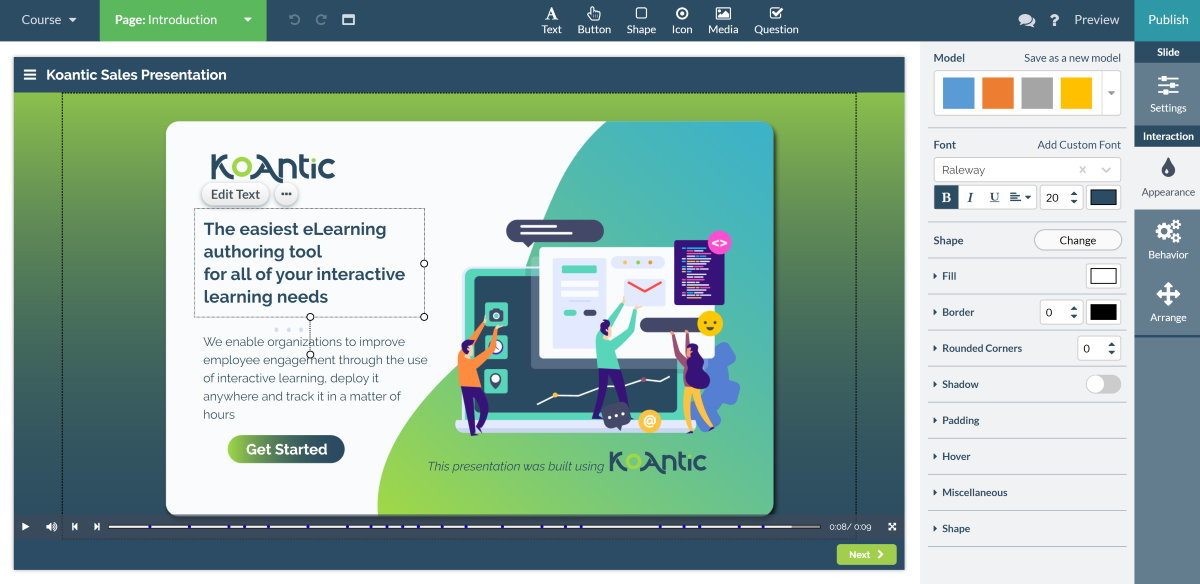 3. Interactive Features
One of the reasons microlearning is so effective is due to interactive elements. When learners are prompted to interact with content, they tend to retain the information much more effectively. Why? Because they are forced to make a decision instead of passively sitting back to absorb the lessons. Interactive content does not exist without the participation of the user. Without interactivity, microlearning video lessons are just short courses. They may be faster to digest than long-form video courses, but they will not be as effective without this integral ingredient.
Additionally, interactive features allow you to replicate scenarios based on real situations that can occur. Combined with video content, interactivity creates a safe space for learners to experience these scenarios, make mistakes, and learn from said mistakes. This means that powerful interactive features are a must when picking your eLearning authoring tool, at least if you want to create effective microlearning content. If your tool allows the users to go back easily to retry an interaction, even better.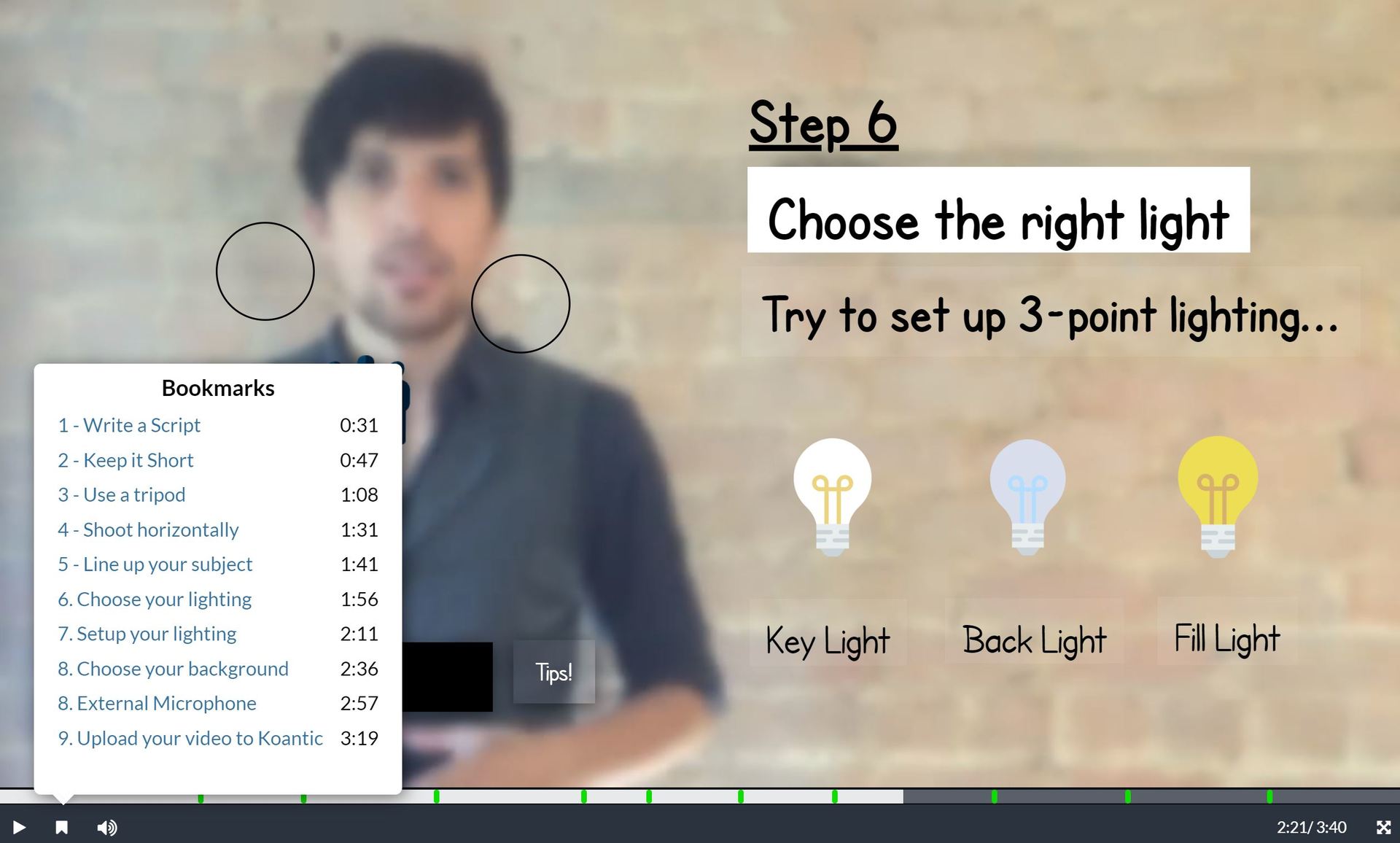 4.  The Ability To Iterate Quickly
With microlearning content, you may decide to update your 5-minute courses based on the feedback you receive. On the other hand, you may want to create one 5-minute lesson at a time and keep adding to it as you find the time to do so. But, if it takes you hours (or even an entire day) to make a small change and re-export your courses, this increases the cost of creating quality microlearning content. Even if you can create the content "fast," you are not rolling out this content quickly by any means if your exporting process takes this long. Look for a solution that allows you to update your exported courses quickly, without re-exporting the entire course.
5.  The Ability To Create Content From Anywhere
If you or another collaborator are traveling abroad for work or spending a day working from home, this shouldn't stop you from iterating on your microlearning content. Your tool should support eLearning content creation from anywhere, on any machine. Typically, the best solution is hosting that content on the cloud. Cloud-based eLearning authoring tools have the added benefit of making it simple to collaborate between authors on the same piece of content at the same time, making content creation so much faster.
Shift To Microlearning And Create Content Faster
When implemented carefully, microlearning content can help your organization by:
Cutting down the costs of creating eLearning content.
Drastically reducing the amount of time it takes for users to consume and retain the content, which allows them to return to their usual roles faster.
Allowing your eLearning authors to iterate and improve content faster.
Keeping the engagement of learners up, thus making your eLearning courses more efficient and helping you generate better results in your organization.
Koantic contains all of the features you need and more to create microlearning content quickly and efficiently.