Why Bespoke eLearning Gives Your Company A Competitive Advantage
Bespoke eLearning aligns with your brand image, improves employee engagement, and upholds company-wide standards. It also gives you the ability to personalize the online training experience by focusing on specific skill and performance gaps. Thus, you have the power to edge your competition and improve employee retention. But bespoke eLearning is an investment. As such, you must find the perfect provider who can meet your needs and accommodate your eLearning budget. Here are 5 tips to make the switch from eLearning to bespoke eLearning plus 3 important questions to ask to find the right bespoke eLearning vendor.
1. Request A Detailed Estimate And Timeline
Bespoke eLearning often takes time, especially if you're designing a corporate eLearning program from the ground up. Therefore, you should ask eLearning content providers for development timelines that include milestones and roll out dates. Detailed estimates are also essential. They give you the power to create a realistic eLearning budget and determine what's included in the package. For example, some providers may include support and maintenance, while others charge extra for these services.
2. Ask Your Top Picks For Examples
Request to see past examples and eLearning portfolios. Bespoke eLearning vendors should have samples of their work that are available on request. Create a list of focus areas before you review their content. For example, your online training course needs to have engaging real world examples. Thus, you should pay attention to their writing abilities and knowledge integration. Do they form an emotional connection with the corporate learner while still imparting the key takeaways?
3. Find Out What Tools, Resources, And Materials They Provide
Certain bespoke eLearning vendors have everything you need to create effective online training courses. This includes a diverse range of rapid eLearning authoring tools and Learning Managment Systems. On the other hand, some providers require you to purchase additional tools and software in order to host and maintain your online training. As such, you should ask which resources are included in the cost, and which you'll have to cover on your own.
4. Be Up-Front About Your eLearning Budget And Expectations
Asking questions is part of the process. But you must also be forthcoming about what you want out of the deal. What are your expectations for the eLearning project? How much are you willing to spend? Most bespoke eLearning vendors are happy to work with their clients to personalize a package. For example, they may be able to customize an off-the-shelf eLearning solution instead of starting from scratch.
5. Clarify Communication Guidelines
Do you need to have daily progress reports? Would you prefer to communicate via email, phone, or instant message? Do you expect the eLearning vendor to contact you whenever there's a problem? Or would you like them to handle any issues that arise? These are all factors to consider when choosing your bespoke eLearning provider. It's important to clarify your communication guidelines and ensure that everyone is on the same page. Otherwise, you may end up with confusion or conflicts later on.
3 Important Questions To Ask
1. Is The Vendor Familiar With Your Niche?
There are bespoke eLearning companies who specialize. They may be known for their interactive designs or engaging compliance online training courses. There are also eLearning vendors who cater to a specific niche, such as manufacturing or retail. Ideally, you should opt for an eLearning content provider who knows your niche inside and out. They must be familiar with industry standards, compliance issues, and effective online training methodologies. Request examples for your particular field and then follow-up with some questions. Focus on their work process and ask how they adjusted their approach to align with the organization's objectives. You are going to work with your bespoke eLearning vendor for the foreseeable future. As such, you must ensure that they'll mesh with your team and adapt to your needs.
2. Do You Have The Necessary Staff?
Even if you aren't developing your corporate eLearning in-house, you may still need L&D staff to maintain the system. The exception is hiring full-service bespoke eLearning vendors who also take care of upgrades, updates, and help you track online training effectiveness. For example, modify your compliance online training courses to reflect new governmental rules and regulations. However, this usually comes at a price, making it more cost effective to hire additional staff. For instance, a dedicated L&D manager who troubleshoots issues and ensures that everything runs smoothly.
3. Can You Easily Update And Maintain Your Bespoke eLearning Program?
Many bespoke vendors include customizable eLearning templates that you can easily update. This is the ideal solution for organizations who don't have graphic designers or Instructional Designers on staff. However, it's important to ask about this ahead of time so that you don't face costly upgrades and maintenance fees in the future. While you're at it, ask them about their support options. Specifically, what they include in the cost. For instance, are you able to contact them directly if there's a problem with the LMS?
How Bespoke eLearning Gives You A Competitive Advantage
While many organizations opt for off-the-shelf online training courses, bespoke eLearning is fully customized. As a result, your company can address specific pain points and provide employees with personal learning paths. Employees are able to pursue their goals and bridge knowledge gaps, since every online training course is designed with their needs in mind. This yields a number of benefits, such as an increase in employee satisfaction and corporate eLearning ROI.
These tips and all-important questions give you the opportunity to choose the best bespoke eLearning vendor for your corporate eLearning program. Bespoke eLearning may involve higher up-front costs, but consider the benefits that it brings to your organization. It also has the power to put your company a cut above the rest by offering targeted online training. Your employees have the opportunity to build their skills and improve task proficiency, which makes them more productive in the workplace and boosts your bottom line.
Are you still not sure whether you should choose a custom eLearning course or a pre-built one? Whether you've opted to go with a catalog eLearning course or have decided to develop a custom eLearning solution, read the article Catalog eLearning Courses vs Custom eLearning Courses: 6 Factors To Consider to discover some valuable tips that will help you choose the best custom and catalog eLearning courses for your audience.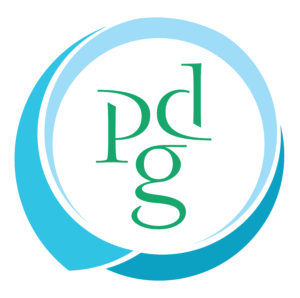 Performance Development Group
We make people better at making their business better.