The Need To Switch To Virtual Training
Organizations must ensure the safety of their employees, keep customers loyal, and maintain their fiscal health. This is a balancing act even in the best of times. But the COVID-19 lockdown makes it a seemingly impossible task. Fortunately, virtual training can bolster team morale and bring everyone together as well as bridge skill gaps, boost collaboration, and improve remote work practices. Our eBook, Remote Work And Virtual Training In Aid Of Corporations Worldwide, highlights all the essential tools and tips you need to move L&D online. It also explores how to use web conferencing software to build a stronger team dynamic when working from home. First, let's look at some of the cost-cutting perks of launching virtual training, even after the COVID-19 pandemic.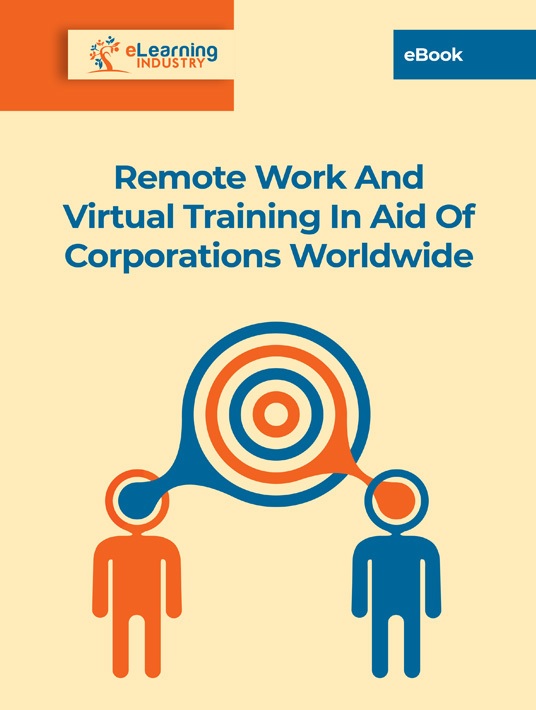 eBook Release
Remote Work And Virtual Training In Aid Of Corporations Worldwide
Launch a virtual training strategy for your newly remote workforce.
Cost-Cutting Benefits Of Virtual Training
1. Eliminate Travel Expenses
Web conferencing tools and Learning Management Systems save you the expense of travel, accommodations, and site rentals. Online instructors can host live events and virtual classrooms from anywhere in the world instead of having to visit every branch to bring everyone up to speed. Likewise, employees don't have to travel to remote workshops or seminars to bridge skill and knowledge gaps. Everything is done online, at their own pace, on their device of choice.
2. Reduce Online Training Seat Time
Remote training facilitates rapid knowledge assimilation and retention because it's personalized to suit the employees' needs. They participate in online discussions, certification paths, simulations, and branching scenarios that foster real-world application. Thus, you reduce online training seat time and associated payroll expenses. Remote staffers can get the information they need, then apply it immediately to overcome work-related challenges.
3. Personalize Performance Management
When employees work on-site it's relatively easy to gauge their level of proficiency and identify negative performance habits. Managers and team leaders can see for themselves, then offer discreet support. In the case of working remotely, virtual training tools allow you to not only evaluate their performance but personalize talent development. Simulations, serious games, and other online training activities test skills application and knowledge gaps. Then you can assign relevant online training resources—or invest in an automated LMS—to address personal areas for improvement.
4. Repurpose Existing Online Training Resources
Reuse assets you already have to create new online training paths and enrich the L&D experience. For example, use a rapid eLearning authoring tool to transform that training manual or recorded ILT event into bite-sized support online training materials. You can also curate third-party content to reduce costs and implementation time such as online video demos, online training tutorials, and vendor-provided online training resources.
5. Target Emerging Online Training Gaps
Learning technologies give you access to Big Data that helps you spot emerging gaps and create a plan of action. For instance, reports show that only 50% of remote employees have completed the necessary certification paths or compliance modules. Do you need to include more real-world centered online training content? Are online learners experiencing cognitive overload? Is there a problem with motivation that in-course rewards might help you address?
6. Utilize In-House Experts
Another notable perk of launching remote training is human resource management. Do you have in-house experts who can step into the role of peer coaches or mentors? Or host live events for the benefit of less-experienced coworkers? You have the ability to use internal talent to facilitate knowledge sharing and target hidden gaps in your online training strategy. Look for an LMS with social learning support to make the most of internal expertise.
7. Strengthen The Team Dynamic
Working remotely can take an emotional toll on your staffers. Even natural introverts can start to feel disconnected from the group. Web conferencing tools help bridge the divide and bring everyone into the fold. It strengthens the team dynamic because everyone has the opportunity to communicate and collaborate with peers. They may be confined to their homes. But that doesn't prevent them from sharing stories and regular project updates.
8. Reduce Compliance Risks Rapidly
The pandemic has come with new rules and regulations that employees must follow, such as mobility restrictions. There may also be changes to industry guidelines staffers need to know about. Virtual training helps them stay in compliance even when they're away from the office. You can host live online events to share the latest info, launch new certification online training courses, and provide third-party resource links.
How To Switch To Online Training For Your Remote Workforce
One of the most challenging aspects of moving your training online is knowing where to begin. Which rapid eLearning solutions are worth the investment? How do you keep staffers engaged and motivated when working from home? Here's a sneak preview of the tips and techniques you'll find in our downloadable eBook, Remote Work And Virtual Training In Aid Of Corporations Worldwide.
Using Rapid eLearning Solutions To Transition To Online Training
Things To Consider For Employee Engagement When Your Team Has To Work From Home
Could Virtual Classes Become A Thing? Top Virtual Classroom Benefits To Consider
Tips For Managers Who Need To Develop Plans For Staff Working Remotely
How To Successfully Develop Employee Skills While Working From Home
What Does Working Remotely Mean? Best Ways To Stay Creative During The Coronavirus Lockdown
Upcoming L&D Event Canceled? Use A Web Conferencing Tool
What happens after we flatten the curve and venture to the other side of it? Organizations should already have a recovery plan in place to minimize the impact on their profit margins and employees. Learning technologies and collaboration tools can help you streamline the transition back into the workplace as well as support remote staffers and external partners. Download our eBook, Remote Work And Virtual Training In Aid Of Corporations Worldwide, to move your employee development program online today.