How To Choose The Best Cloud LMS For Employee Development
The right cloud LMS can help you move ILT online and develop team talents. However, you need to choose the best Learning Management System for your budget and business objectives. This guide walks you through all the essential steps, from setting an accurate budget to drafting winning RFPs. Selecting the ideal system shouldn't be time consuming or costly, with these tips and vendor vetting techniques, you can find the ideal platform in your price range and launch a successful employee online training strategy.
What You'll Find Inside This Guide...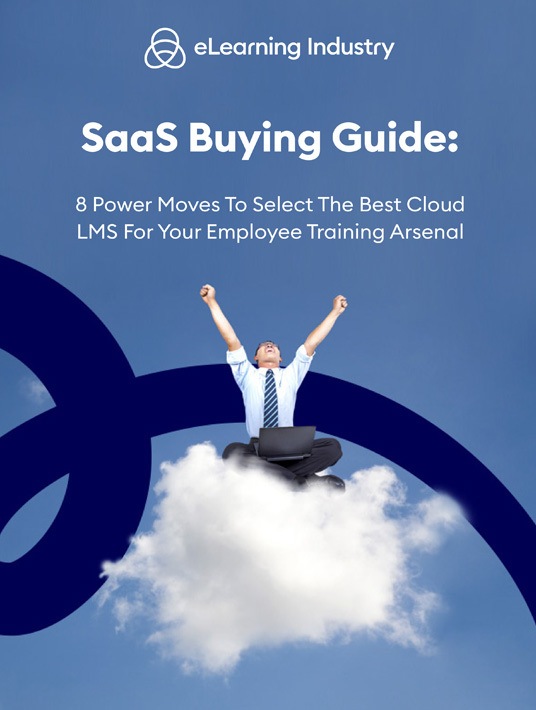 eBook Release
SaaS Buying Guide: 8 Power Moves To Select The Best Cloud LMS For Your Employee Training Arsenal
Find the best cloud-based system for your budget to maximize your employee training potential!
1. 5 Cloud Learning Management System Misconceptions
Finding the best cloud LMS for your organization impacts every aspect of your business. Employees have access to JIT support and personalized paths based on their job roles, while your L&D team can identify pain points and continually improve your online training strategy. But how do you know which SaaS Learning Management System will deliver top value for money? The first step is overcoming preconceived notions about cloud-based LMS solutions.
Limited Customization
Cloud Learning Management Systems offer fewer customization options than locally hosted systems, right? The truth is that many SaaS LMS solutions allow you to personalize the platform, from incorporating branding to creating individualized dashboards. That said, you should always ask vendors about their customization features in the RFP. For example, do they have customizable templates and mobile integration? Another place to verify customizability is an online directory. In fact, there's a section dedicated to this function which ranges from forms to CRM integrations.
SMBs Don't Need A Cloud LMS
Smaller businesses don't need a cloud LMS because it's out of their price range or they simply don't have enough staff members. In reality, every organization can benefit from SaaS platforms, as many allow you to scale the system based on your needs and budget. For instance, you can select a higher pricing plan if you onboard more employees or if you need to unlock more advanced features. A cloud-based LMS is also ideal for SMBs because you can access a global talent pool. Due to the fact that these systems are available on the go and often feature multi-language support.
All Cloud-Based Solutions Are SaaS
While most cloud-based systems are based on a subscription model, some vendors opt for one-time licensing. As a matter of fact, certain companies even allow you to choose which pricing model you prefer. For instance, you can pay per user every month or go with a flat fee or even pay everything up front to avoid ongoing software costs. For this reason, it's important to clarify the pricing terms with the vendor and develop an accurate budget.
Every Cloud LMS Is User-Friendly
While many cloud-based Learning Management Systems are intuitive, others may require a longer learning curve. It all depends on your team's experience and the user interface. For example, your employees aren't familiar with cloud LMS solutions and need more time to explore the features. This is why many organizations choose vendors that offer more advanced support and/or develop resources on their own, such as tutorials and demo videos to help their team set up and implement the platform.
Data Security Is A Drawback
Another common misconception about SaaS systems is that they feature fewer data security protocols than self-hosted solutions. In fact, many modern cloud-based systems have top-notch encryption and data security features, like certifications, advanced infrastructure design, and firewalls. This is essential since they host your information on their servers. You can also ask vendors about their internal security policies to ensure that your user info and content is backed-up and safe from online threats.
2. 8 Essential Cloud LMS Costs To Consider Before Vetting Vendors
The price tag isn't everything, but cloud LMS costs are a crucial consideration. In fact, you should have a ballpark estimate of how much you can spend before reaching out to vendors. This allows you to narrow the options and set spending limits in the software RFP. Not to mention, avoid hidden fees that force you to secure more funding or push back your implementation timeline. So, which cloud-based LMS costs should you consider and how do you stick to your original budget?
Upfront Licensing
Some LMS providers charge a one-time licensing fee instead of subscriptions. For instance, users pay XX amount up front to purchase the license or, at least, that version of the tool. In certain cases, vendors offer different packages based on number of users, support, etc. However, this is a less common approach for cloud-based systems since they're usually based on SaaS model.
Monthly Subscriptions
The most popular pricing model for cloud-based LMS solutions is monthly subscriptions. Organizations pay every month to "renew" their license and keep using the tool. Most vendors offer flexible pricing plans that allow you to scale up or down. For example, the first plan accommodates X users and includes these features, while the top level is ideal for larger organizations who need to train more employees or external partners. Some software providers post their prices on their website, but others require you to contact them for a free quote.
Setup And Customization
It takes time to set up and customize the new system. This involves payroll, which I'll cover next, but you may have to purchase add-ons or integrations as well, not to mention, migrate your existing data to the platform and ensure it's compatible with your current toolbox. Some of the most common integrations are sales and CRM-related, which allow you to manage team performance remotely, as well as boost sales and customer service stats. Another thing to consider is vendor support. Vendors might offer one-on-one assistance to streamline setup and help you avoid common mistakes.
Payroll
Top SaaS LMS providers can help you clarify upfront or subscription costs, but calculating payroll is more involved. You need to consider all the tasks your team must perform to set up, implement, and maintain the tool over time. For instance, it takes a week for your implementation team to master the features and roll out the system. They also need to take care of internal marketing so that front-end users know what it's all about. Once you identify tasks, it's time to tally up the costs. How many employees are involved and what's their pay rate?
Implementation
There are several steps in the implementation process. However, the most time-consuming task is familiarizing users with the system. Employees need time to explore the tool and get a feel for the UI. For example, it might take them a week to learn how to access the JIT library or certification courses, especially if they're new to the world of cloud-based Learning Management Systems. That said, one of the perks of using SaaS tools is that they're intuitive and easier to roll out.
Content Development
This is a cost that many organizations overlook when calculating the LMS budget. But you need to populate your new platform with content that's engaging and relevant for your team. While some organizations choose to develop content in-house, others hire outsourcing partners that specialize in their industry. Whatever route you choose, you need to factor content creation into your LMS budget. This also applies to content curation. For example, you purchase off-the-shelf solutions or gather content from online sources.
Support Resources
There are two types of support to consider. The first is LMS support services provided by the vendor. Whether it's phone, live chats, emails, or an online knowledge base, certain service providers include this in the price, but some charge extra. Secondly, you may need to develop support resources for your team if the vendor's library is lacking. As an example, your team has to create tutorials or cheat sheets to help co-workers master the LMS fundamentals, like how to log in, access course catalogs, and customize their dashboards. Take a look at the service providers website to see which customer training resources are available. Do they have demo videos that highlight all the main features? Is there an active user community where you can find tips?
Maintenance
SaaS Learning Management Systems are known for being low-maintenance. However, there's still some upkeep involved. For instance, you may have to download new versions of the tool or purchase additional integrations. It's also essential to update content and do some LMS housekeeping periodically, such as clearing out the archives and ensuring that your reporting parameters are still valid. The vendor should notify you when new versions of the tool are available or post it on their site, but it's best to verify their maintenance protocols before signing on the dotted line.
3. 7 Free Resources To Find And Choose The Best SaaS LMS For Your SMB
Selecting the best SaaS LMS shouldn't take a bite out of your budget. After all, you need all those funds to purchase licenses, set up the system, and cover payroll expenses. Thankfully, there are free resources to help you find and choose the right cloud Learning Management System for your SMB. Regardless of your current gaps, goals, or spending limits. These tools allow you to quickly qualify vendors, evaluate pricing options, and verify social proof. Without further ado, let's review some of the top free resources at your disposal.
Exclusive Directory
An exclusive directory compiles all the top cloud Learning Management System solutions in one location. You can size up their features, pricing options, and support services without visiting individual landing pages. That said, you should still check out shortlisted vendors' sites to ensure they meet your needs. The exclusive directory is a good starting point since you're able to compare cloud-based LMS systems at a glance, as well as identify which vendors align with your budget and buying requirements.
Review Platforms
Reviews give you insider info regarding customer experience, vendor support, and tool usability. You can see what other users like best and least about the platform. For instance, they mention that the software crashes frequently or isn't accessible on mobile devices, which might be sticking points for your organization since you're looking for a tool that's available on the go. The site should require users to provide some background information. For instance, their use case, industry, and focus area that way you can concentrate on LMS reviews that align with your L&D objectives and gaps.
Social Media Groups
Social media groups are usually hit or miss when it comes to LMS vendor vetting. Start with the provider's profile or business page to see how they interact with followers. Then move on to groups that offer LMS recommendations. The key is to look for reviews with context. For example, the user includes some basic details about the project scope, budget, and industry, as well as why the tool stood out or fell short based on their business goals. One-liners are usually a red flag because they put little thought into their review. Someone who wants to help others make the best buying decision will elaborate on the pros and cons.
Rating Sites
Rating sites are another great place to look for cloud Learning Management System benefits and drawbacks, particularly if the platform has valid evaluation criteria. For instance, the scores are based on 3 specific factors: CX, usability, and usefulness. Likelihood to recommend scores should also factor into the equation. This gives you a comprehensive overview of the tool's performance based on relevant metrics, rather than just pulling a score out of thin air with no justification.
Free Trials
Most cloud-based LMS systems have free trials or demos that allow you to evaluate features firsthand. You can even invite the whole team to join the fun and provide feedback. It's best to start with an evaluation checklist and testing roles. For example, this team member is responsible for reporting, while another tests the social learning features. After the trial, host a live event to see what they thought of the platform and it if surpassed their expectations. Keep in mind that some vendors require credit card info, so ask about their free trial terms beforehand. Better still, add it to your RFP so that they can address your questions and concerns, such as how long the trial lasts and if all the features are included.
Vendor Landing Pages
Vendor landing pages are, of course, a bit biased, the software provider wants to put their best foot forward. But, you can still determine which platforms are best for your bottom line by evaluating pricing plans and features. Many vendors even elaborate on real-world perks and tech specs on their site. So, you have the opportunity to deep dive into their main selling points and compare them with other systems. Another thing to look for on their landing page is demo videos and customer training resources. Do they have an online FAQ? How about screenshots of the UI and built-in reports? Some vendors also have a user community where you can ask questions and get insider tips. Now is the time to peruse all these support tools to see if they meet your standards.
Software RFPs
Software requests for proposals are free. However, you still have to invest time into drafting the RFP for every vendor. That said, you can use a template to expedite the process. RFPs should include all the basics, such as budget, time frame, and current L&D gaps that way software providers can reply with targeted proposals based on your buying requirements. Another reason to submit requests is to adjust your budget. For instance, you overlooked certain fees or didn't realize that the provider charges per user, in which case you may need to consider other options or reevaluate your spending cap.
4. 7 Cloud LMS Buyer Mistakes That Dig Into Your Profit Margin
Investing in new software is always a risk, regardless of your budget or L&D needs. But avoiding the most common cloud LMS buyer mistakes helps you err on the side of caution. There are certain faux pas that dig into your profit margin and give you a bad case of buyer's regret. In most cases, it's simply a matter of setting expectations and prepping your team for roll-out. However, some SaaS LMS purchasing errors are more complex. So, let's review a few slip-ups that can decrease ROI and potentially derail your implementation timeline.
Not Conducting Needs Analysis
You need to know how the new SaaS LMS fits into your L&D program, namely, which gaps it can help you address. This requires an in-depth analysis of your current objectives, goals, and business requirements. All this data guides your search efforts since you know which features and support services matter most for your organization. For example, you can't do without certificate management for your compliance online training strategy. A needs analysis also helps you cross off LMS solutions that cater to other customer types or use cases.
Skipping Free Trials
Many cloud-based Learning Management System companies offer free trials so that you can test the tool in advance. It's free, so skipping it doesn't make much financial sense, particularly when free trials or demos give you the opportunity to evaluate real-world performance and identify IT hurdles. For instance, the UI isn't as user-friendly as you thought or maybe the gamification LMS features are limited. That said, you should ask the vendor what the free trial involves. Do they require payment details? Does it unlock the complete version of the tool? How do you attend a free live demo event?
Another tie-in mistake is not making the most of your trial. You need to upload content, invite test users, and evaluate reporting capabilities. Basically, everything you would normally do for your employee development strategy. This helps you pinpoint software obstacles and determine if the tool is right for your team.
Omitting Crucial Features
Most organizations start with a quick list of essential features, possibly, selling points that were missing from their last system. However, you need determine which SaaS LMS functions are integral for the success of your online training program. For instance, you may need personalized learning paths and social learning support to boost employee engagement, omitting these features negatively impacts your profit margin and prevents you from achieving top L&D objectives.
Not Sending RFPs
A request for proposal does add another step to the selection process. However, it allows you to gather additional buying info that's not included on the website or directory listings, like personalized cost estimates so that you can adjust your budget, or take a closer look at the software specs to ensure it's compatible with your current toolbox. Vendors respond with a detailed proposal that maps out all their features, support options, customer training resources, and pricing plans.
Setting An Unrealistic Budget
LMS budgets should include every expense you may incur, even if it's a hypothetical fee that you may have to pay a month from now, such as additional integrations or long learning curves. In fact, it's better to overestimate costs instead of trying to secure more funding after the fact. In short, a realistic budget is crucial for implementation success. One of the most effective ways to set an accurate budget is market research. This gives you a clear idea of how much vendors charge and what's included, then you can contact them for free personalized quotes. Consider the most popular pricing models and licensing types so that you know what to expect. Do you prefer a one-time licensing fee or monthly subscription? Are flat fees or per-user fees better for business?
Overlooking An Implementation Game Plan
Before you even start to look for LMS software providers, you need to have a plan of action. This outlines everything from vendor qualification to post-launch. For example, you kick things off with a team meeting where you make them aware of expectations and budget constraints, then you research the top platforms after a thorough needs analysis. An LMS implementation game plan should also include potential risks. For instance, what happens if setup takes longer than expected?
Not Verifying Social Proof
Even new LMS providers should have social proof, such as ratings and reviews that help you determine if their priorities align with yours. Check out their directory listing to see what users have to say about CX and usefulness. Then, visit their social media profile to gauge how they interact with customers. How long have they been in business? Do they frequently update technology to keep up with trends? What do users think of their support services? If you can't find any information about the vendor, ask around in social media groups. There are many dedicated to eLearning tech where you can verify a vendor's reputation and learn more about their service.
5. 9 Cloud-Based Learning Management System Features You Can't Live Without
One of the most important aspects of implementation is identifying your must-have cloud-based Learning Management System features. These are the functions you simply can't do without, especially if you want to get max value for money, deliver top-notch training, and retain top performers. But which features are worth the investment? Every organization has its own Learning Management System buying requirements. However, there are a few key selling points that every cloud-based LMS should deliver.
Intuitive UI
The interface unlocks every LMS feature because users are able to access dashboards and online training materials with ease instead of trying to navigate their way around an overly complex system. Intuitive UIs also decrease setup and implementation time, given that employees can quickly acclimate to the new tool and complete the task, whether that's analyzing L&D performance reports or participating in an online course.
Customizable Reporting
You must be able to evaluate online training effectiveness, team performance, and individual skill gaps. Thus, customizable reporting is an essential cloud-based LMS feature for every organization, regardless of your staff size or L&D goals. While many systems include out-of-the-box reports, some allow you to focus on personalized analytics, like certification progress and real-world activities.
Multi-Language Support
If you have a global talent pool, multi-language support gives everyone the same online training experience. These systems automatically display content that's relevant for employees based on their geographical location. However, they can also customize settings to suit their needs. For example, an American staffer who travels to your Spanish branch can still view content in English. Another reason to invest in a multilingual cloud-based LMS is to mitigate compliance risks. Employees are able to understand the policies and protocols that pertain to their region.
Brand Integration
Many SaaS LMS solutions allow you to incorporate your own branding elements, such as logos, color schemes, and messaging. Thus, your content is cohesive and gives employees a sense of ownership. However, brand integration is a must if you plan to sell your courses online. For instance, offer skill-building courses to the public or to recruit new talent. Another application is external partner training; franchisees, sales teams, and customers get branded courses that align with your image.
Certification Support
Certificate management features help you hold employees accountable and recognize their achievements. Plus, you can immediately see who has the core competencies and skills you need based on certain tasks. For example, this employee has earned the communication and customer service skills certifications, which means they're a good fit for your service team leadership program. Certification support also helps you monitor individual progress and track compliance initiatives since you have detailed records of who has completed which certificates and how they fared.
Personalized Paths
The key to successful employee development is empowering staffers, giving them the opportunity to focus on individual skill and performance gaps instead of deploying one-size-fits-all courses. That's where personalized paths enter the picture. It all starts with assessments to gauge their talents and identify areas for improvement. Then, they're assigned personal training paths or, better yet, they get to create their own game plan. For instance, they choose from the course catalog or a list of targeted recommendations, then tackle each milestone when it's most convenient for them.
Social Learning Support
Online training is often a team effort. Employees can embark on personalized paths, but they should also be able to participate in social learning activities, such as group discussions and problem-solving projects. As such, you need a cloud-based LMS that supports social learning. This can range from Q&A tools and blogs to group message boards. In addition, they should be able to record these activities for credit, which is technically a reporting feature.
Asset Library
While some organizations regard this as an LMS "luxury" item, an asset library is a must-have if you're trying to stretch resources. This repository features images, cut-out characters, and video clips to help you develop engaging content, some even include templates and themes. This is why it's important to peruse the asset library during the free trial. Is the media in high resolution? Does it feature a broad range of images that align with your use case? Can you purchase additional asset packs to boost ROI?
Vendor Support
One of the perks of cloud-based systems is that they typically come with vendor support, unlike open source systems that include minimal support or even one-time licensed (self-hosted) platforms that require an in-house IT team. Therefore, you should verify the provider's support services and customer training resources. Do they have a section in their knowledge base dedicated to system setup? Can you speak with one of their reps via live chat if there's an issue? Is there a user community that offers insider tips and tricks to improve tool functionality? First and foremost, are these services included in the price or do you have to pay extra?
6. How To Use An Online Directory To Compare Top Cloud LMS Solutions
There's a lot of virtual ground to cover and you're working on a tight timeline. Luckily, a niche directory allows you to compare the top cloud LMS solutions in one place. You don't have to travel far to evaluate pricing options, rating scores, and product specs. The catch is that you need to know what to look for and how to analyze vendor listings. Once you find a reliable directory that's free of sponsored reviews, use this checklist to weigh all the options.
Identify Your LMS Buying Needs
An online directory is a resource that helps you narrow the options based on your buying expectations, but you need to know what those expectations are to maximize listings. So, what are you looking for in a new cloud-based LMS? Which gaps do you need to address? How much can you spend and how much time do you have to implement the platform? This information helps you zero in on vendors that meet all your requirements, rather than wasting time on solutions that lack your must-have features or are out of your price range.
Filter Search Results
A standout benefit of using exclusive directories is that they immediately rule out vendors that don't support your use case or those that lack essential features and/or don't cater to your customer type. That's because there are built-in filters to quickly identify top cloud-based solutions for your business. For example, check the pricing models that apply, and the directory only displays listings that fall into those parameters. This is another important reason to conduct a needs analysis beforehand. That way, you have a clear idea of which filters you can use to streamline the search.
Start With The Product Overview
The product overview covers the customer type, support, customer training, and supported platforms. In addition to these tech specs, you learn more about the software company's background and their standout selling points. They can even highlight the practical perks of ownership. For instance, how their reporting features help you track team performance and monitor individual skill gaps.
Evaluate Software Features
Every SaaS LMS directory listing includes a comprehensive features list. In fact, it's divided into categories, which makes it easy to determine which tools offer the best value for money. For example, you're looking for a system with customizable reporting and certificate management. You can see if this shortlisted vendor offers these crucial features right away, as well as tie-in functionalities you may have overlooked, like activity dashboards and meeting management features.
Take A Closer Look At Pricing Options
There's no substitute for personalized quotes or RFPs. However, an exclusive directory does have a brief pricing overview. You can see if the vendor is in your budget and if they offer your preferred licensing type. As an example, this software provider offers subscriptions and one-time licensing. This is the starting price and they have free trials or demos. Thus, you can move forward with vendors that fall into your price range and request more info or even check out their landing page to research pricing plans.
Read User Reviews
User reviews are a valuable source of information because they help you avoid trial and error. You don't have to sign up for a cloud-based LMS that disappoints because the reviewer has already invested their time. Then again, you may find a hidden gem that isn't even on your shortlist. It's important to have a use case in mind when reading reviews. For instance, this is your primary focus and industry, which reviews have a similar project scope? Every software user has the opportunity to share the pros and cons from a practical POV. Maybe the vendor didn't provide enough support or couldn't customize dashboards. Armed with this information, you can determine if the platform is right for your team.
Evaluate Ratings
Another way to get an insider perspective is to analyze user ratings. Every listing has a performance overview that highlights usability and usefulness. Users can also give the platform a likelihood to recommend score based on their experience with the system. Then, the star ratings are compiled into an overall satisfaction score. You can also review individual scores that show alongside the written review and summary statement. Finally, the exclusive directory lets you sort your search results by overall rating to see which vendors rise to the top.
Use The Comparison Tool
The built-in comparison allows you to choose up to 3 cloud-based LMS solutions and evaluate them at a glance. Every platform has their own column, which highlights support, ratings, features, and pricing options. Thus, you're able to quickly pre-screen vendors and declare a winner (for this round, anyway). If you still have multiple solutions on your list, you may have to conduct a few comparisons, then follow up with companies for quotes and tech specs. Many organizations pair this with an evaluation checklist, which makes it easier to analyze comparable solutions.
7. 6 Tips To Use Cloud LMS Reviews To Evaluate The Pros And Cons Of Ownership
The great thing about cloud LMS reviews is that they allow you to dive deeper so that you can evaluate all your options instead of just brushing the surface with vendor landing pages and quick demo videos. You get to see how the tool performs in the world without taking any risks since the cloud Learning Management System users have already taken them for you. But what should you look for? Are the ratings based on solid evaluation criteria? Below are a few insider secrets to help you evaluate the pros and cons of ownership before making your final decision.
Evaluate Star Ratings In The Performance Overview
Ratings highlight all the buying essentials, at least the ones that matter most to organizations looking for a user-friendly cloud Learning Management System, such as customer experience, usability, and usefulness. Users are able to give vendors a maximum 5-star rating if everything is top-notch. They can also provide a likelihood to recommend score. Thus, it's best to start with the performance overview to see if the SaaS LMS providers meet your standards or if you may need to move on to the next listing.
Go Beyond The Summary Statement
Every user review has a summary statement to let you know what's in store. But users can also elaborate on the subject to help you make a well-informed buying decision. For example, their statement mentions that they had issues with the UI or that the vendors didn't provide enough support. Then, they can explain the reasoning behind this in the written review. If you're truly interested in the cloud Learning Management System, go beyond the summary to see if it meets your needs.
Determine The Reviewer's Use Case
Another crucial element in the user review is the project background. Users are able to provide some basic details about their use case, like their industry, company size, and focus area. Therefore, you can concentrate on reviewers with similar parameters or buying requirements. For instance, this user is in the same industry and they also have roughly the same staff size, as such their review carries more weight because they have similar L&D priorities. That said, you should still consider every review to get the total picture. As an example, a user may not be in the same niche, but they mention features on your must-have list.
Weigh Software Benefits And Drawbacks
Every cloud Learning Management System has its pros and cons, even the leading platforms have some drawbacks that your organization must consider before making your final decision. The catch is that these downsides may not be deal-breakers for some businesses. For example, not every organization needs advanced support or brand integration features. It all depends on your objectives, gaps, and budget, not to mention, your current software setup. Fortunately, cloud LMS reviews allow you to evaluate all the benefits and drawbacks, then determine if they should factor into your decision-making process.
Analyze The Overall Rating
The overall rating takes all the star scores and likelihood to recommend rating into consideration. You can also sort listings by the overall satisfaction score so that the top platforms are displayed first. Bear in mind that there are two overall ratings. The first is in the performance overview, which factors in scores from every reviewer. But, there's also an individual score that shows up alongside the pros and cons of ownership.
Consider The Review Date
Vendors may have had negative reviews and ratings in the past, but they've worked on their CX and usability in recent months. This is why it's crucial to pay attention to the review dates. For instance, someone left a negative review a year ago. However, all the recent comments contradict those earlier entries, as SaaS LMS providers have taken the feedback into consideration and improved their business practices, or maybe they've improved the UI so that it's more intuitive. While every review is important, vendors should have the opportunity to redeem themselves. You can also follow up with software companies to clarify your concerns. As an example, several early reviews mention their lack of customer training, which is a major selling point for your organization. Check out their knowledge base and contact them to learn more about their help center.
Bonus Tip: Consider The Source
Not every review or rating site is reliable. You need to look for platforms with evaluation criteria and fraud prevention to get credible information. For instance, all reviewers must log in to post and all submissions are manually checked. Just as overall rating scores are based on verifiable data. It's best to research the review site to see if they have a solid reputation. For example, they've been around for years and specialize in eLearning tech reviews. They may even have a directory and online articles to help you make the right choice. Another thing to look for is a social media presence. Do they have a big following and are they active on the community page?
8. Crucial Things To Include In Your SaaS LMS Request For Proposal
In many respects, a SaaS LMS request for proposal is a fact-finding mission. You've already scouted out vendors and pricing options. Now, it's time to qualify top solutions based on your objectives, goals, and budget. A request allows you to make the right buying decision for your business and eliminate solutions from your shortlist. What do you need to include in your results-driven RFP? Are there are mistakes to avoid so that you get the maximum number of vendor proposals? You can also download the eBook to access exclusive content: How To Evaluate Cloud LMS Proposals And Negotiate The Final Contract.
Budget
You don't necessarily need to outline your entire LMS budget in the RFP. However, vendors should be aware of your spending limits and LMS cost expectations. For example, you prefer to pay X amount per user every month. Or, maybe you're looking for a system that charges a flat fee. Software companies use this information to customize your estimate. But they can also determine if they're out of your price range from square one, rather than taking the time to draw up a proposal, only to discover that your budget is simply too small.
Implementation Schedule
You probably have an idea of when you want to launch the new cloud-based LMS. Then again, you may have a concrete deadline due to compliance issues or performance gaps. Outline your implementation schedule in the request, including all associated tasks and milestones. For instance, you need to set up and customize the platform by this date and front end users need to be on board a week after that. Vendors can let you know if this is realistic and provide you with a rough implementation timeline.
Online Training Goals
You're probably purchasing a new SaaS LMS to bridge existing gaps and achieve specific L&D goals. Include these crucial details in your RFP so that vendors understand your motivations and buying requirements. What role does the cloud-based LMS play in your organization? What's your primary use case? What's missing from your current LMS? Vendors use this insider info to address all your pain points individually. For example, explain how their system can help you improve performance behaviors and boost engagement.
Must-Have Features
Every cloud-based learning system has remote accessibility features, that's the main selling point; beyond that, different systems offer different features. Thus, you need to list all the functions you're looking for and why. It's not necessary to include a full paragraph for every feature, just a brief blurb about the applications. For instance, you need these reports to track offline learning activities and highlight skill gaps.
Support
You may not need advanced support because your team already knows the basics. So, a user forum and a limited knowledge base are perfectly acceptable. Then again, you might expect phone, email, and one-on-one vendor support as part of the package. This is why it's essential to outline your support requirements, including customer training. As an example, you must have demos, tutorials, and walkthroughs to help your team use the new cloud LMS. Or, maybe the vendor needs to be available via live chat during business hours so that you can quickly resolve issues.
Free Trial Details
Most cloud-based Learning Management System vendors provide free trials or demos, but it's always a good idea to mention it in your RFP. In fact, you should ask for more details, such as whether they require payment info and how long the trial runs. If they host live demo events, how do you sign up? That said, if you're already participating in a free trial at this point, take the opportunity to address your concerns. For example, include a list of questions your team had during the trial so that vendors can answer them in the proposal.
Evaluation Criteria
How will you evaluate SaaS LMS vendor proposals? Do you have a scoring system or software checklist? Are there any deal-breakers that providers should know about? This is also a good time to explain your selection process and timeline. For instance, you need to receive all the proposals by this date, and you'll make your final decision two weeks from then. Another crucial detail is contact info. Vendors should be able to reach out if they have any questions or concerns before submitting their proposals or to check in and see if you need additional info from them.
Follow-Up Expectations
You may review proposals and make your final decision without any follow-up. However, many organizations choose to send questionnaires or meet with top vendors first. That way, you can choose the best tool for your team and minimize risks. Be sure to include all your follow-up expectations in the RFP though. So that vendors know if additional steps are involved and how you plan to move forward. As an example, your top 3 contenders should expect a survey or one-on-one meeting. Some organizations also stipulate that decisions will be made after the free trial or demo.
Conclusion
These power moves help you find a system that delivers max for money regardless of your industry or staff size. If you're looking for more tips, we have plenty of articles for making the best buying decision. You can also check out our exclusive cloud Learning Management System online directory to search for top vendors in your industry. Every listing features ratings, reviews, and pricing overviews to help you improve ROI. There's even a comparison tool that allows you to evaluate options side by side.
The right SaaS Learning Management System delivers targeted support and all your must-have features. Get your copy of SaaS Buying Guide: 8 Power Moves To Select The Best Cloud LMS For Your Employee Training Arsenal today to train your team and develop in-house talent.