Social And Collaborative Learning Perks
Brain science research indicates that effective learning is dependent on interaction and strong team cohesion [1]. The 70-20-10 model [2] states that informal, hands-on experience in the office, along with learning from other employees, makes up 90% of the way employees learn.
L&D plays a critical role in developing a culture of social communication and collaboration among workers, but not all platforms are the same. L&D teams will want to select a platform that integrates social and collaboration features to facilitate employee interaction. The right LMS will allow for this through news feeds, activities, gamification, and more.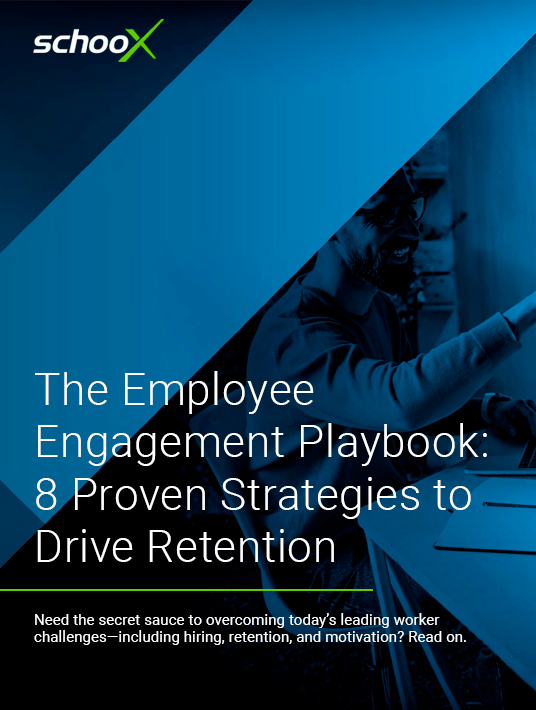 eBook Release
The Employee Engagement Playbook: 8 Proven Strategies To Drive Retention
Learn about proven employee engagement strategies and the technology needed to hire the best workers, retain them, and motivate them to perform at their highest capacity while loving their jobs.
Leverage A Range Of Social And Collaborative Learning Features
Here are some examples of social and collaborative learning functionality:
Groups
To encourage team building, create groups around different topics that allow employees to collaborate and share ideas or content on topics they care about. Support the exchange of real-time communication by enabling chat features and wall posts within the group.
Discussion Boards
To facilitate conversations and stimulate social connections among workers and teams, utilize discussion boards. Organizations can share helpful posts to motivate workers and help them learn from each other, including highlighting helpful replies and posts on any conversation.
Collaboration Tools
Popular collaboration tools like Slack and Microsoft Teams can be integrated into an LMS, allowing direct messaging and communication on familiar apps between managers and team members.
Instant Notifications
Employees can receive real-time notifications on their mobile devices for announcements, course assignments, completion due dates, certification expirations, peer messages, and more. Shared company news feeds encourage collaboration on a one-to-many basis across the entire organization, while giving employees access to targeted training resources and updates.
Polls And Surveys
These tools provide workers with opportunities to have their voices heard, which boosts engagement, builds community, and encourages learner ownership. The feedback generated can also help identify areas of opportunity or improvement within the learning program.
Gamification
Game elements add a dose of fun to the learning process—which drives friendly competition, motivation, and success. Within a gamification scenario, workers can be paired up or gathered into groups to solve problems, complete activities, collaborate on group objectives, and win rewards. As part of the learning component of gamification, employees are given tips, tricks, and quizzes throughout the process. The steady growth in the popularity of gamification over the past many years is due to one fundamental factor—it works.
Leaderboards
Also known as scoreboards, leaderboards are considered one of the most popular elements of gamification and a huge behavioral motivator. They empower L&D leaders to introduce friendly, performance-based competition among employees, encouraging them to further engage with learning content while connecting with their coworkers. Leaderboards show workers where they stand among teammates and who is "winning," while inspiring everyone to continue learning.
Rewards
It's important to offer learners positive feedback for course progress and completion through rewards. This helps employees feel valued, showcases their accomplishments, and gives them social recognition. Common rewards include points, badges, and certificates. Rewards can also be monetary—like discounts, coupons, and gift cards. When employees know they'll receive rewards for completing training steps, they're more likely to engage.
Goals
A twist on gamification is to simply give employees a series of goals to complete related to their jobs. As they meet each goal, they advance to the next step in the series. After each goal is met, they receive a reward, such as badges or points.
Experience The Benefits Of Social and Collaborative Learning In Your Organization
Multiple studies and real-world experiences speak to the power of social and collaborative learning to build a stronger team dynamic, minimize costs, and support better peer-based learning opportunities. Here are leading examples of what companies gain when they support this approach to learning.
Inspire Engagement
The point of social and collaborative tools is to inspire users to engage with the content and each other. This is especially important for tasks that are typically not viewed as enjoyable, such as in-depth safety or compliance training.
Enhance Motivation
Successful social and collaborative learning features, like gamification, tap into users' intrinsic motivations, such as becoming more skilled at their job. And it offers extrinsic motivation, such as rewards, points, and badges. Both encourage employees to complete their lessons and continue exploring and learning.
Encourage Collaboration
Social learning tools create a secure environment for employees to interact via friendly competition. This empowers them to foster positive relationships with colleagues and build stronger connections.
Improve Training Results
Studies have shown a strong correlation between gamification and a high level of training success. When workers experience greater learning satisfaction, they gain greater job competence. They'll also enjoy their job more and are more productive.
Engage The Power Of Crowdsourcing
Given that workers today are often collaborating on diverse projects, there is a great need to use the right tools to enable social learning and collaboration at work, such as discussion boards, instant messaging, and groups. Yet crowdsourcing and internal knowledge sharing are often overlooked by many organizations. One reason is likely that their LMS does not support this type of learning.
L&D leaders need to embrace these tools to create engaging learning opportunities that help build a culture of learning and encourage people to work together. Schoox's social and collaboration capabilities empower organizations with simple yet powerful tools that encourage team building, group communication, and peer support—whether your workforce is in the office, on-site, or working remotely.
With Schoox, employees get to reap all the benefits of collaborating in a secure digital environment, while L&D professionals gain an intuitive system that makes it easy to manage permissions, monitor social interactions, and create fun learning experiences that foster healthy competition among employees.
Conclusion
Download the eBook The Employee Engagement Playbook: 8 Proven Strategies To Drive Retention to discover how to leverage technology to hire, retain, and inspire top talent. It features insider tips to make your existing employee development program more collaborative, learner-centered, and results-driven.
References
[1] The Brain Science of Creating High-performing Teams
[2] The 70-20-10 Model for Learning and Development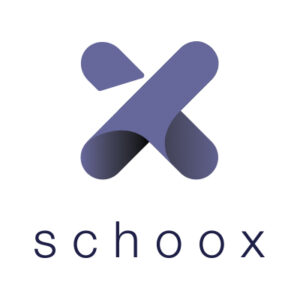 Schoox
Schoox is an LMS with a people-first twist. It makes learning and career development easy, accessible, rewarding, and fun, so whatever your learners need to know just "clicks."