Developing An eLearning App With A Mobile LMS Versus Mobile-Optimized: 5 Advantages To Consider
To start off, let's get clear on the distinctions. You can and should use LMS to develop in-house training software. It offers numerous benefits over buying pre-built solutions. These include branding, reporting, and personalization. But even within the in-house space, there are two approaches you can take. One, you can opt for is a responsive design. This means you build an eLearning course that automatically adjusts itself to user screens. With no additional action on the online learner's part, the course 'molds' itself to their desktop, laptop, tablet or smartphone. One course, four formats. Option two is to build a dedicated mobile app. So, what are the advantages of developing an eLearning app with a mobile LMS versus using a mobile-optimized one?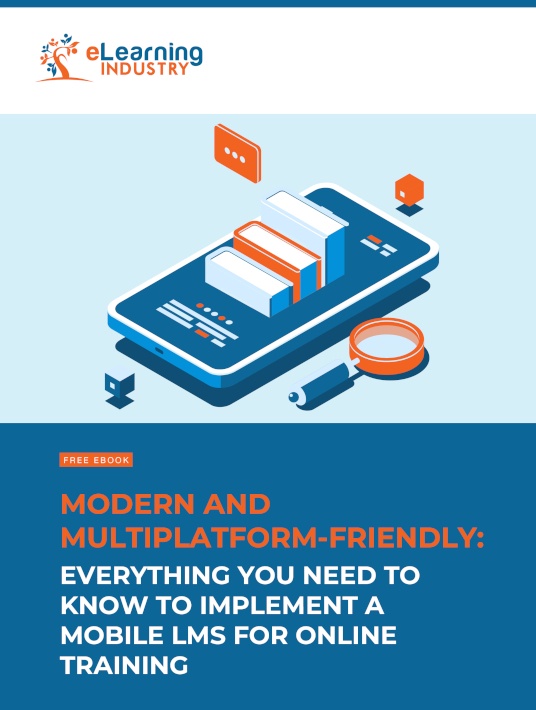 eBook Release
Modern And Multiplatform-Friendly: Everything You Need To Know To Implement A Mobile LMS For Online Training
Find out the surprising benefits of investing in a mobile LMS that features a mobile learning app.
1. Connectivity Matters
Think about some of the apps on your phone. Focus on any that you use frequently, whether it's a banking app or a game. There are features on the app that work without internet. In games, for example, you can play with or without data bundles. You only need to be connected when you're gathering awards, updating scores or sharing to social media. But as long as your battery is on, you can still play. Now apply this principle to eLearning. With a native smartphone app, you can study while disconnected from the web. But with mobile-optimized software, every element of your usage is usually reliant on the net. No web, no training. Which means that your sales team or customer support staff are on their own when it comes to skill-building in remote areas.
2. Quick Access
In the same way, adjusting to your screen use requires a lot of RAM and bandwidth. So, it could take a few seconds longer for every page to load. We all know that in the digital world, those few seconds last a lifetime. And it's even worse when the internet is spotty, to begin with. Online learners are generally super busy, so they might only study in five-minute bursts. They're right in the middle of a sales call and need crucial product details. Or they're trying to complete a task and the customer is getting antsy. Half that time is lost waiting for their responsive online training resources to kick in. Plus, because page loading depends on signal strength, you could end up with the page opening incorrectly. That's a real barrier for learning because the partially rendered layout could influence perceptions. Online learners might be put off their mobile LMS altogether.
3. Cost-Effective Compatibility
Both native apps and optimized eLearning courses have to be tested for multiple devices. It's easier with an app though, because the code is already pre-packaged to cut across. For example, your app just needs to work with iOS, Android, and maybe Windows. Your responsive software, on the other hand, has to first be tested against the four screen sizes. Then it has to be tested against multiple versions of browsers: Safari, Mozilla, Opera, Chrome, Internet Explorer. Those are just the common ones. Responsive software also takes up more space than mobile apps, which are compressed by design. Responsive content is perpetually 'live' during use, so it uses up more of your smartphone's resources, from battery to RAM.
4. Training Access
Mobile web works by trimming functionality. This means your responsive training modules can't access all the features of your desktop modules. And you literally don't know what you're missing until you need it. You may begin studying a unit before you leave the office. On your commute home, you log into the responsive software, hoping to pick up where you left off. Except you can't, because the content or features you need are unavailable. As an example, admin functions are limited in the smartphone version. So, your trainer may have to wait until they get back to their desk. With apps, log-ins offer separate access tiers where admin can get full access, even on their phones. This includes edits and evaluation. All around, an LMS app provides a seamless mobile learning experience and improves accessibility for front and back-end users.
5. Enhanced Personalization
An eLearning app allows employees to set their own personal preferences, which are saved automatically. But the personalization doesn't stop there. The app can also display the most suitable version of the content based on their location, thanks to the built-in GPS; which means that every member of your team receives targeted recommendations in their native language, instead of having to wade through the entire catalog to find relevant support resources. Lastly, you're able to get valuable data to custom-tailor their experience even further. For example, you can track how long they stay on the platform, which online training activities they access, and which devices they're using. Then you can use this information to develop future content that better suits their needs and expectations.
From an online learner's perspective, or even in the eyes of the investors, things look different. They might see no distinction between native mobile LMS apps and responsive design for mobile optimization. At usage level though, native apps are far better. Optimized modules are slower, heavier, and require additional bandwidth. They use extra RAM and provide limited functionality on smartphones. It takes more time and effort to assert full compatibility in responsive content. It also reduces online learners' and admins' ability to maneuver on their smartphones. So, take the extra steps and use your mobile LMS to build a native eLearning app. It's worth the added effort and expense.
What's the specific benefit of investing in an LMS that has its own mobile app included? Download our eBook Modern And Multiplatform-Friendly: Everything You Need To Know To Implement A Mobile LMS For Online Training to learn how a mobile LMS can help you deploy modern and multiplatform-friendly training to your remote workforce. You'll discover tips to find a flexible mobile app for your blended training program, as well as the mobile learning system implementation mistakes to avoid. It even features a checklist of budgeting factors you should consider when choosing the best mobile LMS for your external partners.