3 Tips On Improving B2B Lead Generation ROI By Repurposing Your eBook
Publishing your eBook is a milestone in an exciting new stage of your content marketing strategy. It serves as a valuable part of your content library by attracting readers and generating leads. But its value doesn't end there. With a bit of imagination, it can be a hard-working, multifaceted source of content that continues to generate leads for months. And even years to come.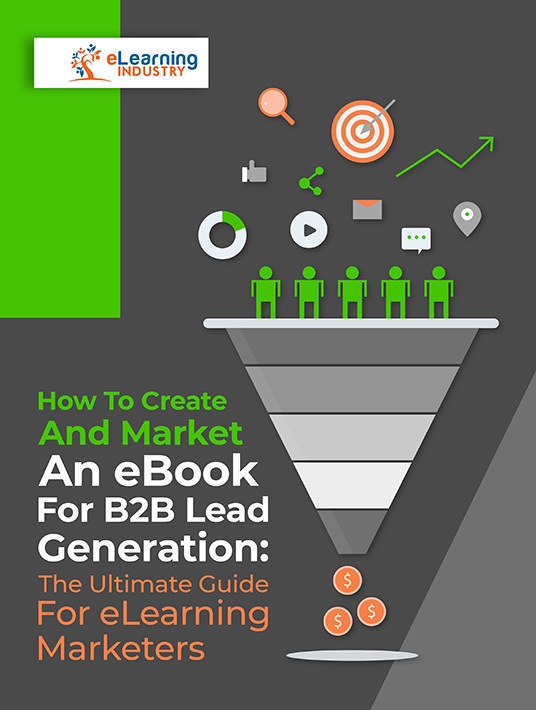 eBook Release
How To Create And Market An eBook For B2B Lead Generation: The Ultimate Guide For eLearning Marketers
Learn how you can optimize the B2B lead generation process and its ROI while discovering tips on quantity vs. quality.
The best way to ensure it does this is by repurposing the content of your eBook. This brings us to the most obvious benefit of doing so, which is efficiency. Repurposed content can be the basis for click-worthy social media posts. Or a chapter or two can easily be reworked and rewritten in the form of guest blog posts, designed to pull new readers into your marketing funnel [1]. Without reinventing the wheel too much, you've instantly increased the return on your investment by simply using what you already have to create more [2].
Beyond efficiency, high-performing eBooks make an ideal foundation for talking to a new segment of your audience or aligning with different stages in the buyer journey. With some simple repackaging, you can even further expand the reach of your eBook. You can try translating it into other formats, like mini-courses, infographics or webinars, to engage people who prefer visual or audio learning.
You can also repurpose content from your eBook if it doesn't meet initial expectations. Repurpose it as a compelling series of blog posts to drive traffic to your website. Even better, having more content online expands your digital presence and boosts your site's Search Engine Optimization capabilities.
Optimizing Your eBook's Potential
In other words, publishing your eBook is just the beginning. Take these key 3 steps to optimize its lead generation potential.
1. Turn Chapters Into Posts
Your eBook can be a powerful driver of web traffic. Each chapter, or subsections of each chapter, can be transformed into blog posts or single-topic articles. These should do more than generate interest in the eBook itself [3]. They're also an important way to establish keywords and improve search engine rankings.
As you map out a strategy for this, though, don't limit yourself to just proprietary posts. Guest posting on complementary sites offers you excellent exposure to new audiences. It also establishes your expertise and creates valuable backlinks to the landing page of your eBook. Backlinks from credible websites are a powerful tool for improving where your content ranks on search engine results pages, too.
Look for guest-posting opportunities aimed at your target audiences. Don't just opt for those that seem the most prestigious. While high-traffic sites are appealing, the effort will be wasted if they're not attracting the right audience. The best way to check audience alignment is to explore the types of articles and content that are most featured on the site. Explore what draws engagement in the form of likes, shares, or comments.
The next step is to verify the site's linking policy. Before you pitch an idea or submit a guest post, make sure the site will allow backlinks to your content and website. If backlinks are limited or prohibited, move on to other opportunities so you can get the most traffic possible.
Once you've ensured that you can use backlinks, spend time crafting the words. These are also known as anchor text which will present the links within your article. Of course, you want to inspire readers to click through to your site. However, it's also important to ensure that your anchor text accurately describes the content readers will find when they do.
2. Serve Up Samples Of Your eBook
Give your target audiences opportunities to sample your eBook content through social media or online advertising. Doing so is another great way to repurpose the content and drive engagement long after publishing.
Start by promoting your content organically via social media. As you track engagement over the course of a few weeks, identify the posts that are doing the best job in prompting your target prospects to act. If your budget allows, it might be worth allocating some funds toward promoting those posts [4]. Treat your organic strategy as a test to see which posts perform the best, and then spend on their promotion.
Keep in mind, effective online advertising doesn't require big bucks. Instant analytics tell you which promotions are effective. For only a few dollars, you can run multiple campaigns, monitor the results, and make real-time adjustments to ensure you're investing in ads that are generating the best response rates.
SlideShare offers a creative and cost-effective channel to promote samples of your content through social media. Start by translating excerpts of your eBook into tailored, high-quality presentations that speak directly to specific audience segments. In addition to attracting their attention, the visual presentation format helps to increase shares across social media platforms. Don't forget to build a clickable Call-To-Action button to your site to ensure you're converting interested prospects into leads.
3. Deliver An eBook-Webinar Pairing
A complementary, and complimentary webinar is the perfect way to round out your eBook optimization strategy. Promote a 1-hour eLearning webinar that uses your eBook's title and content as its basis [5]. A webinar enables you to bring your subject to life and showcase your expertise in a live setting. Best of all, you can consider everyone who attends to be a promising lead. To get the most out of your webinar, planning, and follow-up are critical.
First, be sure to invite prospects who have already downloaded the eBook. This gives them another way to engage with the content they've expressed interest in while further establishing your organization as a go-to resource on the topic.
Capture more information as people register for the event by asking simple questions that will help you target and personalize your messages going forward [6]. During the webcast, monitor real-time reports to identify engagement levels. You can access these reports through most vendors. This information also enables you to build out your buyer profiles. It enables you to identify warm and hot leads by linking it with participants' previous engagements. They can be downloads or past webinar attendance, once the webinar is over.
Keep your audience engaged by sending a follow-up message to attendees and non-attendees within 24 hours of the event. Include links to the recording of the webinar and the presentation slides in these messages. Go one step further by sending along a blog post that summarizes the discussion and answers any questions asked during the event.
Take the opportunity to personalize outreach to hot leads by giving your salespeople email templates that they can customize and send. Adding this personal touch is an effective way to offer additional insights related to the webinar and one-to-one assistance. Finally, make sure to always include a compelling Call-To-Action.
eLearning Industry can help you optimize your B2B eBook strategy. Upload an existing eBook to our site to increase exposure and generate more leads, or work with us to create a premium eLearning eBook from scratch. With our partnership and expertise, we can help your eBook reach its full potential.
eLearning marketers may sometimes feel overwhelmed when they're in the process of finding the best ways to create and market an eBook for B2B lead generation. Download our free eBook How To Create And Market An eBook For B2B Lead Generation: The Ultimate Guide For eLearning Marketers to discover how to create and market a B2B lead generation eBook that addresses the topic with the authority of an eLearning marketing expert but in a friendly tone.
References:
[1] Does Repurposing Content Work? Here's A Data-Driven Answer
[2] The Purpose Of Repurposing Content
[3] The 16 Best Ways You Should Be Repurposing Your Content
[4] How Organic And Paid Content Distribution Can Rejuvenate Your Reach
[5] How ​To​ ​Create A​ ​Webinar From Scratch In 10 Simple Steps