eLearning Marketing Budget Breakdown Ideas And Examples
If you're wondering how to manage and allocate your eLearning marketing budget, this article is for you.
Having a carefully thought-out marketing budget for your eLearning business is crucial, as it outlines your company's marketing activities and how much money you need to allocate to each channel. Not only does it influence your marketing strategy, but it can also help you get a better idea of how much you spend promoting your business.
However, determining your eLearning marketing budget can be challenging because of not having enough money to spend or because you don't know where to drive your efforts.
Worry not, though, because in this article I'll share my best tips along with some marketing budget examples you can model. After reading this, you'll be able to get started on creating a strategic marketing plan that's within your budget.
Just Dropped 📢 2023 Media Kit Release
Crank up your marketing to 11. Our one-stop shop for eLearning businesses is OUT! +7 new products added. Don't miss it!
How Much Should An eLearning Company Spend On Marketing?
Marketing is a great investment and can help you drive impact. When it comes to marketing budgets, we still have a long way to go to reach pre-pandemic levels, but it's time to start. Following record lows in 2021, according to a recent Gartner research, in 2022, marketing budgets rose to 9.5% of revenues.
Things are returning to normal, so prioritizing marketing spending and allocating resources is key.
Peers and competitors are already increasing revenue with their marketing campaigns. So, you must be thinking about how you can also benchmark your marketing budget.
Let's see how different types of companies can work on this.
If you're part of a high-growth company, you're in luck. These types of startups keep their growth rates high to avoid losing market shares to their established competitors. A suggested marketing budget of 15–30% of the projected revenue is vital when eLearning businesses enter this growth stage. In case you want even more results, you might opt for a bigger percentage. If, for example, you expect to have a $100K ARR, you need to act upon it. So, be prepared to allocate $10Κ–40K on marketing.
Now, talking about the moderate growth stage, you might be willing to take it up a notch and scale your marketing budget upwards. That's if you want to keep up with the competition in our industry. And, mind you, the more new companies show up, the more effort you need to stay relevant. In this case, spending 10–15% of the total revenue on marketing is usually safe. You might find other online resources suggesting 12–20% of projected revenue as an excellent start. But that's up to you. An example will make things more clear. Let's say that your eLearning business has a revenue of $2 million. In that case, it would be ideal if you chose to spend at least $400,000–500,000 to scale up growth.
When it comes to companies like enterprises that already have sustainable growth, it's safe to say that bigger budgets for marketing are available. At the same time, after being in the industry for a long time, the company already has the relevant data to decide on how to spend effectively on marketing. Having this advantage leads to reducing marketing costs and being a steadily strong competitor for any other emerging contenders. So, when you need your eLearning business to maintain its market position, it's best to budget 2–10% of your revenue towards marketing. Actually, according to a recent Gartner report, stable growth companies had marketing budgets that climbed from 6.4% to 9.5% in 2022. As you can see, the competition is fierce. And you have to use the right moves to win the game.
If I were to do a sample marketing budget breakdown, the best bet is for you to follow this proven marketing strategy:
Content marketing: 30–40%
Paid ads: 20–30%
Creative design and branding: 5–10%
Public relations and events: 5–10%
Analytics: 2–6%
Tools and software: 10%
Staff members: 10%
So, depending on which category your eLearning business belongs to, now you have a better grasp of the numbers. In case you can't get buy-in from the C-suite, there are plenty of ways to measure marketing performance and prove it's worth the investment. You can start slow and get right to the top as you prove the effectiveness of your marketing efforts.
Geopolitical and fiscal uncertainty has left its mark on marketing budget decisions. However, it's our job to start influencing and changing customer behavior in the post-pandemic era.
Thus, you must allocate your eLearning marketing budget wisely and connect your advertising spend with results that can contribute to your company's growth.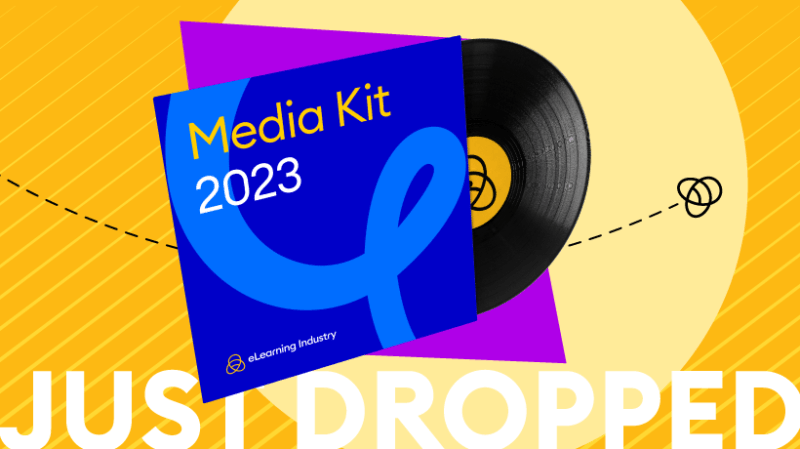 eLearning Marketing Budget Cost Examples: Allocation By Channel
And here's the tough question: how do I allocate my digital marketing budget across channels?
Marketing budget allocation is a tricky subject. Not just for eLearning businesses but for any type of organization, really. It doesn't matter if your business is big or small; we're all living in the age of competition, and those who have a stronger and more effective brand voice and online presence always win.
When there are so many different options in the eLearning market, products and services have to find a way to differ somehow. Plus, you have to promote them in the right channels to generate paying customers and stand out.
As online marketing keeps growing exponentially, eLearning businesses need to use optimal digital marketing budget allocation. That will get a fair slice of your total marketing spend, but it's well worth it.
Let's see some of the main channels that will take up some of your marketing spend. In the end, you'll be able to decide how much you want to invest in different marketing channels.
Content Marketing Costs
Content marketing costs involve not only the creation but also the publication of content. The content could have different forms, such as eBooks, case studies, blog posts, guides, lead generation webinars, videos, graphics, etc. Also, to promote all these, you'll need marketing automation and social media tools.
But which one should you choose? For example, if you're looking for leads, you're better off publishing lead generation eBooks or running webinars. Plus, combining both strategies can help you move prospects down the marketing funnel. That's how marketing funnels work. However, to drive traffic to your site in the first place, you'll want to publish articles that are optimized and get good rankings on Google. For that, an SEO competitor analysis can help you find interesting topics to write about and also see which strategy other eLearning businesses are following.
If you want to grow your eLearning business, you must create and distribute quality content. As you can understand, this requires time and research. You'll have to put in a lot of effort and have a dedicated team of content marketing professionals. Building a high-performance marketing team is key to your success. Obviously, all the above cost money. But it's well worth it, because a digital marketing budget can bring three times as many leads as traditional marketing. Hence, it's worth dedicating funds to this area.
When budgeting for content marketing operations, please consider how much content you must publish monthly. Also, make sure to figure out which content creation formats to use. Finally, take into consideration how much promotion you want for each content piece.
In case you feel it's too much to take it up internally, you can always try to find the best content marketing agency out there to cover your requirements.
Social Media Marketing Costs
Everyone seems to be on social media these days. The influx of people across social media channels like Facebook, Instagram, LinkedIn, Twitter, TikTok, etc., gives you the opportunity to showcase your brand to thousands.
To make your brand voice heard, you must keep the conversation going. And that's a practice you should follow across all your channels.
As you put yourself out there, people will find it easier to get to know you and your brand. So, rule number one is to stay active on social—and everywhere else.
Also, to build your following on social media, you'll have to expand your efforts and start networking. Most importantly, it would be wise to implement guest posting on relevant websites and also reach out to eLearning influencers. It's not only about your own channels. By teaming up with other professionals in the field, you can reap the fruits of increasing your reach to their trusted followers.
Of course, to reach the right people, you need the best tools for the job. From organic posts to targeted ads, you need to find the right tools that will help you manage your social channels.
Thankfully, there are many tools that can help you enhance your social media strategy and boost engagement. If you want to grow your brand, there are different tools you can choose from, including:
Social media scheduling
Organic social posting
Paid advertisements
Analytics
The effectiveness of social media marketing has been debated for some time now. For one, they help you create a strong brand voice and let it be heard. Through your platform, you can reach specific audiences. Here at eLearning Industry, we're very fond of SEO. So, another plus we've discovered is how social media and SEO complement each other.
Email Marketing Costs
All good with getting your voice heard on social media, but in a world of infinite scrolling, emails are breaking through and getting more attention. You see, emails are personal. And that makes them more memorable. Plus, it's actually something that the recipient signed up for. In fact, email marketing is one of the most effective forms of marketing. No wonder it has an ROI of $44 per dollar spent. It's key to start monitoring the time and resources spent on email marketing.
However, the effectiveness of your email marketing depends on your contact list quality and size. When choosing email marketing solutions, this is a key factor. For example, some vendors offer typically a 500-to-1000-contact minimum, while others have a 2000-contact minimum. The more contacts you add, the more you have to pay. It's definitely worth checking out tools like Hubspot and Mailchimp if you're just starting with email marketing.
Yet the software is not the only potential cost. Even if you're working on your in-house email marketing plan, you might need to spend some extra cash to get quality leads for your contact list.
First and foremost, you have to find smart ways to grow your email marketing list.
Finally, there are some lead nurturing costs to consider. Thankfully, you can find email marketing software that includes the built-in CRM tools needed to get the job done. After all, lead nurturing helps you build relationships with contacts. And, at the right time, you'll have the opportunity to convert them into customers. So, it's well worth it.
When talking about email list gathering, to drive engagement and grow your email marketing database, you should consider advertising, website pop-ups, giveaways, and referral programs. These are viable options that can fill up your CRM.
Paid Ads Costs
When you want to bring attention to your eLearning brand and increase traffic to your website, paid advertising is a great way to do so. You can easily step up in the saturated eLearning market and establish your market presence. Or, even better, paid ads can help you enter a whole new market segment you haven't touched before.
Paid advertising allows you to reach your ideal audience by paying for access to the channels you are advertising on. You can either choose to run traditional ads or online ads. Most companies usually go for a combination of both strategies. Some keep it strictly online.
Here are some examples of paid ads you might need to include in your eLearning marketing budget:
SEO and display ads
Social media advertising
Newspapers and magazines
TV and radio
Billboards and posters
Digital marketing, and especially paid ads, give you an immediate measure of your marketing ROI. That way, you can have a better idea of which advertisement led to a specific number of conversions or impacted your revenue. My advice to you is to start researching the available advertising channels. Then, you can budget how much you'll need for each channel based on which ones you want to leverage.
Getting a good return on your investment will prove you've done a good job.
That said, the customer acquisition cost is important. So, you must be careful when planning your marketing strategy. Maybe you'll find that banner ads are more efficient. Or you might see that social media works better.
And if you can't make it on your own, you can search and find the best digital marketing agency out there to help you set up your strategy and beat your competition.
Key Takeaway
Knowing how to allocate your eLearning marketing budget is vital. And digital marketing initiatives are going to take a big slice of it. Are you ready to set your team up for success? What you need to do now is figure out the right campaigns and initiatives. By investing the money you've set aside wisely, you can hit your goals and receive high ROI.
Now that we've broken down the process and shared several eLearning marketing cost examples, it's easier for you to optimize your marketing budget allocation for the best results.
If you feel confused about managing and allocating your eLearning marketing budget across digital marketing channels all on your own, you can contact our marketing team for an extra hand.
But first, download our Media Kit and see what you can accomplish by teaming up with our digital marketing powerhouse.