How Do You Measure Learning Outcomes And Demonstrate Real Business Impact?
Virtually every organization understands the need for learning and development programs if they want to develop internal talent and reduce employee turnover. However, many struggle to connect their L&D programs to real-world outcomes. You must be able to link your learning objectives with business objectives in order to enact meaningful change. This eBook walks you through every step of that process, from metrics you should evaluate to choosing the best platform for the task.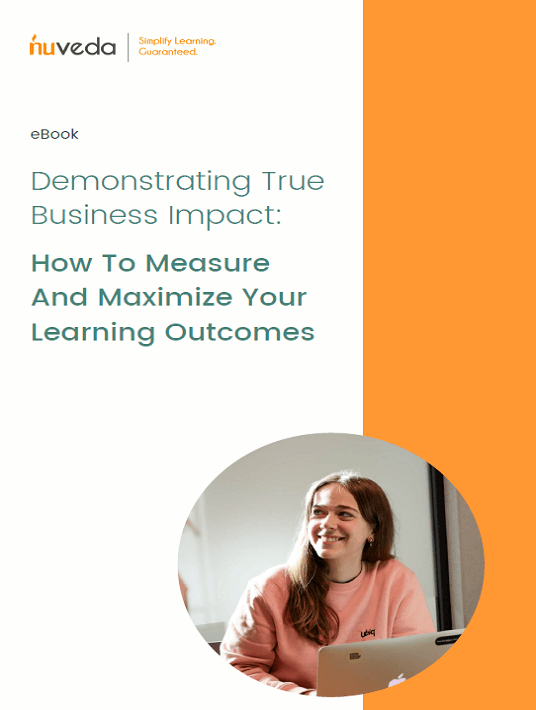 eBook Release
Demonstrating True Business Impact: How To Measure And Maximize Your Learning Outcomes
Discover how to measure learning outcomes and choose a learning platform that can help you demonstrate real business impact.
Connecting Learning Initiatives To Business Outcomes
Why is it so crucial to create learning initiatives that align with business goals and objectives? The most straightforward answer is that L&D lays the foundation for long-term business success. Every employee must not only possess relevant skills and expertise but grasp why they need to hone these talents in the first place. How do their performance behaviors and skillsets contribute to your organization? Why is it integral for them to actively participate in online courses and certification paths? How can their knowledge sharing help the business thrive and remain competitive within the industry? In short, business outcomes make your L&D program more purposeful and strategic.
Who Should Download This Guide?
L&D professionals, HR managers, and all other key players in learning and development can benefit from Demonstrating True Business Impact: How To Measure And Maximize Your Learning Outcomes. Whether you have a staff of 10 or 10,000, your organization must be able to create learning programs that support business outcomes. This guide gives you the info you need to gather feedback, analyze metrics, and select a platform that's right for your business needs. You'll also discover how to use the Kirkpatrick Model Of Learning Measurement to analyze how your learning initiatives play a role in every aspect of organizational success.
About This eBook
How do you develop outcomes that are backed by measurable metrics? Is there a tried-and-tested model you can use to evaluate the effectiveness of your learning programs? Here's a sneak preview of what you'll find in this ultimate guide:
7 Convincing Reasons To Connect Learning Initiatives To Business Objectives
5 Secrets To Create Measurable Learning Outcomes
4 Tips To Use The Kirkpatrick Model Of Learning Measurement To Evaluate Business Impact
5 Types Of Feedback That Can Help Your Learning Programs
5 Metrics That Can Help With Learning Outcomes
Your Guide For Choosing A Learning Platform That Demonstrates Learning Outcomes
Conclusion
Demonstrating the real impact of your learning programs isn't just about ticking all of the boxes and mitigating risks. Tying L&D to objectives gives you the power to bridge gaps, identify pain points, and give employees the practical support they require. Download the eBook Demonstrating True Business Impact: How To Measure And Maximize Your Learning Outcomes to drive L&D initiatives in the right direction and achieve your desired business outcomes. You can also join the webinar to learn whether your L&D initiatives really align with the organizational objectives. The webinar also explores how to leverage the full capabilities of CALF™️, the learning platform that measures the behavioral and business impact of your learning interventions.