Demonstrating Business Impact With Employee Onboarding Analytics
Your new hire onboarding should be tracked with clear and specific metrics to demonstrate business impact. This way, you can highlight how much this employee onboarding contributes to your core capacity as a company.
But, where should you get started with demonstrating this business impact? It all comes down to matching new hires with the right employee onboarding metrics. Here's how we do this in four key steps to show our online training ROI.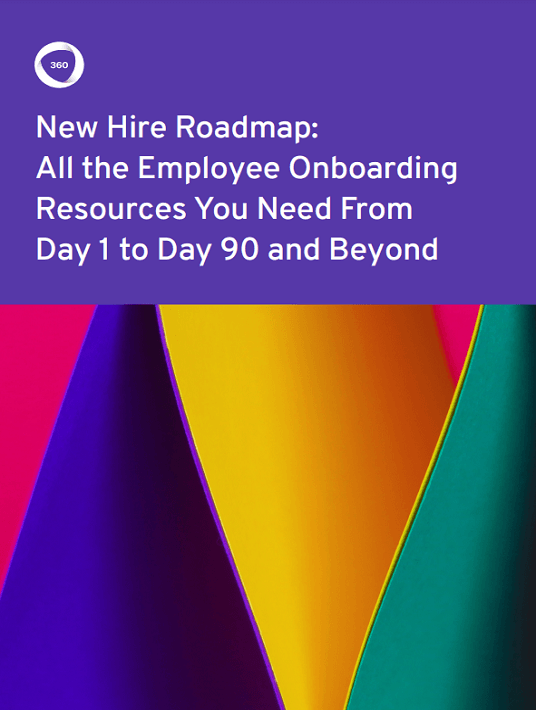 eBook Release
New Hire Roadmap: All The Employee Onboarding Resources You Need From Day 1 To Day 90 And Beyond
We'll show you all the employee onboarding resources you need to build a great new hire roadmap from Day 1 to Day 90 and beyond!
4 Steps To Maximize Metrics
1. Set Process Milestones
The most fundamental step of our four-step employee onboarding analytics process is to set process milestones. Here, we're defining the points during the new hire onboarding process at which the employee should be able to demonstrate new skills, knowledge, and capabilities.
For example, what are the exact process milestones a new hire needs to complete to show they're ready to ramp up? For a new sales hire, this could be pitch mastery. For a new marketing lead, it could be defining a target audience for a campaign. Whatever the new hire onboarding milestone may be, it's up to you to use this as a basis for proving your employee onboarding ROI.
2. Define A Suitable Performance Metric
Next up, you need to get specific. What is the metric that tells you whether a hire has achieved this milestone? In sales, this could be proficiency or the number of clients secured in a given period. In marketing, it could be the level of engagement with a content campaign.
You need to define a metric that is easily calculated and understood with the right context. You can track this with the right employee onboarding tool, such as a learning platform that measures new hire progress with learning modules, and gives a clear result for learning assessments such as quizzes, recordings, or other tests. Taken together, these can demonstrate the performance of your new hire onboarding process as a whole.
3. Set Your Timing Expectations
Once you've set your metric, you need to be clear with your timing expectations. When should the hire be able to demonstrate their achievement of this milestone? By the end of the first month? Or by the end of the first three months?
Whatever you decide for your new hire onboarding timing expectations, you need to be reasonable. Your new hires need to feel like they're being set up to succeed–and giving them the resources, tools, and time they need to develop is key.
4. Document Your Metrics Clearly And Transparently
Finally, you need to document your employee onboarding metrics in a clear and transparent manner. You need to keep close track of progress to show exactly how the achievement of onboarding milestones contributes to business effectiveness. This can involve module completion, activity records, blended learning metrics, and feedback from HR, coaches, or line managers.
After all, a performance target is only useful if it is documented, seen, and understood by others. If you don't take this step, you'll have a much harder time proving your online training ROI, and you'll find it a lot harder to prove the business impact of your new hire onboarding.
Employee Onboarding Metrics In Practice: How It Works At 360Learning
At 360Learning, our new hires arrive full of energy and drive. It's then up to us to use clear onboarding metrics to channel this energy in the right direction and give learners clarity over what's expected of them.
For example, our sales enablement manager assesses a new sales rep's command of pitch, demo, references, and other key aspects of the 360Learning platform on a scale from one to five, with a score of four needed to show mastery. And we don't just use metrics to track individual performance, either–we're also tracking our overall new hire onboarding performance, in particular our online training ROI.
We're always looking for ways to improve our employee onboarding process, which is why we set and track clear KPIs for learning completion and core capabilities during role-specific onboarding and capture in-depth feedback at regular intervals during new hire onboarding. This helps us to make improvements on an ongoing basis, including adapting our onboarding process to new developments in the way we work.
Download the eBook New Hire Roadmap: All The Employee Onboarding Resources You Need From Day 1 To Day 90 And Beyond to learn how to launch a new hire training program that makes a mark and fosters lifelong L&D. Also, join the webinar to stay updated with a new hire roadmap that will leverage your onboarding process!
References:
360Learning
360Learning is the LMS for collaborative learning. We enable companies to upskill from within by turning their experts into champions for employee, customer, and partner growth.