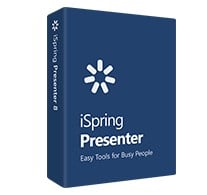 iSpring Presenter
Easy-to-use video presentation software with a built-in quiz maker. The program allows you to import or record audio and video narrations, then fine-tune and synchronize them with slides. Video presentations can be published for the Web and LMSs.
iSpring Presenter Features
Learn more about the features that differentiate iSpring Presenter from the competition.
Interactions
Flash-based
HTML5
Passive (only linear navigation to next screen)
Simple (click, drag & drop, etc)
Adaptive Navigation / Branching
Fully adaptive learning paths
Interactive Templates Gallery
Interface Options
Interface Customization
Preview as published
Customizable Toolbars
Embedded Multimedia
Import Audio
Integrated Sound Editor
Audio Recording
Audio Synchronization
Voice Over
Import Video (YouTube, Flash Movies)
Video Recording
Integrated Video Editor
Import Image
Image Editor
Image Gallery
Clipart Gallery
Import Animation
Integration
P.Point Integration
Animations and Triggers
Transition Effects
Fonts and Formatting
SmartArt Objects
Right-to-Left Written Languages
Mobile Support
HTML5 Converter
Social Media
Gamification Options
Assessment
Quizzes
Customizable Quizzes
Variety of Question Formats
Shuffle Responses
Automated Tracking Options
Automated Feedback Options
Adaptive Assessment
Branching Scenarios
Flexible Scoring
Grading Rubrics
Customizable Surveys
Export
HTML
XML
FLV
SCORM
Security
Content Protection
Password Protection
Applying Watermark
Play only on specific Web Page
Play only for a designated time period