5 Do's And 5 Don'ts For Writing An Effective eLearning Press Release
An eLearning press release tells a story. That story may be fact-filled and to the point, but it's a story all the same. As such,  every eLearning press release writer needs to know how to craft a marketing tale with a newsworthy twist. Otherwise, readers may be confused instead of curious, which prevents them from seeking out more information. Thankfully, there are some do's and don'ts that you can follow to make your eLearning press release effective and attention-grabbing.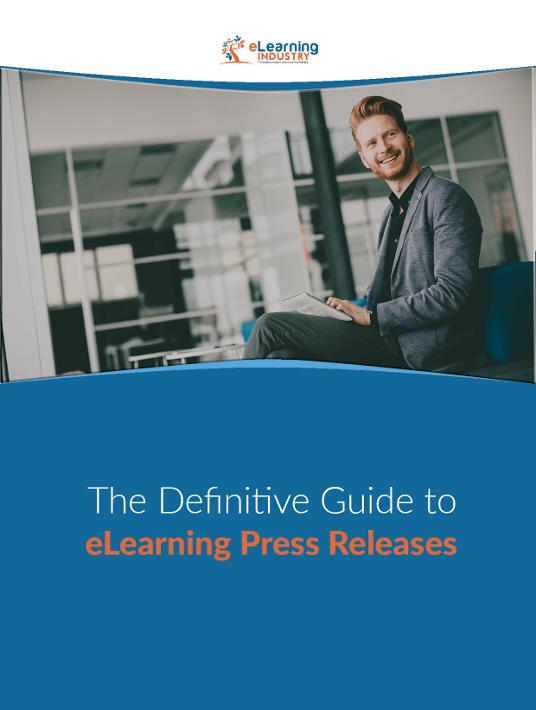 eBook Release
The Definitive Guide to eLearning Press Releases
Download our free eBook and start optimizing your eLearning Press Releases.
When You Write An eLearning Press Release DO…
1. Keep It Short And Succinct
Keep your eLearning press release as brief as possible, while still offering your readers the necessary information. Sentences should also be straight and to the point. This is particularly the case with your headline, which should be no longer than a sentence. Cutting out literary devices will also reduce your word count, such as metaphors or hyperboles. Additionally, the body of your press release should consist of small paragraphs rather than one long block of text.
2. State The Facts
Facts are the foundation of your eLearning press release. The same goes for statistics, research data, and any other information that supports your story. Facts actually serve two important purposes. Firstly, they add credibility to your eLearning press release. Secondly, they make it more compelling and memorable. People remember interesting stats or facts. As such, they'll remember your eLearning product, service, or event.
3. Include Images
Incorporate at least one image that ties into your topic. If you are hesitant to include a photo, mention that "images are available upon request" at the end of your eLearning press release. Choose pictures that capture the essence of your story and grab the readers' attention. Avoid images that are culturally specific or controversial, as this can alienate certain members of your audience. When publishing the eLearning press release online, you may want to include multimedia. Videos, podcasts, online presentations, and other online resources enhance the interactivity of your eLearning press release. As a result, your eLearning press release stands out from the crowd and provides a wealth of information.
4. Provide Updated Contact Information
Members of the media don't have time to track down your contact details before publication. You must include an email address, phone number, and name of an available contact in your organization. This gives journalists the ability to reach out if they have any questions or require more information.
5. Proofread It At Least Twice
Never underestimate the importance of proofreading and editing your eLearning press release before you submit. As a matter of fact, you should probably get a friend or colleague to review it with a fresh set of eyes. They may be able to find errors you skimmed over or make editing suggestions. If nobody fits the bill, consider hiring a professional editor who can give it a quick polish.
When You Write An eLearning Press Release DO NOT…
1. Include Irrelevant Details
Think of an eLearning press release as a story that provides need-to-know information. eLearning press releases should have a cohesive flow, but they should also be as brief and succinct as possible. This leaves little room for extraneous details, anecdotes, and other content "fillers". Stick to the facts and stats in order to keep your readers engaged and enlightened. Keep in mind that readers can get more information by visiting your site.
2. Make It A Sales Gimmick
You may be trying to promote your eLearning event or service, but your eLearning press release shouldn't read like a sales page. Remember, readers are looking for valuable information that can benefit their lives. What they DON'T want is a five-paragraph sales pitch that makes them feel uncomfortable or pressured.
3. Forget About Social Media
eLearning press releases are just one part of your eLearning marketing strategy. You still need to have an active social media presence in order to build brand awareness. So, include at least one social media link at the end of your eLearning press release and make it accessible via RSS feeds. This gives readers the opportunity to learn more about your eLearning event or service without scouring the web for more info.
4. Address To A General Audience
Before you put pen to paper, you should already have a clear idea of who you're writing for. This allows you to customize your eLearning press release to meet the needs of your readership. For example, address a common pain point, offer relevant information, or address a common question. Also, don't forget that you're actually writing for two distinct audiences. The first is consumers who are going to purchase your eLearning product or service, or attend your event. The second is the media, who may use your press release to write their own story.
5. Wait Until The Last Minute
Procrastination can be problematic, especially if you're writing an eLearning press release that includes specific dates. For example, the eLearning press release of new product or a trend forecast. Most journalists and editors need time to read your eLearning press release, gather more information, and then write their own piece. Thus, you need to give them plenty of leeway to get their facts straight. Likewise, your potential eLearning customers and clients need time to make a decision before the enrollment deadline or eLearning press release date. For all of these reasons, it's wise to publish your eLearning press release well in advance. Two to three weeks is a good rule of thumb. Any longer, they might forget. Any sooner, they won't have time to take action.
Use these do's and don'ts to create a media-friendly eLearning press release. Also, keep in mind that every eLearning press release should tie into current eLearning trends, eLearning events or news that draw interest. In some cases, this requires putting your creative thinking cap on to come up with a unique angle.
Are you looking for more tips and tricks on writing an effective press release? Download the Free eBook: The Definitive Guide To eLearning Press Releases. It covers everything from formatting to submitting your eLearning press release for publication.