General Data Protection Regulation Training: Why Corporate Training Is Your Secret Weapon For GDPR Compliance
One year from now, General Data Protection Regulation (GDPR) will enforce tough new data protection legislation that every organization will need to comply with or risk harsh penalties. In the scramble for compliance, it is important not to lose sight of what GDPR really is: A privacy law that aims to protect European Union citizens as their data is handled, even if processed offshore.
Being prepared is crucial. It is vital to review and amend client contracts, update privacy statements on electronic communications, and implement processes for dealing with data access requests and maintaining security, all before GDPR is enforced on May 25, 2018.
Arguably the most important safeguard is raising awareness by providing corporate training to any employees or third-party data processors who handle personal data for your organization. Ensuring personal data handlers are educated should be a top priority to prevent easily avoidable infringements.
PulseLearning have outlined the key areas for consideration for your General Data Protection Regulation Training.
1. Develop A Robust Online eLearning Solution
The personal data handlers with whom your organization engages might be geographically dispersed in several locations worldwide. The most efficient and cost-effective training solution is to partner with an experienced development team to create an eLearning course that can be accessed from anywhere with an Internet connection. In comparison to a one-off, face–to-face training session, an eLearning course can also become a reference tool learners can review on an ongoing basis to refresh their GDPR knowledge.
2. Assist Understanding And Build Awareness
Those who handle personal data on behalf of your organization must be able to identify the personal data they are in control of and understand how and why they have been engaged to process it. The corporate training you provide needs to rigorously explain how personal data can be protected from an information security perspective and how to deal with requests from data subjects, such as a data subject withdrawing consent to use their personal data. Importantly, training should thoroughly address how to recognize and appropriately respond to suspected breaches. Building and maintaining an awareness culture around data protection is the key action for consistent compliance with GDPR.
3. Cover The Right Information
In addition to providing an overview of GDPR, corporate training for GDPR should cover these important topics:
Importance of strictly adhering to documented instructions for handling personal data.
Privacy and confidentiality obligations that apply to those processing personal data.
Security processes and practices for protecting personal data during processing.
Rules and regulations to be followed if appointing sub-processors.
Processes for destroying or returning personal data as required.
Rights of data subjects.
Corporate Training Example
InterContinental Hotels Group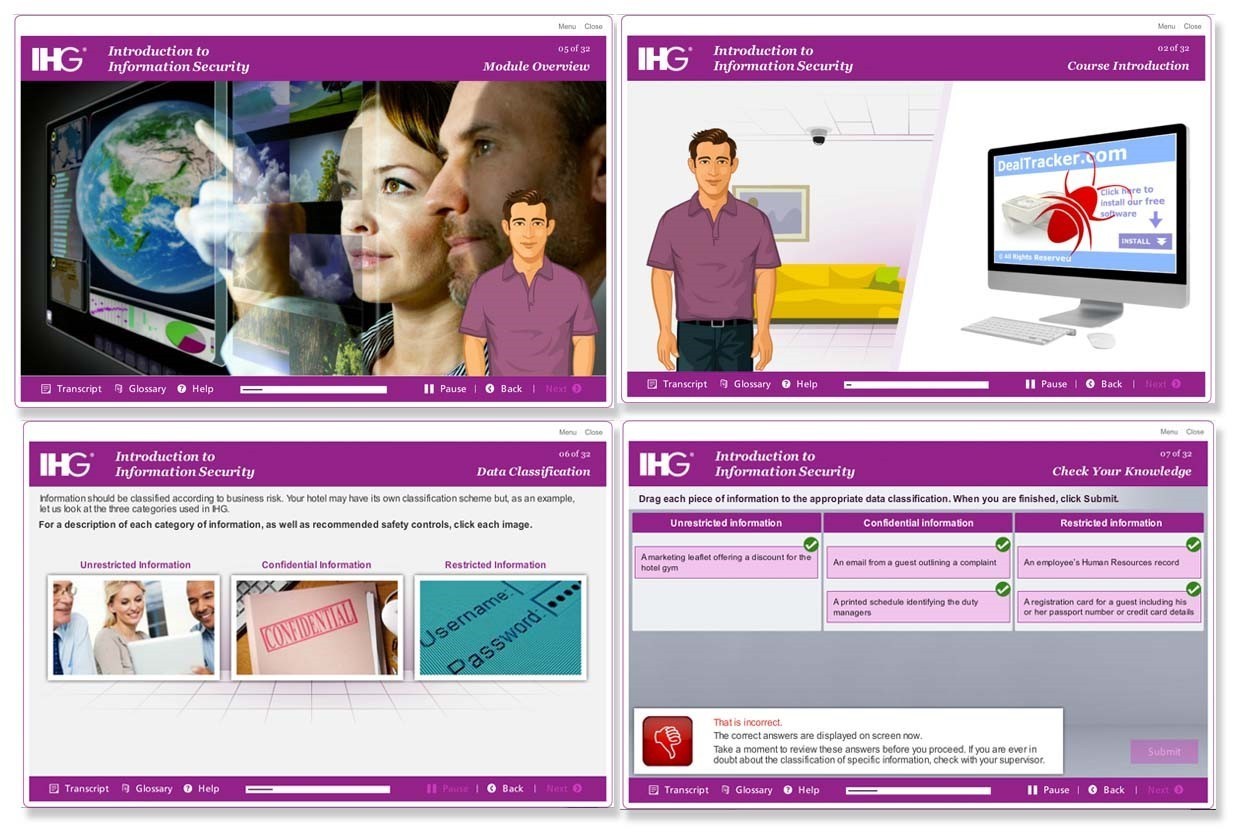 PulseLearning take data protection seriously. By collaborating with us for your online or blended corporate training needs, you can have peace of mind that we understand and can support your organization in preparing for the implementation of GDPR. We understand the importance of undertaking due diligence now to ensure you are covered later.
Interested in learning more about IT Security and GDPR, check out our recent artcile and infographic: