Boost Customer Satisfaction With CRM-LMS Integrations
Customer loyalty is the lifeblood of your organization. Consumers keep coming back for more, refer friends, and possibly even become brand advocates online. But how do you build a stronger relationship with your consumer base so that they transition from casual buyers to lifelong brand-believers? One of the most effective solutions is to merge your CRM and LMS to continually improve CX. To closely monitor how online training ties into real-world performance and identify areas of improvement, as well as provide employees with the targeted info they need to deliver personalized service and exceptional brand interactions. Implement these 7 tips to choose and use CRM-LMS integrations to boost your customer satisfaction scores.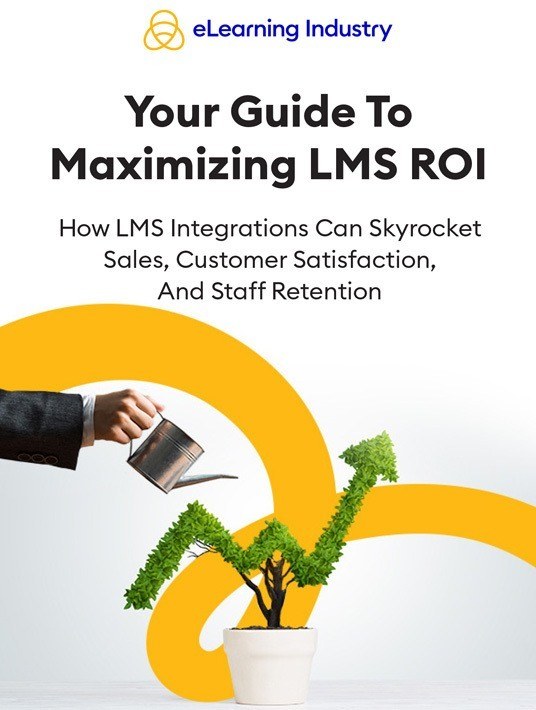 eBook Release
Your Guide To Maximizing LMS ROI: How LMS Integrations Can Skyrocket Sales, Customer Satisfaction, And Staff Retention
Choose the best integrations based on your L&D strategy and business needs.
1. Track The Interdepartmental Customer Journey
There are numerous touchpoints wherein leads and repeat customers, alike, engage with your brand. A SalesForce LMS with built-in CRM allows you to track this interdepartmental journey to identify these points and fine-tune your strategy. For example, prospects often watch demo videos or tutorials to get to know your brand. Thus, you can incorporate an opt-in at the end to gather their personal data. Then funnel it to your partners or sales teams. You can also track their progression through the cycle to determine sticking points, such as under-performing resources that don't address their questions or concerns and diminish your sales figures.
2. Use Customer Trouble Tickets To Revise Your Online Training Strategy
Most CRM platforms support trouble tickets so that you can quickly assist customers and monitor their pain points. For instance, Sap CRM can help you identify patterns or common issues that should be addressed in your online training program. Thus, you're able to deliver these support tools immediately using the CRM-LMS integrations. How quickly was their problem resolved and did the employee handle it with professionalism? Does there seem to a theme that runs through most of your trouble tickets, such as broken components? Use this data to customize online training resources and improve customer satisfaction. Like uploading eLearning tutorials that teach employees how to properly care and handle the item to avoid damage so that they can pass on the info to their customers.
3. Link Certification Paths To Sales Figures
This LMS integrations tip applies to both customers and staffers. Let's use the example of a sales employee who signs up for every certification online training course to upskill and bridge performance gaps. Does their participation translate into higher sales records? Can you see a direct correlation between online training and real-world outcomes? In the case of consumer education, do their online training course completion stats translate into repeat business or higher per-ticket sales?
4. Simplify Compliance Audits
Every organization dreads compliance audits. They must have all their documents in order to avoid fees and penalties and their brand image in good standing. CRM-LMS integrations help you simplify the process and maintain accurate online training records. You can store customer information, employee completion stats, and certifications in the platform. All the data is in one centralized location, which makes it easy to hold employees accountable and supply the auditor with relevant reports. Or even generate customized analytics if requested to speed up the process.
5. Monitor Consumer Education
CRM-LMS integrations provide a 2-way data flow to improve customer satisfaction. Firstly, you supply your sales and customer service teams with relevant info to help them identify consumer's needs and expectations. Which customers sign up for which product knowledge courses and why? Employees can use this information to follow up on qualified leads and increase sales. Secondly, a SalesForce LMS allows you to assign/recommend consumer education resources post-purchase to enhance CX. Customers get more from their investment because they know how to use the product or service and discover its more obscure benefits.
6. Provide Immediate Support Tools Based On Employee Performance
Everyone has their strong suits and weaknesses—even top sales and customer service staffers who've been on the job for decades. But you can help them address personal gaps discreetly with JIT support. Are their sales figures slowly declining in the Sugar CRM? Link to certification paths and self-assessments to help them identify the problem. Do their customer service scores show room for improvement? Assign them skill-based online training paths to bridge gaps and improve CX.
7. Automatically Sync Data
With data scattered everywhere, it can be challenging to detect patterns or flaws in your customer online training strategy. Not to mention, track employee performance and link it to online training initiatives. LMS integrations enable you to automatically sync data across platforms. It's a free exchange of user data, sales reports, and online training metrics so that you can optimize business operations. That said, you still have the ability to grant permissions or authorizations based on the employees' title and duties. For instance, only team leaders have access to departmental reports. Likewise, the income/expenditure reports are off-limits to everyone but your accounting team. Sensitive data is still restricted to relevant departments or positions. Thus, it's crucial to find LMS integrations that support role assignments and advanced SSO options. Such as the ability to limit the accessibility based on the user's credentials.
CRM-LMS integrations help your front-end teams make better-informed decisions based on buying histories and consumer online training reports. Customers feel like your service is custom-tailored to their needs because it is. The CRM and LMS ensure that employees have all the background info they require to provide exceptional CX at every stage of the cycle, from personalized pitches to stress-free returns. As a result, customers remain loyal and you retain your top talent.
If you're looking for ways to boost the functionality of your LMS and turn it into a powerful tool for your organization, then this eBook is for you. Download Your Guide To Maximizing LMS ROI: How LMS Integrations Can Skyrocket Sales, Customer Satisfaction, And Staff Retention and discover must-have features, tips, and best practices for implementing LMS integrations.