The Important Role Of An eLearning Researcher
The eLearning field needs continuous research so that professionals can understand how technology affects the industry, and how they can create meaningful eLearning initiatives. eLearning researchers have the critical role of exploring different aspects of the industry, like Instructional Design and learner outcomes, and use their findings to optimize practices and processes. Another key role is collaborating with instructors and developers to create engaging online courses, as well as contributing their ideas and devising new approaches to make learning experiences stick. Below, we'll explore what it takes to become an eLearning researcher and what the role entails.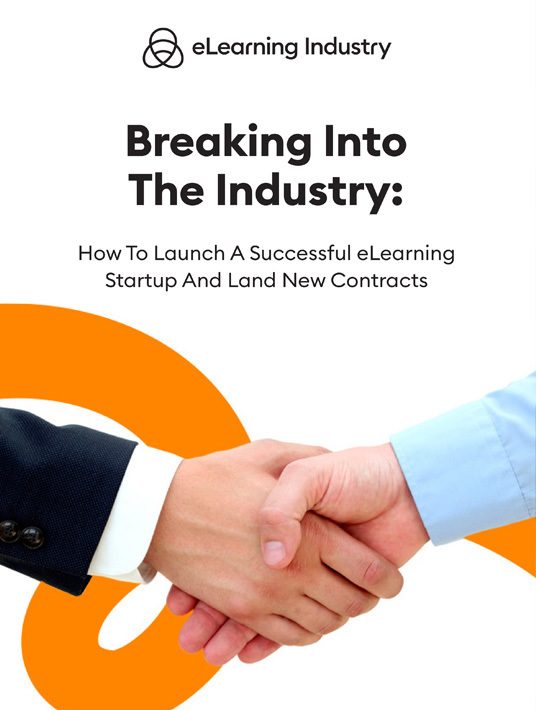 eBook Release
Breaking Into The Industry: How To Launch A Successful eLearning Startup And Land New Contracts
This all-in-one guide walks you through the process of finding your niche and lists some of the best practices for your eLearning startup business!
The 4 Steps To Become An eLearning Researcher
1. Educational Background
There isn't a specific field of study that can lead you to become an eLearning researcher. Instead, many degrees offer helpful skills for this career, like education, psychology, computer science, Instructional Design, or even information technology and communication. First and foremost, research and analytical skills are essential to collect and analyze data. You may also need to be familiar with tools like SPSS and statistical software. Lastly, you should know how to utilize Learning Management Systems (LMSs), authoring tools, and other learning technologies.
2. Knowledge Of Trends
You must be able to keep up with trends and, ideally, stay one step ahead of them. These include using multimedia, such as video, graphics, and animation, to create appealing eLearning content that engages learners more than traditional text-based lessons. Interactivity allows learners to actively participate in online courses by participating in serious games, VR simulations, and branching scenarios. More examples of trends in the field are microlearning, which helps learners assimilate the content more efficiently by breaking it down into smaller bits; gamification, which enriches the learning experience with incentives and embedded feedback; and mobile learning, which breaks down accessibility barriers by providing on-the-go support.
3. Conducting Research
The most important aspect of your career as an eLearning researcher is knowing how to develop research questions, plan your research, collect data, and then analyze and communicate what you've found. For a start, research questions should be specific, as they are the foundation of your study. When developing them, you need to consider the research's purpose, audience, methods, and available resources. After the research, decide how you'll collect the data. Are you going to rely on surveys, interviews, or experiments? Then, find a statistical method for the analysis and examine how the results can be applied to eLearning. Last but not least, communicate your findings effectively so that your target audience can understand them and assimilate the information.
4. Networking
Collaboration with other researchers can help you develop new skills and benefit from their expertise. It's also helpful for your research, as you'll tap into new resources. Consider joining professional associations where you'll connect with others in the field and learn about trends and new methods. Conferences and workshops can also offer networking opportunities, and you'll have the chance to peruse the work of other researchers. This way, you can collaborate in future projects with the people you meet during those events and forge a successful career path.
Opportunities For eLearning Researchers
If you choose to take the academic route, you can lead courses centered on eLearning and, of course, team up with experienced researchers and professors. You can also pursue positions in universities. On the other hand, eLearning researchers may decide to venture into corporate territory. You'll have the chance to apply your knowledge in practical settings. You can work in a company that specializes in eLearning or be a consultant for Instructional Design projects. As a researcher, you are able to develop new technologies that can advance the industry and help others with their eLearning strategies, such as companies that want to bridge skills gaps among their remote workforce.
Challenges In The Role
Funding
Securing funding for your research can be a significant problem as you start your journey in the field. For example, you may require software or experienced staff to handle various aspects of the research process. If you're not eligible for funding, such as government grants, you might consider starting small and steadily building up a client base or working as an independent contractor to help L&D teams or course developers perfect their eLearning initiatives.
Time Limitations
Research can be time-consuming because it involves a great deal of detailed planning and preparation. This means that eLearning researchers might feel pressure to complete projects on time while also dealing with other personal and professional obligations. Consider collaborating with other researchers to share the work and try to automate some of the processes, like data analysis.
Limited Access To Participants
You'll need to take caution when selecting participants for your studies, especially if you need a large pool of samples. Also, it may be difficult to find willing participants if your research methods are too involved. To overcome this obstacle, find platforms with large groups of users that offer you remote options for data collection, for example, through online surveys or social media.
Conclusion
As the field is evolving at a full tilt, you should consider a role as an eLearning researcher if you're looking for a career path that allows you to explore new technologies and educational methodologies. The key is knowing what it takes to be successful and using the above tips to find your niche and navigate the most common challenges.