Hyderabad, India – July 15, 2021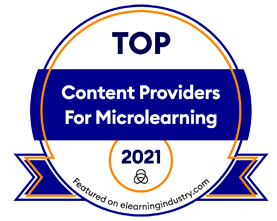 CommLab India, the global leader in rapid eLearning solutions for corporate training, has ranked third among the top providers of microlearning solutions! This reflects CommLab India's expertise in designing and delivering performance-based, highly engaging micro assets that are rooted in solid instructional design.
CommLab India designs and develops microlearning solutions that work well, either standalone or as part of blended solutions. CommLab India provides clarity on what microlearning is and isn't, and helps customers select the best format for each micro asset, always ensuring form follows function. They have the expertise to develop a wide range of popular microlearning assets as seen here.

The CommLab India Advantage
CommLab India helps organizations maximize training ROI by packaging microlearning assets to be used in different ways – for instance, a learning module for new hires can serve as a refresher for experienced employees. They also repurpose classroom training material and lengthy eLearning courses into microlearning assets using the 'Rebuild' strategy of the 4Rs.
They enable organizations to use microlearning solutions for both pull and push learning – 'pull' learning where assets are uploaded on the LMS for learners to access, and 'push' learning where assets are assigned to learners at spaced intervals to reinforce recall and application, and check retention.
When you choose to go with CommLab India to develop microlearning content, you will get to populate your employees' learning journey with assets that make the right impact, at the right time, in the right dose. For example, CommLab India designs:
Highly effective splash entry videos to grab learners' attention
Infographics with trivia or fun facts to build awareness on the training topic
Quizzes to test recall of prior knowledge and for assessments
Scenario-based modules to help learners apply knowledge/skills and experience the consequences
PDFs and infographics for reinforcement
Success Story: Microlearning Curriculums for Product Training
For a customer from the pharma industry, CommLab India designed several microlearning curriculums. Each curriculum covered 1 medical product in detail, helping sales reps (the target audience) improve their knowledge and hone their selling skills. Each curriculum was structured with individual modules on:
The disease in the organ/system the drug was intended to treat
The drug with its indications, contraindications, dosage, and side effects
Performance of the drug vis-à-vis competition
Results of clinical trials and research findings
Application scenarios to help sales reps answer doctors' questions
CommLab India developed 400+ responsive microlearning modules compatible with all devices and orientations.
This is what Dr. Ayesha Habeeb Omer, COO & Co-Founder CommLab India, had to say on receiving the award. "We are seeing the increasing potential of microlearning which is slowly emerging as one of the mainstays of corporate training due to the many time pressures and hectic schedules learners face today. It is a 'cool' way to help millennials learn without being intrusive. And the sheer variety of microlearning assets gives you a wide playing field. We urge all organizations to have microlearning in their corporate training strategy and experience the power of short learning bytes that make a huge impact and maximize ROI!"
About CommLab India
CommLab India, with more than two decades' experience in the learning industry serving 100 International customers in 30+ countries, is one of the most sought-after global leaders for rapid eLearning solutions. It has been ranked first among top providers of Rapid eLearning for 2021 and Blended Learning Solutions for 2020 by eLearning Industry.
With its formidable authoring tool expertise and decades of experience in corporate training and instructional design, CommLab India offers rapid eLearning solutions for speed, scale, and value… with any authoring tool for:
Converting of ILT material into instructionally sound, visually appealing, engaging eLearning curriculums, virtual sessions, and other digital learning formats
Converting legacy courses (from Flash or any other authoring tool) to HTML5, even when source files are not available
Translating English eLearning courses into 35 international languages – both text and audio