Exploring The Future Of Healthcare
The healthcare industry was one of the most impacted fields when the pandemic hit. Organizations hurried to find qualified employees to keep up with the demand, and there's still a labor shortage lurking in the post-pandemic era. This eBook sheds light on what tomorrow will bring for this industry and how organizations can prepare for the future of healthcare by attracting and retaining team members.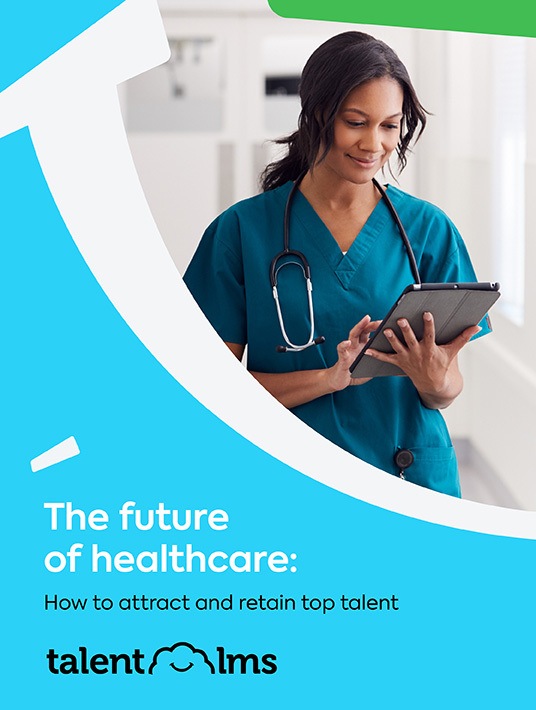 eBook Release
The Future Of Healthcare: How To Attract And Retain Top Talent
Explore the impact that the global pandemic had (and in many places is still having) on recruitment and retention strategies in healthcare.
Why There's No Time Like The Present to Re-Evaluate Your Employee Retention Plan
The Great Resignation is leaving its mark on every sector, and the healthcare industry is no exception. Thus, it's crucial for organizations to take a closer look at their current recruitment and retention strategies to see how they can expand and maintain their talent pool. This eBook can help you identify areas for improvement and create a plan of action that allows you to attract qualified candidates and improve employee satisfaction across the board.
About This eBook
How can you prepare your healthcare employees for the challenges ahead? Which courses should you consider? Here's a brief glimpse of what you'll find in this guide by TalentLMS:
The state of the healthcare industry in the post-pandemic era: What the industry looks like now and what this means for employers and staff.
What the future holds: Exploring how tech developments and labor shortages make healthcare companies rethink their hiring and retention strategies.
Hiring healthcare staff: Looking at strategic steps to position organizations as great employers and attract the right people.
How to retain employees in healthcare: Highlighting 10 ways to hold on to talent.
Why employee training can make a difference: Presenting 12 training courses that appeal to healthcare staff.
How To Get Your Copy
Download the eBook The Future Of Healthcare: How To Attract And Retain Top Talent today to recruit top performers and continuously broaden their skills.