How Can You Measure Training Impact And Prove ROI?
You invest significant resources to develop your internal talent, but how can you tell if your training initiatives are really paying off? Is your L&D program helping you to achieve organizational goals, or do you need to rethink your approach? This eBook shows you how to measure training impact and ensure it aligns with real-world outcomes.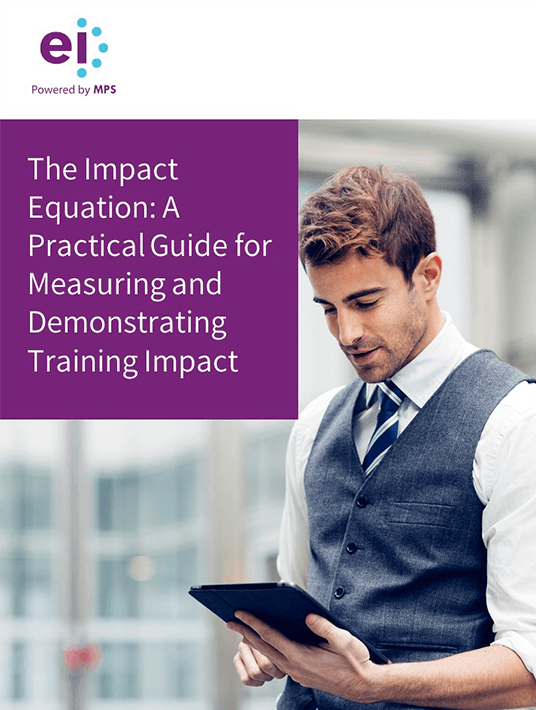 eBook Release
The Impact Equation: A Practical Guide To Measure And Demonstrate Training Impact
Find out how to better align your L&D goals with business needs to ensure that training is focused on outcomes and can positively impact the business.
Does Your Training Make Its Mark?
Demonstrating training impact isn't just about turning a profit. There are a variety of factors to consider, from employee performance behaviors to retention. For example, if your training program isn't up to par, team satisfaction scores may plummet and turnover rates will surge. This might cost you top talent who are looking for training opportunities that resonate with them and their job roles instead of one-size-fits-all courses. It's essential to develop training resources that aren't about ticking boxes but empowering employees to build vital skills and expand their knowledge so that they can bridge gaps and hone their strengths. The secret is knowing how to assess your current approach to identify areas for improvement and focus on areas that tie into practical outcomes. That's where this guide comes into play.
About This eBook
How can you determine whether your training program is leaving a lasting impression or missing the mark? Which strategies can you employ to link learning to on-the-job performance? Here's a sneak preview of what you'll find in this guide:
Key Challenges In Evaluating Training Effectiveness And Its Impact
How To Re-Orient Your Approach To Training Impact Measurement By Leveraging A 5-Step Approach
Key Models And EI's Methodology To Measure Training Effectiveness
Get Your Copy To Measure Training Impact
Download The Impact Equation: A Practical Guide To Measure And Demonstrate Training Impact today to discover how to evaluate L&D success and prove ROI.