How To Evaluate The LMS Customer Experience During A Free Trial Or Demo
When you're evaluating an LMS, you have many different factors to weigh up. Will it meet all of your L&D objectives? Will it transform the learning environment? Will it improve the operations of your support services team? Will your corporate learners be able to use the system easily, wherever they are in the world? A demo or free trial is an excellent tool to assess LMS customer experience. It gives you a window into your supplier's customer service, as well as essential factors such as platform usability. Keep this article on hand during your LMS test drive to see how the system stacks up.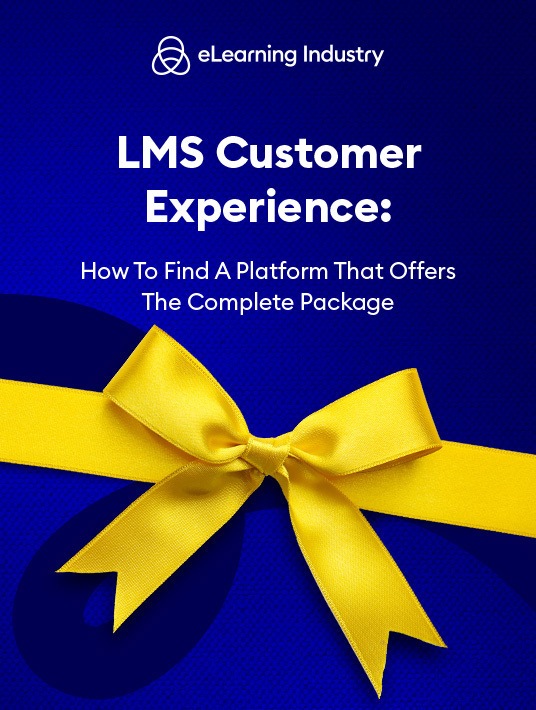 eBook Release
LMS Customer Experience: How To Find A Platform That Offers The Complete Package
Find out why LMS Customer Experience really matters, the benefits of delivering a Superior CX for your organization, and how to set your LMS expectations before purchasing a new platform.
Setting Yourself Up For Success
In order to evaluate the customer experience during your LMS demo, you need to set up key scenarios to evaluate. Make sure you are able to do all of the following when you are testing the system:
Create an online training course
Create an online test/assessment
Create a learning path
Upload a list of users to the system
Create a learner profile
Schedule an online training session
Assign an online training course to a corporate learner
Generate a report
This testing environment will give you the majority of the scenarios that you will need in evaluating LMS customer experience. For example, submit trouble tickets based on any issues you encounter during your test round.
Focus On 5 Key LMS Customer Experience Factors
Excellent LMS customer experience is all about the interactions between the system, the supplier, the LMS support team, and the user. They must be smooth, and they must improve what was there before. In the end, the LMS needs to meet its objectives: a highly skilled workforce, with cost savings. If the LMS customer experience isn't a notable improvement on what was there before, then value for money goes out the window.
1. Usability
During your LMS free demo, do all the above first without accessing online training materials. Then repeat, using the supplied online training, to fill in any gaps. This will show you how intuitive the User Interface will be. Is it easy to operate? If so, this will mean minimal training costs for administrators as well as users. A superior LMS customer experience also typically involves customer knowledge resources, such as online training tutorials to help you navigate the tool's features or FAQs to answer your most basic questions during the LMS free trial.
2. Customer Service
For a start, the fact your supplier is providing that LMS demo is a great sign of their customer service. What do they provide you in terms of support? Are they available for live chat or phone response? How quickly are issues resolved? Your supplier should be putting their efforts into impressing you. But they also have costs of their own to consider. How well do you consider the demo period to be supported? Contact them during the LMS free trial to scope out their support services. Do they quickly reply to your email or trouble ticket, or does it take 3 days for them to respond to a basic query?
3. Data Migration
Does your existing learning suite of online training resources, users and learning paths migrate easily into the new environment? How much training is required for your LMS support team to migrate a sample online training course? You need to assess how long the migration period will take, and what support is available from your supplier. This can be achieved by extrapolating the results of small-scale uploads of test users, online training courses, and documents. A vendor that delivers a positive LMS customer experience is willing to work with you to improve functionality. They know that wasting precious online training resources on lengthy data migration and integration challenges negatively impact your bottom line and that providing a user-friendly LMS is part of the CX package.
4. Customizable Reporting
Your support team should be able to get quick, accurate reports when they need them. Whether that's an ad-hoc extract or a daily dashboard, they should be able to analyze online training data quickly and reliably. Customization should stretch to the User Interface in branding, eLearning course templates, and online assessments exactly as you require. Use your LMS demo to test individual learning paths and to check that assessments are being reported accurately. Best is to use a group of test learners, who can provide honest feedback.
5. LMS Vendor Experience And Know-How
The LMS vendor may be willing to go the extra mile and provide you with a high level of customer care. However, do they actually know their stuff? Or will you have to struggle through every programming glitch or login error? You should feel confident that your vendor has the experience and knowledge to help you troubleshoot problems. They must stand behind their product and not only provide the ideal level of support services but also LMS expertise. Don't hesitate to ask questions about the tool's lesser-known functions and backend programming. Inquire about their data encryption and security protocols. Put their knowledge to the test so that you can rest assured they'll be able to handle any challenge that comes your way.
Don't fall into the trap of focusing on features over usability and forgetting about LMS customer experience. Your LMS must provide a central repository for all your online training resources. It must change the way your L&D team reports to managers, support services, and senior leaders. It must transform employee training to an anywhere, anytime, online training environment. It also needs to balance the cost of implementation with the quantifiable benefits of cost savings and user satisfaction. Nothing more, nothing less! Use your LMS demo period to examine the real-world scenarios a customer will encounter. If it's falling short in the four priorities of migration, customer service, reporting or usability, then your supplier must explain. Are you getting the most out of your LMS free demo?
What are the warning signs that you should look for in your current LMS before deciding to buy a new one? Are your top LMS choices going to deliver the superior customer experience you deserve? Download our free eBook LMS Customer Experience: How To Find A Platform That Offers The Complete Package for tips on how to choose the LMS that offers the best customer experience and the ideal level of support. It also includes insider secrets to use ratings and reviews to evaluate your top LMS contenders.