How To Find A Training Needs Analysis Specialists In Your Industry
Training needs analysis is stressful enough. You don't need to compound it with outsourcing headaches. However, there are so many vendors to choose from that finding the perfect partner is nearly impossible, right? Fortunately, there are a variety of free ways to vet vendors and identify top TNA specialists in your industry; reference tools that give you the opportunity to evaluate solutions, user reviews, and selling points to maximize value for money. No need to pull up a Google Search, click a random link, and hope for the best, or visit landing pages until your head starts to spin and all the testimonials blur together. These tried and tested research methods will help you land the right training needs assessment provider for your use case.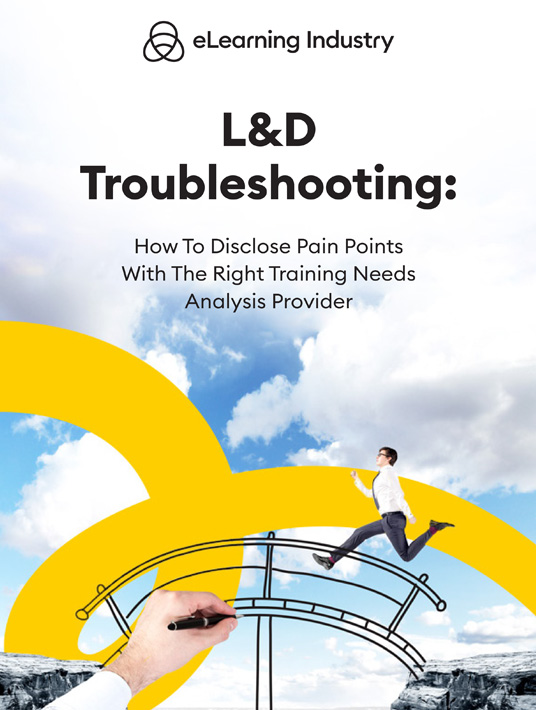 eBook Release
L&D Troubleshooting: How To Disclose Pain Points With The Right Training Needs Analysis Provider
Let's explore how you can implement successful VR training strategies for experiential learning!
7 Ways To Choose A Training Needs Analysis Company
1. Exclusive Directories
Online directories give you a head start because they feature all the buying essentials, including company bios, specialization areas, and solutions. There should also be general information about their support services, how long they've been in business, etc. The secret is to look for listings that are geared toward HR and L&D managers. These directories know what you need to improve ROI and simplify vendor vetting. For example, every listing has a complete list of training solutions/interventions, broken into distinct categories. You can quickly scan the page to see if they're worthy of your shortlist or you should skip to the next vendor.
2. User Ratings
User ratings give you a preview of what's to come if you choose to hire the training needs analysis outsourcing partner. The overall rating consists of six evaluation criteria: quality of service, deadlines, responsiveness, value for money, communication, and achieved results. Do they score high on the satisfaction scale? Is the user likely to recommend them to a colleague? You can also sort results by overall rating to see which training needs assessment vendors rise to the top.
3. Social Media Groups
Social media groups may not be the most reliable source of information. Group members don't have to justify their opinions and some may even be sponsored by competitors. The trick is to focus on the whole instead of the individual parts to find genuine reviews. For example, 50 people rave about this training needs analysis company and how it surpassed their expectations. All their opinions or recommendations are unique. Meaning there's no cookie-cutter response the vendor asked them to post. You can also look for pinned lists that feature all past suggestions and/or rank vendors by overall CX.
4. Vendor Landing Pages
Training needs assessment landing pages are another biased research method. Every vendor wants to put their best foot forward. So, you probably won't find negative reviews on their site. But you will get detailed information about their training solutions, past projects, and professional background, as well as samples of their work so that you can evaluate their skills for yourself. In the case of TNA, vendors typically provide case studies or examples for the sake of confidentiality. They can't air clients' dirty L&D laundry just to prove their industry experience. Another thing to look for on their landing page is press or accolades that show off their achievements.
5. Referrals
If any members of your team have worked with outsourcing partners in the past, ask for their advice. Can they refer a training needs assessment company in your budget? At the very least, they're able to offer pointers to find the perfect partner and avoid common pitfalls. For instance, you should consider vendors who offer bespoke content and leadership development training in addition to TNA so that you don't have to go through another round of vendor selection after the training needs assessment. Another way to gather referrals is to post project specs on online forums or your internal LMS.
6. Online Reviews
Most of us have outsourcing horror stories. It wasn't that the company lacked the necessary skills or tech tools. The problem often lies with miscommunication or high expectations. For instance, you discovered that their work practices didn't mesh with yours or they weren't as responsive as you hoped. Online reviews give you a firsthand look at the training needs assessment company's performance. What did reviewers like best about the experience? Was there a downside to working with the TNA vendor? Is there one review that stands out because the user has a similar use case?
7. Requests For Proposals
This is the most involved method but it's also the most personalized. Submit to your top choices RFPs that include project details, budget, and use case. Vendors send their proposals, which have their cost estimates and implementation schedules. It's the company's opportunity to highlight their skills, background experience, and TNA methodologies. How do they differ from competitors? Do they also offer training solutions to fill newly discovered gaps? Are they in your price range, or should you continue the search for more affordable consultants?
Conclusion
How do you know if your top outsourcing contenders will live up to expectations? Aside from industry experience, training needs analysis companies should possess tech expertise and other key qualifications. For example, they're adept communicators who collaborate with your team and value feedback. An RFP isn't the only way to assess their talents and professional background, though. You can also schedule a one-on-one meeting to discuss the project and address concerns. Come prepared with a list of questions and share the results with your team so they can offer input.
Are you looking for a reliable directory that features all the top TNA service providers? With years of industry experience, we understand what organizations expect from training needs analysis outsourcing partners. Our listings highlight vendor solutions, specializations, customer types, and use cases. You can also read user reviews to find a training needs analysis company that delivers the best CX.
Download the eBook L&D Troubleshooting: How To Disclose Pain Points With The Right Training Needs Analysis Provider to find a partner who helps you identify L&D shortcomings and develop a plan of action.