Is Blended Learning The Best Approach For Developing Talent Remotely?
This article is part of a series exploring the concept of blended learning for remote and on-site workers. What you are about to read is a fable. The company, AshCom, is fictional but the learning challenges faced by Kathryn, AshCom's CLO, and her team are real and commonly shared by learning teams in large organizations. It is our hope that you will be able to connect with the characters, their challenges, and the solutions they discover. We also invite you to read the first eBook in the series.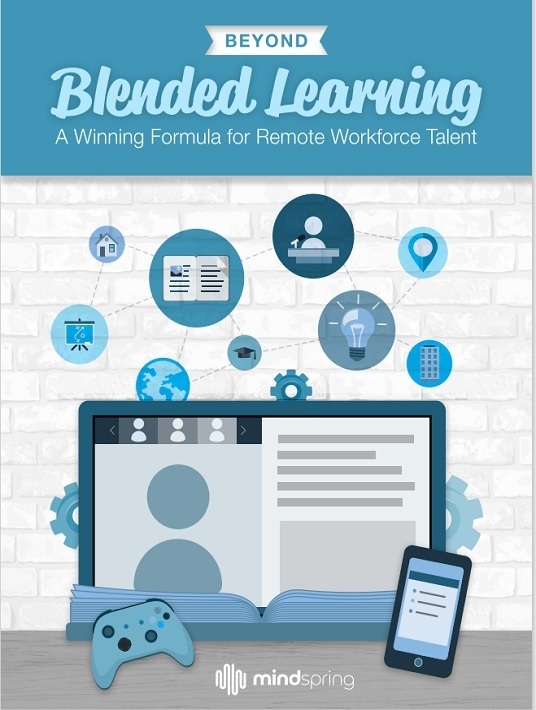 eBook Release
Beyond Blended Learning: A Winning Formula For Remote Workforce Talent
Follow along as fictional company AshCom faces L&D challenges and rethinks traditional blended learning strategies using an innovative formula for success.
Monday Morning Meeting
Not yet. It wasn't quite time. Every member of the human resource team at AshCom, a 7,000-employee company based in Minneapolis, glanced often at the clock as the Monday morning meeting drew near.
9:00 a.m.…9:05 a.m.…9:10 a.m. The HR team included 87 people spread across multiple plants around North America. And as the clock flipped to 9:17 a.m., all 87 team members were ready and waiting. Those new to AshCom's HR team wondered about the odd start time. There was a history. When Laszlo became Chief Human Resources Office at AshCom, he brought the practice from the time he spent at Lincoln Financial Services. He claimed that starting at 9:17 meant more people on time than if the meeting started at 9:00 even. No one challenged him.
The call was only 13 minutes long and was done every Monday unless it fell on a holiday. The idea was a quick check-in. Only a handful of people spoke, but everyone left the call knowing what was happening in HR across the various plants.
Focusing On The Essentials
This was the place to bring up significant issues related to the team's work. Because only five or six people spoke and because they only had 90 seconds, they filtered out what was unimportant and highlighted only the most important things on their minds. It might be an insurance issue or a hiring challenge or something related to the culture.
Laszlo was looking for commonality. If the same problem was popping up in multiple locations and calls, it would quickly rise to his top five list of challenges. That might be an indicator that there was something brewing in the HR system he had established. Eighteen months earlier, he started to hear mention of work-from-home (WFH) inquiries from those being recruited to work at AshCom. They were usually looking at office jobs and often came from a company that had some sort of flexible schedule.
Since then, the number of questions about WFH options rose steadily. It was mentioned on almost every Monday morning call now. Unlike other issues, Laszlo was slow to make this a priority. He decided to track this and asked those in leadership positions in his team to keep their ears open. He also began some early research when he had time.
In the last month, the topic came up on every call but from a new direction. Instead of recruits asking, those who spoke on the call reported that existing AshCom team members were also asking. One of the speakers mentioned it. The others said they were hearing the same. Current employees were asking.
Laszlo noted it and moved on to the next speaker but made a mental note to put more effort into understanding what it might mean for AshCom to offer some work-from-home options. His immediate reaction was not favorable. How would this work for a manufacturing company? He was experienced enough to know that his initial reaction was often wrong or at least pointed in the wrong general direction. His education and previous jobs taught him to be analytical.
Laszlo's Story
In his early 40s, Laszlo was named after his paternal grandfather, a man born in Hungary in 1931. His grandfather married his grandmother when they were not even 20 years old. They immediately started a family. Their firstborn was Laszlo's father. Soon after he was born, Hungary turned dangerous. The Hungarian Uprising of 1956 began as a student protest in Budapest against Communism but quickly spread.
Laszlo's grandparents decided to wait to see what developed, a position that changed drastically on November 4 when a significant Soviet military force rolled into Budapest. Along with several hundred thousand others, Laszlo's grandparents fled to Austria. After a lengthy period of waiting, they were allowed to go to the United States, eventually settling outside of Minneapolis, only a few miles from the headquarters of AshCom where Laszlo now worked.
Although he attended the University of Minnesota, Laszlo's goal was to leave the area and work in human resources in a Fortune 500 company. After completing his master's in human resource management at Harvard, he took a job with a global consulting company. There he learned the inner workings of human resource systems on a very large scale, working with some of the most sophisticated organizations in the world.
That was followed by stints at both Boeing and Lincoln Financial Group. He served both companies well and built a reputation for being smart, talented, and likable, with just the right amount of toughness. As time passed, Laszlo's priorities began to change. He found himself thinking about Minneapolis more than he ever had in the past. When AshCom hired a firm to find a CHRO, they never figured they would attract someone like Laszlo. When he applied, they were a little taken aback. One member of the interview committee asked, "Why would someone with your resume be talking to a company like AshCom?"
The AshCom Challenge
Laszlo smiled. He anticipated the question. He told them that he and his wife had been on the move for 20 years and were ready to settle back into the Minneapolis community. Their parents were still living, and they looked forward to spending more time with them. They also wanted to provide a more stationary life for their children.
"I loved the climb," he said, "but I am looking for something longer term. I know AshCom is smaller than what I've been working with, but I would love the opportunity and the challenge of building a culture that grows a company and its people. I think AshCom is the right opportunity for me."
Laszlo did what he said he would do. The Ash family, owners of AshCom, were thrilled with his leadership. He got things done. No one doubted that. But he also had an advanced sense of situational awareness that enabled him to address minor things before they became major problems, a skill he learned in the Fortune 500 companies. He called it 'learning to see around corners.'
Given where he had been before AshCom, he had a good network and was able to attract incredibly talented people to the company. He thought of himself as a manager on a sports team whose job it was to advance the team and its players in a way that benefited both. A culture that grows all involved.
The point of the 9:17 Monday morning phone call, for Laszlo anyway, was to listen for anything that might threaten AshCom's ability to attract, develop, and retain top talent. With the requests for work-from-home options increasing from recruits and starting to bubble up among existing employees, he knew this needed to be moved to the front burner.
Blended Learning & Remote Work Options
His previous companies had given him little experience with remote work options. Even at the consulting company, it was not common. Many people spent time traveling and many nights in hotels, but when they were home, they were in the office. The people at the financial company were in the office five days a week for at least 40 hours and often more.
How would working remotely work for a manufacturing company? He knew that many jobs at AshCom could not be done remotely. Their lines required people. Technology, innovation, and robotics mean fewer people but for those people, being on-site was essential.
He also knew, however, that it might be possible that some jobs could be done remotely or with some sort of flex system.
What, he wondered, would that do to their culture?
How would people be developed remotely?
How would someone be onboarded without being in the plant?
What would happen to AshCom's leadership development program?
For now, he had no answers. He was pretty sure he didn't even know all the questions that should be asked. Laszlo would need some time to work through these questions and add to them. Something was changing in the expectations of recruits and current team members, and it could no longer be ignored.
Conclusion
Download the eBook Beyond Blended Learning: A Winning Formula For Remote Workforce Talent to discover how AshCom overcomes its L&D challenges using innovative blended learning strategies. Also, join the webinar to uncover valuable insights that will help you improve your L&D planning and learning delivery.

MindSpring
MindSpring is an award-winning agency focused on delivering engaging and transformative digital content. We create digital experiences using exceptional creativity, the best of learning science, and innovative technology. (Previously Inno-Versity)