10 Things You Should Know About eLearning Industry 2013 - Infographic
$4.4tn - 2012 global education expenditure supported by 1.4bn students and 62.5m educators
23% CAGR forecasted out to 2017. The eLearning market in education, standing at $91bn in 2012.
700m individuals of the world's population will lack basic literacy skills by 2015.
$1tn load dept. The cost of education has risen 84% since 2000, 37% higher than CPI, which has lead to situations like the US student loan debt accumulation to over $1tn. eLearning is a cost effective alternative
Internet users have grown 870% since 2000 massing over 2.4bn users globally and causing an evolutionary shift in how people can engage with the world.
In Europe alone there are 3,000+ eLearning companies. Consolidation will be the theme as businesses seek to expand geographic reach, scale, and service offering.
US student tablet ownership grew 257% last year and in 2011 technology adapted training has penetrated over 40% of the Global 500 Fortune companies.
Current industry hype about new ideas and consumer learning requirements are disrupting the whole education eco-system.
The US to push forward with Project Tin Can which will set industry wide eLearning standards for software.
Next generation content and its creation tools, adaptive learning, collaborative learning, Learning Record Stores (LRS), re-purposable learning, Massive Open Online Courses (MOOCs) and Open Education Resource (OER) management is the IBIS Capital's hot pics for eLearning 2013.
Click the image below to see a larger version of the Global E-Learning Industry Overview Infographic.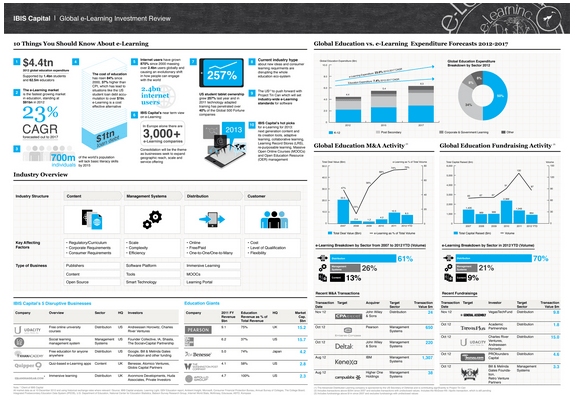 You can request a copy of the full report by emailing [email protected]
Source: edcetera Created by UK-based IBIS Capital