An Engaging Example Of Better Compliance eLearning
In this example from Elucidat, the policy that needs to be explained is Shared Parental Leave. To make the information as engaging as possible for the learner, the content incorporates all 4 of the recommended design choices.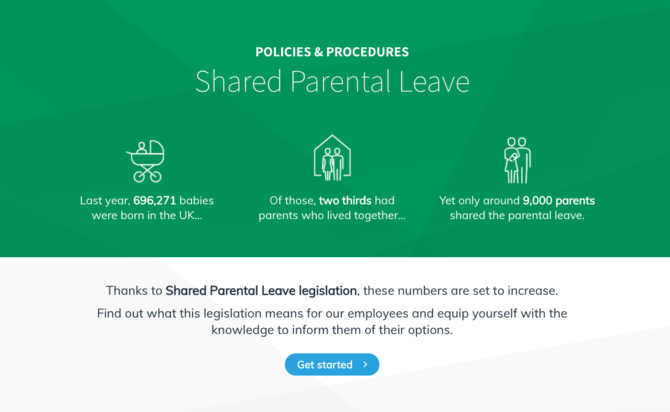 Explore the example for yourself here.
4 Learning Design Choices For More Engaging Compliance Learning
The following 4 learning design choices are all simple enough to implement and feeding them into your compliance eLearning will really help you bring dry content to life.
Find out more about each design choice by watching this 5-minute video.
1. Make A Personal Connection Straight Away
Your first page is your initial chance to grab the learner's attention and make them want to read on. You need to hook them in with engaging content from the start. The policy you're communicating may be something that the learner has previously thought of as dull and boring, but your job is to convince them to find out more.
Do this by focusing on the bigger picture; show the learner how the policy can help them as an individual. By answering the learner's question, "What's in it for me?", you will inspire them to become part of the change. For example, if your compliance eLearning topic is a sales skills course, explain to the learner how the content will help them hit their monthly target.
2. Create Personalized Pathways With Branching Content
In the Shared Parental Leave example above, content is branched based on the job role selected by the learner. There is a different learning path for each answer.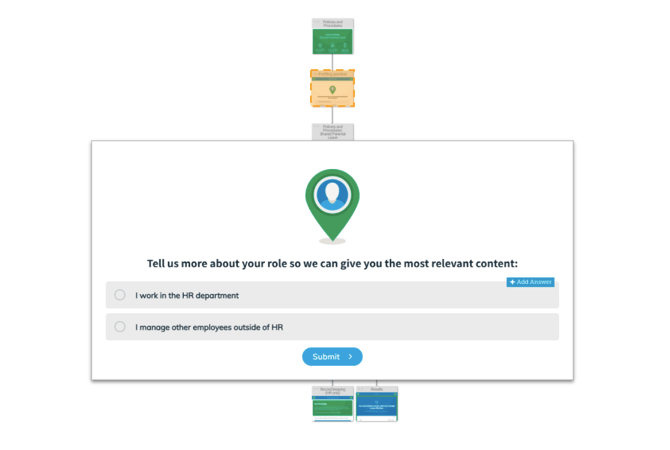 Tailoring content based on role choice means that you can make content as relevant as possible for the learner. It also demonstrates that you respect the learner's time as you are only giving them what they need and not expecting them to digest irrelevant information.
You don't have to ask the learner to make a selection in order to branch content. You can also branch content based on an action the learner has previously taken. For example, if the learner gets a question wrong, you could improve their knowledge and understanding with a page of additional information. Some authoring tools, like Elucidat, have a "rules" feature built in, which will make it faster and simpler for you to branch your content.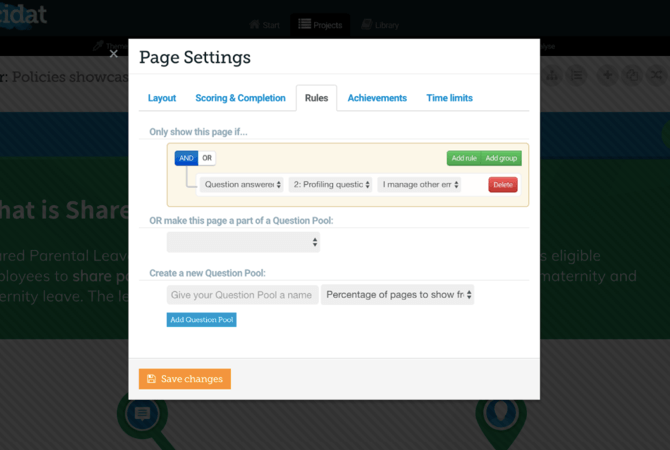 3. Keep Content Minimal
This design choice is all about keeping content minimal and concise so that it remains light and interesting for the learner.
Focus only on what the learner needs to know to be able to implement the policy, not on all the background information. You can still make the background information available to those who may want it, but use hyperlinks and tooltips to ensure that it is included in a secondary location. A part of minimization is ensuring that the content is presented to the learner in a digestible format. For example, using paragraphs and bullet points so that the information is easily readable.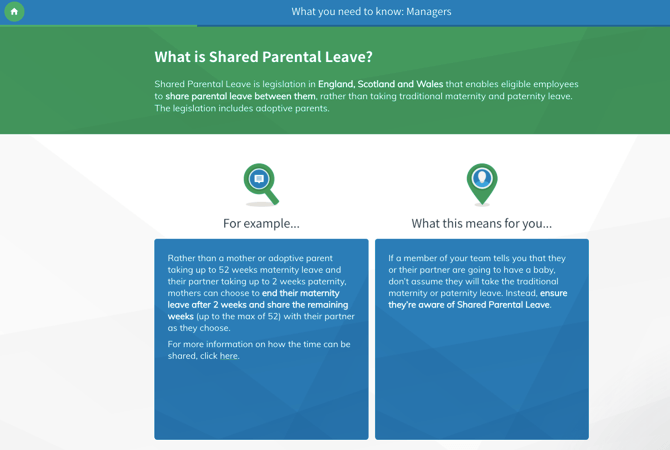 4. Storytelling
Storytelling helps bring dry content to life. It's been proven that we remember more about our emotional reactions to a situation than the facts and figures themselves. Here are 4 tips for engaging your audience with storytelling.
Your compliance eLearning can benefit from storytelling if you include real-life stories in people's own voices and words. Put the policy into real human context, so that the learner can connect to it on an emotional level. Take a look at the compliance eLearning example now.