The Ultimate Cost-Cutting Corporate Meeting Solutions Guide
Are corporate meeting solutions for large enterprises worth the investment? What should you include in your software budget? Which features should you add to your shopping list? The right tools can help you reduce operational costs, enrich your employee development program, and improve customer relations. This guide has all the insider info you need to choose the ideal system in your price range.
What You'll Find Inside This Guide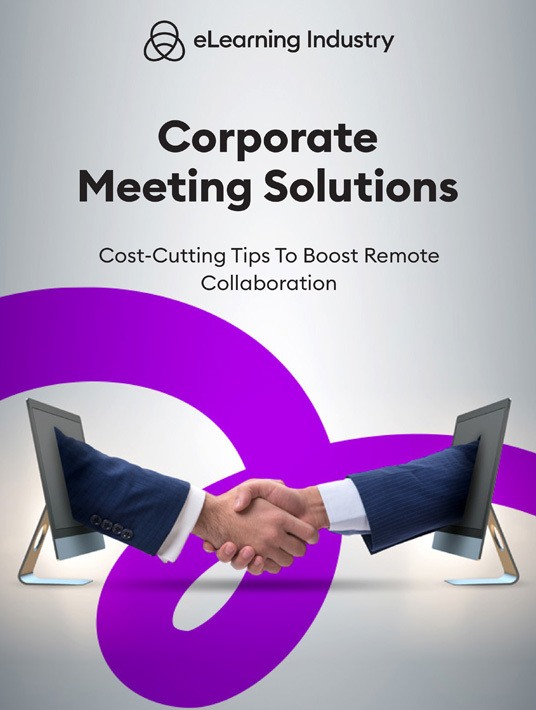 eBook Release
Corporate Meeting Solutions: Cost-Cutting Tips To Boost Remote Collaboration
Choose the best web conferencing solutions for your business without going over budget!
1. Popular Corporate Meeting Software Myths
Many organizations assume that video conferencing tools can only handle small crowds. Unless, of course, you're hosting a full-fledged webinar (with a long guest list) and only the host gets screen time. However, modern corporate meeting solutions can handle large team meetings on a global scale. For example, there are 50 attendees and everyone has the chance to participate. The system simply scrolls through the webcams or only highlights the person who's speaking. So, everyone has the chance to share updates and provide feedback during the event. Let's recap some of the other corporate meeting solutions myths EVERY company should debunk today to reap the rewards of these versatile tools.
Too Costly To Implement
Another common corporate meeting solution myth is that it's just too expensive for large organizations. After all, you have to invest in webcams, mics, and other hardware. And that doesn't even include the software. The truth is that most participants can use their mobile devices for live events, which have all the hardware built in. Plus, many vendors have flexible pricing plans so that you can scale up or down based on your business requirements. For instance, you onboard 150 new staffers and need to upgrade to the next subscription level.
You Need Tech-Savvy Telecommuters
Most users know how to use basic video conferencing features, such as clicking on the link to attend a live event or clicking the "use computer audio" button. But does EVERY employee know how to use more advanced features, like screen sharing and recording? In reality, it all depends on the level of support you provide. For instance, you may need to send them links to video demos or tutorials. Or, kick things off with a live event that explores all the essentials so that they can ask questions.
Only For Remote Meetings
The limited functionality is a sticking point for many organizations. They assume that the video conferencing tool is only good for team meetings. So, will it really benefit their bottom line? However, the right corporate meeting solutions can help you improve your L&D strategy, boost external partner performance, and host customer training events. It's not just for remote team meetings and manager conference calls.
Audio Conferencing Will Suffice
We've all experienced miscommunication issues with email or phone calls at one time or another. It's because you can't read the person's facial expressions or mannerisms. So, audio conferencing won't always suffice. In fact, using video conferencing solutions can build a better team dynamic because employees are able to communicate face-to-face. Nothing gets lost in translation. Another benefit is that they can share what's on their screen to illustrate what they're saying. Instead of trying to describe a visual, such as charts or graphs.
2. The Role of Video Conferencing Tools In Large Enterprises
The right corporate meeting software in large enterprises can help you bring everyone together under one virtual roof. You can host team meetings, foster social learning, and provide peer support. But enterprise video conference software fills other roles in your organization. For example, it helps you reduce employee turnover and give leaders a morale boost that trickles down to their teams. Many companies even launch corporate video conferencing for employee training and talent development. Here are just a few applications for meeting solutions in large enterprises.
1. Bring Global Team Members Together
Corporate meeting solutions give your team a virtual hot spot. Well, professionally speaking. It brings your global workforce together so that they can discuss important topics and keep everyone in the loop. As a result, you build a stronger sense of community and no one feels left out. You can even host weekly team meetings where employees assign tasks and provide project updates. For instance, this is the work they need to complete next week to meet the deadline.
2. Facilitate Knowledge Sharing
One of the standout perks of corporate video conferencing solutions is maximizing in-house talent. Your most valuable asset is employees with niche experience and skills, as they can set a positive example and share their personal expertise. The right tool can help you facilitate knowledge sharing on a global scale. For example, seasoned staffers can host live events to bring new hires up to speed or even impromptu chats with team leaders to highlight personal areas of improvement discreetly.
3. Host Remote Client Meetings
Many organizations have switched to online client meetings due to social distancing and everything else that comes with the "new normal." Enterprise video conference tools let you schedule remote pitch sessions and feedback rounds. Clients can also meet with you to chat about their business needs and expectations before finalizing contracts. Some large organizations even make corporate video conferencing part of their support program. For instance, clients can book a virtual appointment with your IT expert to troubleshoot issues remotely. This is why it's so essential to choose a user-friendly system. Every customer should be able to log in and attend meetings without tech headaches.
4. Provide JIT Peer Coaching
Peer coaching is another great way to foster knowledge sharing in a more targeted way. Identify your internal experts and ask if they'd like to host weekly group meetings. Then invite a few employees who can benefit from their insider know-how. As an example, this group centers on communication skills and customer service. Your top service employee is the coach who fields questions and helps their co-workers fill the gaps. Just make sure that everyone is a willing participant and that coaches have the time to take part. The most effective way to launch a JIT peer coaching program is to assess team talents then provide them with hosting info, like what's expected of them and how frequently they need to meet with their groups.
5. Offer Managers Ongoing Support
Remote managers often feel like they're going it alone because they don't have an in-person support system. All the other team leaders are in their corners of the globe. However, conferencing tools are the ideal way to give them a morale boost and offer ongoing support. For instance, managers host a weekly meeting to discuss recent events and challenges. Maybe your sales team leader had a rough week due to difficult clients and low profit margins. They have the opportunity to speak their mind and get feedback from fellow managers. Chances are, someone can offer them a word of advice to help them overcome hurdles and become better team leaders.
6. Keep External Partners In The Know
External partners may feel disconnected from the team. They represent your brand in one capacity or another, but they aren't full-time staffers. Enterprise video conference tools help them stay in touch with employees and share project updates. They can also use the system to conduct their own meetings. For instance, the regional sales rep has 10 partners on their team, and they host weekly meet-ups to discuss quotas. Or, maybe just to share insider tips and tricks to hit their targets. Another way that external partners can use the new conferencing software is to check in with clients, as well as host their own marketing events. For instance, a monthly customer training webinar or VIP events for loyal customers.
7. Reduce Absenteeism
Employees are more likely to clock in every day if there's some form of accountability such as a quick morning meeting with team members to see what's on the agenda or a weekly live event where they share progress updates and plan ahead. Above all, conferencing tools make employees feel like they're part of a community instead of an outsider. This reduces absenteeism because everyone is in regular communication and there's a virtual support network. As a result, you retain top performers and reduce new hire training expenses.
3. Creative Ways to Use Corporate Meeting Tools For Employee Development
One of the most common applications for video conferencing tools in large enterprises is team meet-ups. Everyone logs in at the appointed time to share project updates and discuss upcoming tasks. However, you can also use corporate meeting software for employee development to bridge gaps and foster knowledge sharing. In fact, these versatile tools serve as a solid foundation for VILT success if you're thinking about moving your training online. Let's look at some creative ways to incorporate meeting solutions into your L&D strategy.
1. Peer Coaching
Employees meet on a regular basis to evaluate personal performance and help each other fill crucial gaps. Peer coaching typically involves a more experienced staffer with niche skills who helps co-workers overcome professional obstacles. However, you can also launch support groups based on job roles or departments. For example, your customer service meets once a week to talk about recent challenges. Maybe they had to deal with a difficult client or are unsure about a company policy. Peer coaching groups give them the opportunity to explore different perspectives and collect valuable feedback.
2. Skill-Based Live Events
These live events center on a skill or core competency employees need to improve workplace productivity. The host is an SME or in-house expert who outlines all the skill-building basics. From talents that staffers should focus on to skills application, they can recommend resources to help attendees address personal pain points and break negative habits, like simulations or branching scenarios that let them apply their new skills in real-world situations.
3. Live Task Tutorials
This takes task demos to the next level. Invite a top performer to perform tasks during the live event. Staffers can ask questions and see how it's done. You can also record the session and upload it to your JIT library. Live task tutorials help cut costs because you don't have to create elaborate productions. Plus, attendees are able to dive deeper into work practices or steps during the event. For instance, they need the host to repeat that step of the process or to explain why it has performed this way.
4. Feedback Events
Give team members the chance to voice their opinions and address concerns by finding the right corporate meeting solution companies. These feedback events should center on a specific L&D topic or activity. For example, a recent compliance course with low engagement scores. Ask targeted questions to identify areas of improvement. What's missing from the course? Does it foster real-world application? Is your internal marketing effective?
5. Group Discussions
These less formal live events encourage employees to speak their minds and talk about on-the-job frustrations. Or maybe they'd like to discuss new projects and get input from their co-workers. For instance, see who wants to collaborate so that they can start creating schedules and task sheets. Another way to incorporate group discussions into your strategy is brainstorming. Everyone shares their ideas about the topic and you can record the sessions for future reference.
6. Employee-Hosted Webinars
Corporate meeting solutions for employee development can even turn the tables and let staffers host their own events. They choose the topic based on their area of expertise and create an outline. They're also able to promote the webinar via the LMS with video conferencing integrations or your marketing team can handle the task to boost participation. When the time comes, the employee/host briefly highlights their qualifications then moves onto industry pointers. As an example, this week's webinar is presented by your top sales employee. They talk about the latest product line and offer sales pitch tips before taking audience questions. The catch is that hosting duties shouldn't dig into their work responsibilities. In-house experts must be able to fit event prep into their schedules without feeling overwhelmed.
7. Manager Chats
Team leaders meet on a regular basis to exchange work-related stories and provide peer support. Of course, this shouldn't be a gossip session where they vent about subordinates. Instead, these manager chats are a way for them to reflect on their leadership skills and benefit from co-workers' perspectives. As an example, they discuss a recent conflict between two team members and how they approached the problem. Other managers can offer their insights and share how they handled similar situations. In short, leaders should feel comfortable voicing their opinions without feeling judged.
8. Weekly Round-Ups
This is an L&D take on team meetings. Instead of talking about projects or upcoming tasks, employees discuss their weekly online training activities. For instance, badges or certifications they earned or courses that other employees may find useful. Another approach is to host weekly round-ups that center on new training opportunities, such as fresh modules or real-world simulations that are being uploaded to the LMS. This builds the buzz for future L&D programs so that staffers can plan ahead and mark their calendars. Instructors can even share their favorite upcoming activities by job role or department.
4. Corporate Meeting Software Features That Offer Max Value For Money
While price point and user-friendly interfaces are a top priority, the right corporate meeting solutions features deliver maximum value for money. You need a platform that aligns with your use case and streamlines work practices, not to mention, provides continual support for your remote work teams. Every organization has its own objectives, but there are a few selling points that EVERY business should consider. So, which features are worthy of your software shopping list?
1. Screen Sharing
This corporate video conferencing feature allows hosts and attendees to share what's on their screen and demonstrate tasks. For example, show team members how to log in to the sales platform or troubleshoot IT issues. It's also ideal for remote meetings since employees can share project visuals and gather feedback. Some tools even let users choose whether to show their entire desktop or a single window. As such, presenters have more privacy when hosting events and don't have to worry about sharing sensitive information accidentally.
2. Live Chat
Most people associate corporate meeting services with webcams or audio calls. However, live chat features give everyone the chance to participate in events without drowning out the host. They can also mute their mics if they're in noisy environments and simply type in their comments or responses. Another use for live chats in corporate training is side discussions. For instance, an employee can bring someone up to speed if they're late to the meeting or clear up confusion if co-workers don't understand the topic or task instead of making the host pause their presentation every time someone has a question.
3. Recording
Live events are just one aspect of corporate meeting solutions. You should also be able to record meetings and webinars for those who can't attend in real-time, as well as upload the recorded events to your library for future reference. For example, your latest half-hour webinar featured an amazing guest speaker. So, record the session, edit the raw footage, and add supplementary training links. Then upload it to your video repository so that employees can benefit from their expertise for years to come. Or, at least, until the information is out-of-date and it's time to repurpose the footage.
4. Reporting
You need to know how many people attend live events and analyze their level of engagement. As such, you should look for enterprise video conferencing software that delivers advanced reports. For instance, you can quickly determine how many attendees RSVP'd, who showed up, and how long they stuck around. If the vendor doesn't mention reporting on their site or directory listing, address this in your RFP. You should also pay close attention to analytics during your free trial.
5. HD Video
Lagging and pixelated images were acceptable in the past. Today, employees expect high-quality video when they attend live events. Therefore, you must ensure that your new video conferencing tool delivers HD quality to boost attendee engagement. Staffers probably won't stick around if the host is a blur and they can't see any of the screen-sharing presentations. You should also add VoIP to the list of your must-have features so that attendees get crystal clear audio on any device.
6. Mobile Accessibility
Speaking of devices, all these corporate meeting solutions features are useless if staffers can't log in to the event. Thus, your new tool needs to be mobile-friendly. It should support every browser and platform so that everyone can join the discussion. This also applies to user controls. For example, they can mute their audio or adjust the webcam layout to suit their screen size. During the free test drive, encourage employees to access the system on multiple devices just to see how well the software adapts and if everyone gets to enjoy the same viewing experience.
7. Multiple Webcams
If you plan to host big events with hundreds of attendees, you probably don't want everyone showing up on the screen. However, for smaller team meetings or webinars, the system should support multiple webcams. In addition, users must be able to change the layout. For example, the system shows all the attendees on a single screen or separates them into different screens with larger displays. Make sure to verify the tech specs so that you know which cams and mics are recommended.
8. Support And Customer Training
Most software vendors provide email support. But, your team may need more advanced options, like a phone or live chat with an IT expert. Another thing to consider is customer training. Do they have an online knowledge base with demos and tutorials? Or, do you have to develop your own support resources so that team members know how to set up and use the tool? Ideally, you should invest in corporate video conferencing systems that align with your team's experience and skills. For instance, they aren't familiar with online meeting solutions so you may need one-on-one vendor support to get top value for money.
5. Cost-Cutting Remote Corporate Meeting Solutions For Large Enterprises
If you're trying to reduce spending without compromising employee development, remote corporate meeting solutions are a wise investment. But how can you make the most of your new software to maximize value for money? Once you choose the right tool and get employee buy-in, it's time for your implementation team to spring into action—with the help of your L&D and marketing department, of course. Below are some creative ways to cut costs with corporate meeting software.
1. Move ILT Events Online
Many organizations have been forced to re-evaluate their training strategies because of the global pandemic. Video conferencing tools allow you to move your strategy online and tap into a global talent pool. As an example, instructors host a weekly VILT session to share recent compliance updates or explore new customer service topics. Your organization no longer has to pay for travel expenses, printed materials, or site rentals since all the L&D happens online, especially if you invest in an LMS to develop and deploy content that ties into the online training events.
2. Host Virtual Department Meetings
Team members can simply log in to the video conferencing platform to attend meetings and provide project updates rather than traveling to the office and putting themselves at risk or having to sit two meters apart in the boardroom. These virtual meetings can also be held more frequently so that everyone has peer support. For example, they host daily sessions to discuss client revision notes or sales stats. Best of all, they're able to record meetings if co-workers are unable to make it to the live event.
3. Launch Online Certification Courses
While the LMS usually does all the heavy lifting regarding certifications, you can also use enterprise video conferencing solutions. For instance, employees complete simulations and modules in the system, then attend a weekly event to recap key takeaways. You can even schedule certification workshops that last all weekend for more comprehensive topics. For example, onboarding or compliance.
4. Provide JIT Support
Large enterprises usually get a bad rep when it comes to tight-knit teams. Everyone works remotely and feels disconnected from their peers, which makes them start to feel like assets instead of human beings. Video conferencing solutions bring everyone together and provide JIT support. As an example, experienced staffers host coaching groups. Or, someone is always on-hand to answer questions. For the latter, you should take volunteers and assign shifts. One employee might spend the first two hours of their shift in mini video conferencing chats. Then one of their co-workers takes over. That way, everyone shares the responsibility and can still focus on their work tasks. It doesn't necessarily have to be video calls either, as many systems feature live chats that allow employees to open a text-based dialogue.
5. Schedule Weekly Team Q&As
Every week another team member hosts a live Q&A. Preferably, someone has knowledge about the topic. Maybe your customer service manager can field questions about the new company policies or updated return process. The next week, an HR employee talks about onboarding protocols and the new benefits package. You can even ask staffers to send their questions ahead of time so that the host has time to prepare.
6. Conduct Online Performance Evaluations
Managers meet with employees individually to talk about their recent performance and areas for improvement. It's done discreetly through the corporate meeting solutions. Plus, nothing gets lost in translation because staffers can read facial expressions and hear the tone of voice. For instance, the person being reviewed might misunderstand a written comment. With the video conferencing system, managers can offer a detailed explanation in an encouraging tone.
7. Host Customer Training Events
Customers are more likely to become brand advocates if they build a rapport with your business. Conferencing solutions are ideal for customer training events because they can interact with your employees in real time. For example, ask a question about the latest product or address concerns regarding your customer service. You can also host training sessions for pain points that loosely tie into your product or service, such as skills that help them use the item more efficiently, or even add-ons that help them get more value for their money.
8. Schedule An L&D Showcase
Employees usually seize opportunities to develop talents and bridge existing gaps. However, they may not know about the courses or JIT support tools you have in your LMS. An L&D showcase highlights an overlooked resource, whether it's a certification course or compliance module. Each event features a handful of training opportunities that can benefit the team based on their roles or performance issues. To illustrate, this week's showcase is all about communication skills since customer satisfaction scores are slowly dropping. Employees learn about five activities that range from interpersonal skill demos to conflict resolution simulations. Every training resource has a common theme, which also makes it easier to record and upload to your library.
6. How To Host Corporate Video Conferencing Events With The Right Tool
You probably won't see many hands go up when you ask for volunteers to host corporate video conferencing events. Maybe staffers aren't comfortable with remote meeting tech or they prefer to stay behind the scenes. However, the right tool has the power to change all that. Top corporate meeting services can help you host engaging webinars, team meetings, and VILT events for your remote staffers. The key is to prep presenters ahead of time and choose a tool that's easy for everyone to use. Below are some insider secrets on how to host live events with enterprise meeting management software.
1. Schedule A Test Round
You've probably already gone through the free trial or demo. However, you should also encourage hosts to do a test run after you purchase the platform. It gives them an opportunity to explore the features and functions before the big event. They can try out the recording capabilities and ensure that their webcams are ready for action. In fact, they may want to schedule a mini-event and invite a few co-workers for feedback. For instance, they need to speak slower or work on their screen-sharing skills prior to the webinar. Or, they should include more visuals to improve knowledge retention.
2. Prepare Guest Speakers
Guest speakers and presenters should have a basic understanding of the tool AND hosting etiquette. As an example, what should they do if an attendee tries to take over the conversation? How should they interact with the audience to boost participation? Which questions or topics should they avoid? When it's time for the event, speakers must feel comfortable and ready to tackle any challenge that comes their way. So, provide them a with list of resources they can use to troubleshoot common issues and minimize stress.
3. Send Email Invites With Instructions
Presenters aren't the only ones who need to be prepared for the main event. Send an email invitation to employees with detailed corporate meeting solutions instructions like how to log in to the platform and tech recommendations. For instance, they should show up a few minutes before the meeting or training webinar in case there are any audio or webcam issues. Also, include a link to vendor tutorials or demos that walk them through the process or address potential IT hurdles.
4. Outline The Agenda
Everyone should know what's on the docket, including hosts, attendees, and supporting staff, such as in-house IT experts who should be on standby in the event of a tech issue. This also helps attendees determine which events are right for them. For example, this week's webinar is for customer service staffers who want to build their communication skills. These are the topics the host will cover and some highlights they can expect (resources, Q&As, etc.). Likewise, outlines help hosts stay on topic and not go over the time limit.
5. Get Attendees Involved
Event participants should feel like they're sitting on the virtual sidelines. It's crucial to engage with your audience and get them actively involved in the discussion. The catch is that they shouldn't drown out the host or make co-workers uncomfortable. For instance, one of the attendees answers every question and keeps cutting off the guest speaker. Therefore, you should have specific audience participation slots in the event schedule. Maybe the host opens the floor to questions at the end or invites employees to share their thoughts and concerns halfway through the discussion. You can also provide guidelines ahead of time. As an example, attendees should respect everyone's time and type their comments during the presentation instead of trying to talk over the speaker.
6. Record And Edit Events
Live events are great additions to your online training library. Record all your sessions and then edit the raw footage to enrich the experience. This doesn't just apply to webinars. You can also record team meetings, customer training events, and live group discussions for future reference. For instance, the team has access to the video after the fact so that they don't have to take notes during the live session. Thus, they can focus on the conversation and offer their input instead of trying to multitask. Some tools feature built-in editing. If not, you should consider a separate video editing tool that's compatible with the conferencing meeting solution.
7. Gather Employee Feedback
It's important for hosts to provide follow-up resources for attendees, like simulations or JIT support tools that tie into the topic. But, there must be a two-way dialogue. Encourage employees to provide their feedback about the event. Did the host include them in the discussion? Were there enough visual aids or was it all audio? Was the information relevant to their job roles and responsibilities or should you narrow the scope in future events? One of the most effective ways to get their input is through surveys and polls online, or invite them to fill out a questionnaire then discuss the findings in a live focus group. This way, they can elaborate on why the event exceeded their expectations or fell short.
Conclusion
Is corporate meeting software for employee development the best investment for your business? Top corporate meeting solutions can benefit every aspect of your organization, but your L&D strategy has the most to gain since it can help you tap into team potential and reduce turnover. The key is to look for conferencing solutions that feature online training tools, such as screen sharing, live chats, and group calendars. These functions can be used for client meetings and customer training events as well, thereby increasing the overall value for money. Check out our exclusive online directory to find the right web conferencing solutions for your large enterprise.
Download the eBook Corporate Meeting Solutions: Cost-Cutting Tips To Boost Remote Collaboration for tips on how to choose the best video conferencing platforms for your organization and host engaging online events.