What To Ask Your New eLearning Content Provider
You only have a small time window to determine if an eLearning content provider is right for your online training course. To find out if their work practices mesh with yours and verify their qualifications. Before you sign the contract, you need to know what's included in the package and if the eLearning outsourcing partner will offer ongoing support. Now is your opportunity to make sure everything is above board and that there aren't any unwanted surprises (i.e., unexpected fees for additional online training resources). As such, you may need to prep a list of targeted questions to avoid contract conflicts and keep your costs in check.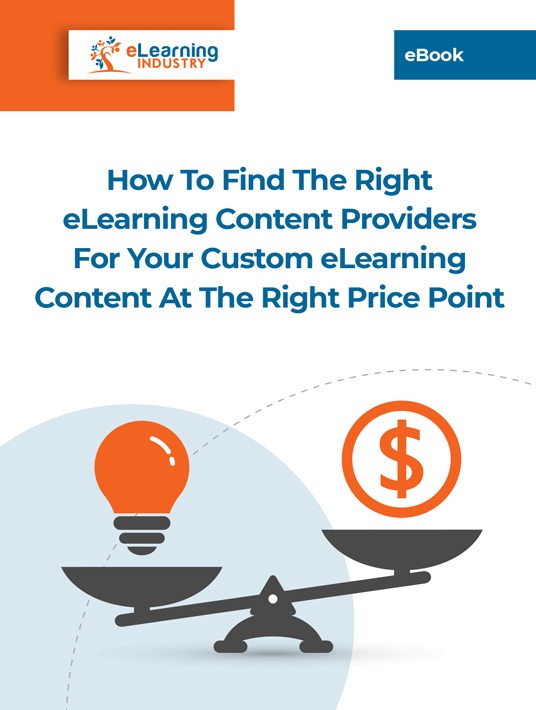 eBook Release
How To Find The Right eLearning Providers For Your Custom eLearning Content At The Right Price Point
Discover all you need to know about custom eLearning content.
1. What's Your Area Of Expertise?
You must have some assurance that your new eLearning content provider is going to uphold their end of the deal. Namely, that they have the experience and expertise you need to achieve the desired outcomes. Ask them about past eLearning projects and if they're already familiar with job-related tasks, compliance issues, and common skill gaps. Do they know which talents your employees must possess and how to cultivate them in online training? Contract conflicts often arise when organizations misunderstand the eLearning vendor's qualifications or when they are misled.
2. What's Included In The Contract?
What does the eLearning vendor include in the price? Are there any additional expenses you need to consider? What is the payment structure? Outline all the deliverables, milestones, and delivery deadlines in the contract to avoid any confusion. There should also be a detailed price breakdown of the expenses. For instance, this amount is dedicated to simulation-based online training activities. While another sum is for the JIT support online training resources you've already discussed.
3. How Long Will It Take For Each Stage Of The Corporate eLearning Project?
Every custom eLearning content provider contract must include a time frame. An itemization of tasks, completion times, and steps involved. They don't necessarily need to disclose every internal process, such as how long it takes to edit the text in your new module. However, they should provide a detailed overview of each phase of the corporate eLearning project so that you can plan your launch accordingly. Just make sure to leave a little wiggle room for unexpected delays. Also, if the corporate eLearning project is slated during a busy time of the year, factor that into the eLearning development schedule. For instance, it's in the middle of the holiday season and their team is out of the office for two weeks.
4. Who Is Working On Their Team?
Once again, eLearning vendors aren't required to divulge every member of their team or one-time collaborators who'll work on your eLearning content. But you should have a general idea of their key staff members and their respective skills/expertise. The most important person, contractually speaking, is your point of contact. This is the individual who fields your calls and serves as a go-between for your team and theirs. You can even host a pre-project meeting to break the ice and make informal introductions.
5. What Support Services Are Offered?
Some eLearning companies deliver the finished product and that's the end of their obligation while others provide ongoing support, which is included in the deal, or they charge additional fees. For example, they might include one revision round after the eLearning project to ensure you're satisfied with the online training content. Or they avail themselves for future updates at a reduced rate. Ask about which support services are offered and at what cost. Another thing to consider is whether they offer email or phone support. Can you call them if there's an issue with the eLearning software that impedes accessibility?
6. What Are The Communication Guidelines?
Communication must occur at various stages of the corporate eLearning project, not just before you sign the contract and when it's time to pay. Establish clear communication guidelines with the new eLearning content provider and outline them in the written contract. Will they check in with you every week with a progress report? How will they contact you and is there a way to reach out to them with online training content suggestions? Are you able to request regular meetings to make sure everything is on track? The contract must set a precedent for open lines of communication. Unless, of course, you prefer to simply hand over control and wait until they deliver the online training course. Then offer revision recommendations at that point. It's all a matter of personal preference.
7. Are Any Additional Online Training Resources Required?
Do you need to invest in additional eLearning software to expedite the process? Are they going to use your existing online training library to populate the online training course and fill in the gaps? If so, how do they plan to repurpose these online training resources, and do you need to do any prep work? This is often a balancing act because you need to cut costs and ensure the eLearning vendor that they have all the support they require. Will they be able to finish the corporate eLearning project more quickly if you supply new eLearning software? How does that factor into the eLearning outsourcing pricing? This is yet another reason why it's so crucial to vet eLearning vendors to verify they have all the necessary tools and experience.
Custom eLearning content providers who operate above board are transparent about their experience, qualifications, and certifications. They're willing to meet with you, discuss the finer points of the contract, and appease your worries. If anything seems unclear, take the time to ask questions and ensure they're the perfect match for your eLearning outsourcing project. Of course, you may need to expand this list based on your top priorities. In fact, get input from your team to address their areas of concern. Such as specific tasks or design challenges they'd like to add to the contract.
Custom eLearning content development can be fraught with obstacles if you don't get everything written and clarify your concerns. Download the eBook How To Find The Right eLearning Providers For Your Custom eLearning Content At The Right Price Point to discover all you need to know about custom eLearning content.