Hiring eLearning Content Providers To Outsource Sales Online Training Programs
Many organizations give in to the myths regarding content sales online training outsourcing. They assume that it's out of their price range. That their own employees can develop online training resources for a fraction of the cost. That hiring eLearning content providers leads to overspending and a lack of creative control. While subscribing to these common misconceptions, they completely overlook the real benefits involved. The outsourcing pros can contribute to their bottom line and boost employee engagement. There are numerous reasons why you should outsource sales online training programs to trained eLearning professionals. Here are just a few.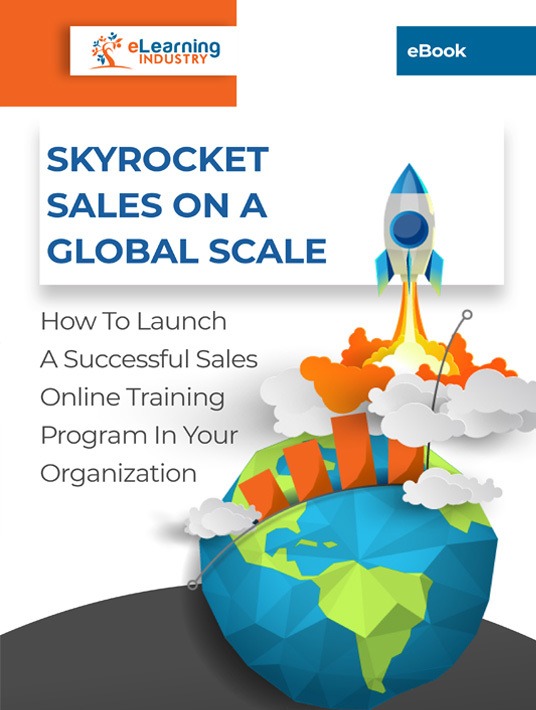 eBook Release
Skyrocket Sales On A Global Scale: How To Launch A Successful Sales Online Training Program In Your Organization
Get to know how to launch, enhance and retain successful programs in your organization.
1. Utilize External Talent
eLearning content providers have experience on their side. They've worked with similar organizations in the past who've overcome similar online training challenges. Thus, your outsourcing partner knows how to stretch your online training resources and improve knowledge retention. Hiring them for sales online training programs allows you to tap into external expertise without having to hire a full-time SME. Granted, you still need dedicated staff to maintain online training content and take care of admin duties.
2. Reduce Development Time
Developing sales online training programs internally requires a significant amount of planning, budgeting, and asset inventory. And that's not even including the development stage. Outsourcing enables you to speed up the process and achieve faster turnaround times. Which is of the utmost importance for compliance. As an example, sales employees learn about new rules and regulations as quickly as possible. Instead of waiting a month while your in-house team acclimates to new eLearning authoring tools and develops updated online training resources.
3. Stretch L&D Resources
Experienced eLearning content providers know how to repurpose existing assets to create new online training content. However, they also help you stretch L&D resources by letting your team focus on their job roles. Instead of trying to multitask to deliver top-notch sales online training content. For example, your admins concentrate on measuring employee performance and conducting a Training Needs Analysis. While the outsourcing partner handles new online training content creation based on the L&D team's findings.
4. Improve Staff Engagement
Nobody wants to log into the LMS and find boring or outdated support tools. Some new hires might expect it because of past online training experiences. But your team members deserve better. An eLearning content provider helps improve employee engagement by making it relevant and real world-centered. Online training resources are personalized to suit sales employees' needs and job requirements.
5. Prevent Compliance Violations
Outsourcing companies are familiar with the regulations, policies, and protocols that govern your industry. Especially if you find eLearning content providers in your niche. They can help you reduce compliance risks and avoid costly penalties and fines. Not to mention, prevent on-the-job accidents that are usually caused by ineffective our outdated compliance online training resources. Outsourcing partners also know how to convey the information in a way that's easy to understand. Which is essential for theory-heavy compliance that involves legal jargon or technical verbiage.
6. Identify Online Training Gaps
Some eLearning content companies provide Training Needs Analysis to take a deep dive into your current strategy. However, they also identify online training gaps during the normal course of content development. For example, they discover that your existing task simulations no longer support desired performance behaviors or online training objectives. Employees can't connect with the online training content because it's irrelevant to their job duties. That said, a successful outsourcing partnership does not involve needless spending. For instance, the vendor recommends additional JIT tools but can't justify the investment. Maybe they're redundant or simply don't align with your organizational goals.
7. Keep Your L&D Team Content
Not to downplay mothers. But in online training, if the L&D team isn't happy, nobody's happy. They're the ones who develop online training content, track employee performance and update online training resources. They often take on more than they can handle because they want to ensure the success of your organizations. Unfortunately, this can lead to burnout and high employee turnover in the L&D department. Outsourcing lightens their workload and allows them to concentrate on other eLearning assignments. Namely, the duties they were originally hired to perform. The eLearning content provider takes care of the sales online training program but still invites input from your team. That's the trick. To find an eLearning content provider who welcomes your eLearning feedback and allows you to retain some degree of control.
8. Improve ROI
All these reasons to outsource sales online training translate into better ROI for your organization. Employees are more engaged, you don't have to replace your L&D staff, and you address overlooked online training gaps. You also have the chance to streamline your existing sales online training strategy to make it more relevant for modern employees. That said, you must hire an outsourcing partner who understands your budgeting limits. How much can you spend on their services versus developing content in-house? Get everything in writing and map out the communication guidelines and timeframe. Online training topics that are more time-sensitive than others require fast turnaround. And you must ensure the eLearning vendor can deliver before lack of online training leads to costly mistakes.
I know I've sung the praises of eLearning outsourcing and how it can help you improve profit margins and employee satisfaction. But it's important to weigh the pros and cons for your organization. There may be some tasks you can tackle in-house more cost-effectively. It greatly depends on your team's talents, level of expertise, and available tools. Discuss the corporate learning project scope and specs with them to get their input. Can they comfortably handle the extra workload? Do they have the necessary expertise? Or is it best to entrust your sales online training program to eLearning content providers?
As a general rule, your sales team should be well-rounded. Is a new sales online training course worth the investment? Download the eBook Skyrocket Sales On A Global Scale: How To Launch A Successful Sales Online Training Program In Your Organization and get to know how to launch, enhance and retain successful programs in your organization.