Real Learning Is A Serious Matter
Are too many of us L&D (teaching) practitioners focusing too much on learner experience ratings, and confusing this feel-good factor with real ROL (return on learning)? The 5 further considerations offered here serve as important "checks and balances" for both learners and teachers to apply due diligence in their quest for real ROL. Most importantly, the 5 further considerations, put forward, work in sync to deliver a holistic approach to teaching and learning.
Learning is in essence about changing behavior (for example, breaking an old habit or introducing a new habit), about gaining and applying new knowledge and insights to do something new, better, or differently. Then, by definition, learning is an intentional, multi-dimensional act that should involve a level of discomfort (creating necessary tension to balance the feel-good factor?). A wise person once said to me that "you can't argue with reality," and as such, we should not argue with the given realities of teaching and learning.
Let's consider a hypothetical learning journey from "status quo" to "better me". The learner experience is obviously important. However, ensuring that there are decisive answers to questions covering the proposed 5 key considerations can help to ensure that the learning is sustainably embedded in order to achieve long-term ROL. These questions, for both the teacher and learner—teaching and learning being flip sides of the same bilateral contract—will be raised after a brief overview of each of the 5 relevant considerations, as follows:
1. Context
Smart teaching professionals help learners to understand their "status quo" in the appropriate context, and as such, to value, commit to, and be held accountable for the progress of their learning journey to "better me", because it is a worthy and worthwhile pursuit. We don't live in a vacuum and we don't learn in a vacuum, so new knowledge and insights need to be positioned to create a relevant context for the learner. For example, diagrams can help to provide useful context for learners (and teachers).
Question
What capability within a specific capability set needs developing and how will this microlearning opportunity and/or broader course help in this specific journey to this specific aspect of "better me"?
2. Intent
"I will commit to travel from 'status quo' to 'better me' even if it is daunting and challenging because I know exactly why it will be a worthy and worthwhile journey." Vague intent leads to vague learning objectives, then to vague content, and then potentially to inappropriate means of teaching, and as such to vague commitment and vague outcomes. Intent must therefore be specific. It's about being intentional in developing the clear resolve to put effort into something specific, reinforced by a growth or effort-based mindset (i.e. the belief that the effort in working through periods of discomfort will pay off) to achieve a specific outcome.
Question
Why is this specific learning journey so important to commit to in the quest for "better me"?
3. Content
What specific capability (knowledge and skill) is needed to facilitate or enable this specific aspect of the journey from "status quo" to "better me"? If the specific learning benefit of the relevant content cannot be articulated in a compelling manner, why would learners engage with the lesson, and why as teachers would we be motivated to teach it? Bear in mind, the content must be driven by the specific needs of the learner rather than the ego of the teacher (the need to showcase their own broad-based knowledge and capability). It is also important to provide specific evidence that the source of the learning material is credible.
Question
How is this specific teaching material relevant and credible in the context in which the learner will apply this learning to reach "better me"?
4. Means
In broad terms, in the context of this article, "means" refers to how "we" will get from "status quo" to "better me". It is about the method or methods of taking the learner on the learning journey. It is important to give learners choices between ways of learning so that they can choose the one that best suits them generally, or more specifically as they engage with the relevant subject matter. It is not in the frame of reference of this article to review the incredible range of teaching methods and tools available, other than to make a few general suggestions/observations. As teachers, we need to get out of our comfort zone to find new and unique methods to teach and embed learning and thereby encourage learners to experiment with new ways of learning. When it comes to microlearning opportunities, we must be cognizant that a short message is often not a clear message, and that the "check and balance" here is to have a very clear, very specific context. Also generally, the more concrete the learning experience is—the more the learner can "touch, feel and experience it"—the more it will embed.
Question
What is the best way to teach/learn this concept/insight/way of doing things, at this specific stage of the journey from "status quo" to "better me"?
5. Sense Of Community
Developing a sense of community is a powerful opportunity for any group, and the research in this regard is incredibly insightful and relevant in the fields of organization development (OD) and employee development (ED). I have previously put forward that OD and ED are flip sides of the same coin (as depicted diagrammatically below) in minting a holistic approach to sustainable organizational performance and health.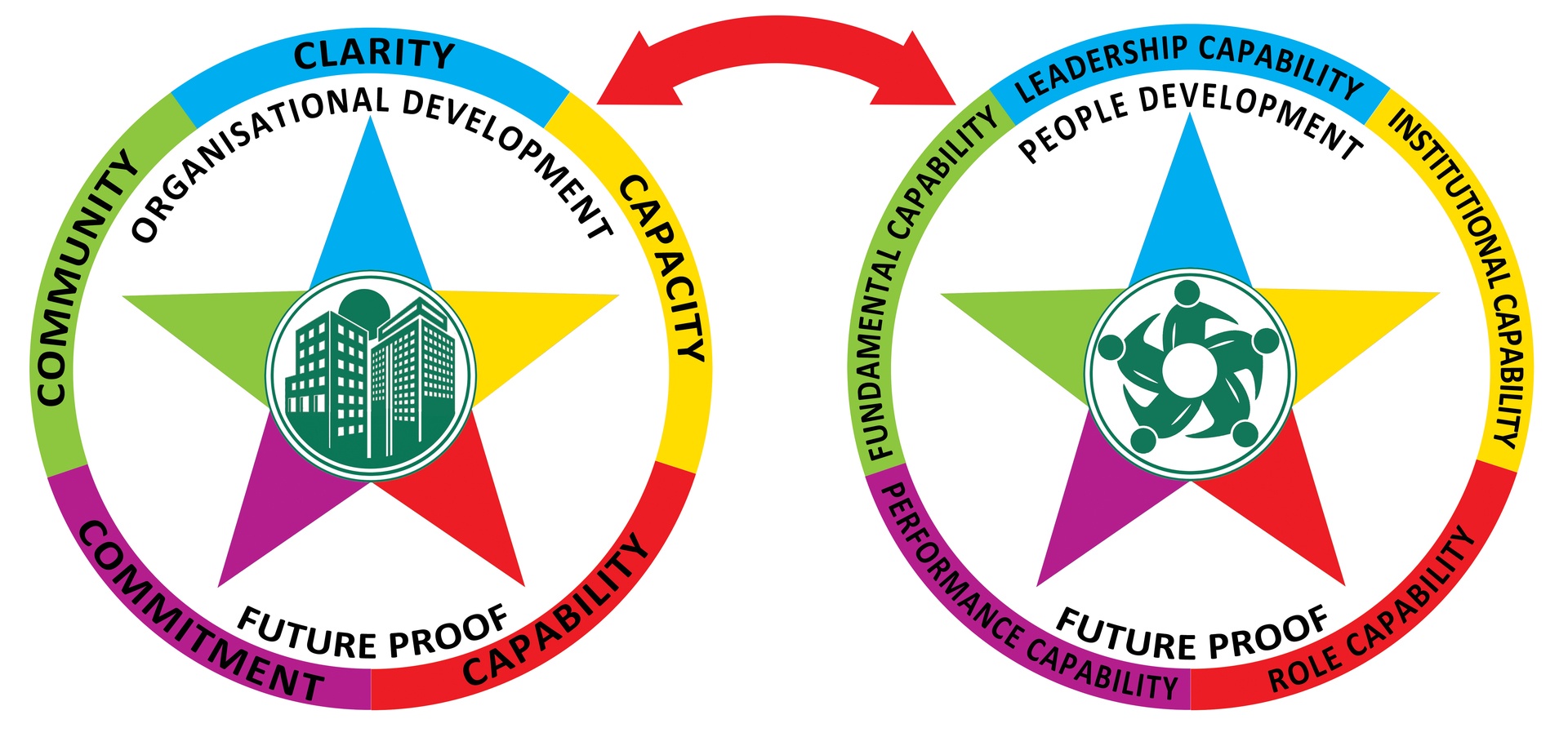 Creating a strong sense of community in the different groups within which we interact will create safer, more secure, more supportive, and more caring environments, enabling us to have trusted accountability partners who hold us true to our quest to become better as teachers and learners.
Question
Exactly who is going to share this teaching/learning journey, add support, and be a trusted accountability partner in this stage of the journey from "status quo" to "better me"?
A Final Word, From Aristotle
"Those who know, do. Those who understand, teach." My caveat to this is that as teachers, we want to get learners to do something better, and a good way to get them to understand better is to get them to teach. To "do" the act of teaching better, who better to learn from than our learners? And then we can reward our learning community for their insights by listening and demonstrating our better understanding/new insights by teaching better.
Learning and teaching are bilateral partners. The best is brought out of this relationship when it enables "teachers to learn" and "learners to teach" in a relationship that is truly holistic and symbiotic, enabling them both to effectively evolve and iterate their respective capabilities.