New Frontiers For Technology In Learning
As Heraclitus, the oft-quoted, pre-Socratic philosopher said, "You can't step into the same river twice." He wasn't the first thought leader to notice that flux is the natural state of the universe, and he's certainly not the last.
L&D thought leaders are leaning into the flux with new ways of meeting our learners' needs to practice their skills in building relationships, making decisions, and responding to all manner of complex situations. And because screen fatigue is real, we're also embracing new ways to offer learning experiences that engage and energize our people.
Immersive learning training solutions help us do all of the above—in a safe, nuanced, and authentic environment. (Discover how in this level-set on immersive learning in the metaverse and beyond.)
But there's a challenge: By the time we discover new learning technologies—much less adopt them—the next generation of products, features, and capabilities is rushing to replace them. (Ready to step into this ever-shifting river? Wade in at your own pace with our comprehensive eBook, Ready, Learner One? The L&D Innovator's Gateway to Immersive Learning and the Metaverse.)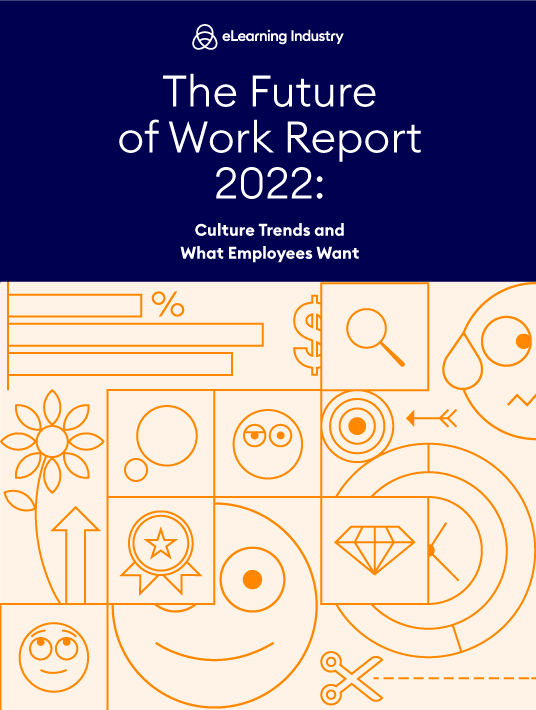 eBook Release
The Future Of Work Report: Culture Trends And What Employees Want
Dive into this report and discover what employees think about the metaverse and immersive technology!
In an attempt to keep afloat in these digital rapids, I asked my friends on the SweetRush XR team what up-and-coming metaverse and immersive learning technologies they're most excited about and how these innovations can help L&D leaders create more engaging, enjoyable learning experiences.
Here's what they had to say.
Six Innovations In Immersive Learning

Meeting Fundamental Human Needs With Extended Reality
The way we meet our needs is constantly evolving, and XR can help accelerate that process. Digital tools have been developed to address every level of Maslow's hierarchy,[1] from the simplest needs—improving how we cook our food, build our homes, and even sleep—to self-actualization-related needs like growing our craft, reducing distance between humans, and creating more efficient spaces for brainstorming, self-expression, and hobbies.[2]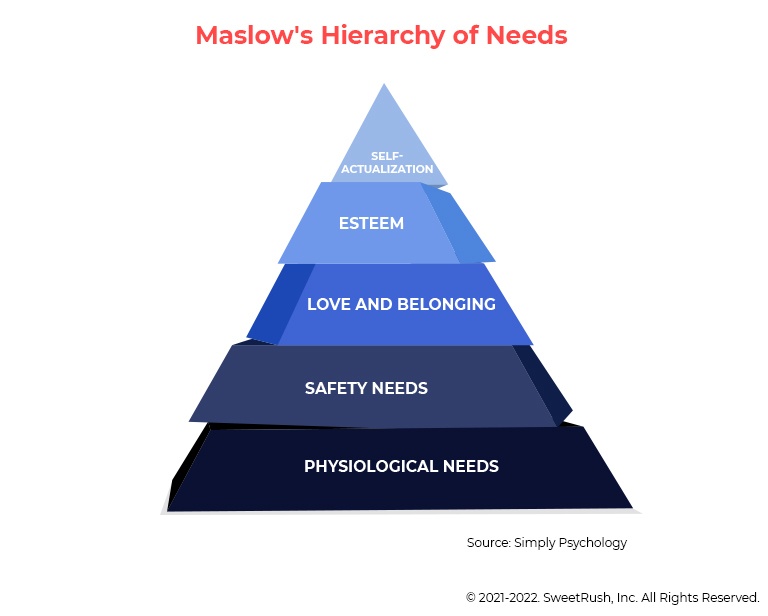 I am excited to learn from these advances and co-create experiences that help to advance the development of society and human learning.
—Felipe Umaña, SweetRush UI/UX Designer

Skilling In The Metaverse
In the metaverse, workplace learning isn't just for employees, but for anyone interested in experiencing what it's like to work in an industry, organization, or role. Learners can explore an organization's virtual space, curate their own learning journeys, and select the skills that they want to collect. (Here's what L&D leaders and professionals shared about why skills are so hot right now.)
That helps candidates and emerging professionals develop a unique set of skills while taking charge of their career paths; it also helps organizations hire people who already have the target skills.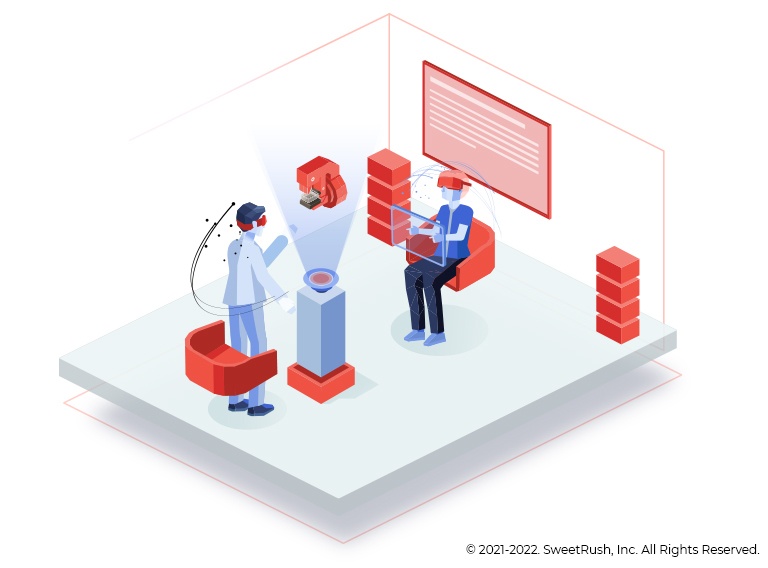 Currently, many of us still use the traditional concept of interviewing. We ask candidates, "Can you do this?" and of course, they say yes. Within the metaverse, candidates can show us that they have the skill because they've had opportunities to practice before even starting the hiring conversation.[3]
As the metaverse expands to include K–12 education, it will offer opportunities to begin building those skills passports from a much earlier age—creating a more accessible path to securing internships and preparing learners for the future world of work.
—Danielle Silver, SweetRush Solution Architect

The Metaverse: Home Of Active Learning
The metaverse presents a whole new universe of possibilities for learning. Immersive technology helps learners explore and participate actively in learning experiences instead of passively imagining, listening, or reading. They have the opportunity to interact in real time with the learning or performance objectives and try, fail, and try again. Whether their learning is self-directed or collaborative, multi-user online interaction offers learners a great opportunity to help, be helped, and grow with others.
—Josue Soto, SweetRush XR Developer

Reading The Room With Biometric And Performance Data
AR and VR headsets are integrating the capabilities of (what used to be) separate wearable devices to measure biometric and neurometric data like the user's heart rate, gaze, emotions, and attention span. These data can help us increase our human performance awareness and metacognitive awareness—i.e., being aware of one's own thinking and behavior. (Discover how biometrics help health care professionals learn to de-escalate aggressive patient behavior in a VR training experience.)
Biometric and performance data can also help us increase our awareness of our team members' experience. If everyone is in a headset, we can read their cognitive load[4] and emotional state and gain an understanding of their performance, engagement, and enjoyment. This helps us monitor and moderate the appropriate quantity and quality of experience, which is ideal for VR-ILTs, cohort-based activities, workshops, and other social learning and multi-learner experiences.
—Emily Dale, SweetRush Learning Architect

Adaptive Learning And Cognitive Load
Research on handling learner cognitive load in virtual environments will yield useful guidelines for L&D teams looking to design and create learning content in XR. Headsets like HP's Reverb G2 with HP's Omnicept platform[4] promise to help us find every learner's "Goldilocks" zone and present adaptive content that responds to their needs in the moment—whether those involve more- or less-challenging content, a longer or shorter learning session, a break, or a moment of reflection.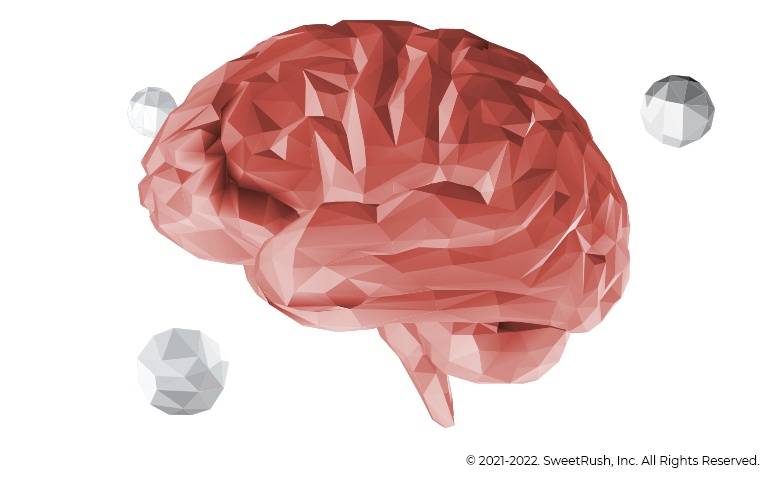 (Check out our webinar to learn more about adaptive learning and how cognitive load tracking helps us customize an experience for every learner.)
—Adrian Soto, SweetRush Director of Immersive Technologies

Extended Reality And Inclusion
Immersive learning is evolving along with society toward inclusion—a space in which all people, with our different physical and cognitive abilities, have a presence. If we start with accessibility[5] in interactions and content, the immersive experiences we develop will be more impactful and engaging. That means getting to know our users and creating the tools they need to participate fully in the experience.
—Felipe Umaña, SweetRush UI/UX Designer
Immersive Technology: The Future Of Human-Centered Learning
It's no surprise that a team with such a wide variety of interests, ideas, perspectives, and roles would land on such different areas of focus.
But what all of these technologies and applications share is a focus on learners and their experience. Immersive learning technologies are anything but impersonal. They get us closer to our learners and help us respond with care to signs of confusion, overload—and yes, enjoyment!
To learn more about immersive learning that keeps humans at its heart, check out our eBook, Ready, Learner One? The L&D Innovator's Gateway to Immersive Learning and the Metaverse. You'll find plenty of inspiration to help you create an immersive learning strategy that brings your people together and prepares them for the future of work.
References

SweetRush
Our job is to help you achieve your objectives and be successful. Engage us at any point, from analysis to custom development (including e-learning, mobile, gamification, and ILT) to evaluation.