Games Can Help Reduce Stress And Ease Anxiety
2020 has been everything short of normal. Between the COVID-19 pandemic, a U.S. election, and rumors of killer bees, many of us are left wondering what's next. While our personal and professional lives may have changed this year, it's more important than ever to remain connected with our work colleagues and find little ways to enjoy ourselves. We're talking about regular, old-fashioned fun. Who remembers what it's like to have fun during work?
Instead of becoming complacent with never-ending Zoom meetings, it's critical that organizations design training strategies that bring in-office and remote employees together, capture their attention, keep them engaged, and make them into more productive team members.
With 88% of employees encouraged to work from home due to the pandemic, businesses that use gamification and the power of play in training can improve productivity, earn loyalty, and decrease employee stress.
What Is Gamification?
Traditionally, people use the term "work-life-balance" to describe a separation between their careers and personal lives; the first focused on business and the second focused on fun. However, companies that successfully deploy gamification strategies engage workers, improve happiness and morale, and blur the lines between work and play.
Gamification is the application of game-based elements (games, points, badges, leaderboards, competition, rewards, etc.) in real-world activities to increase audience engagement. By deploying these tactics, companies accelerate the learning process, improve retention rates, and promote a fun environment. In fact, 80% of employees [1] enjoy game-based learning at work more than traditional training methods.
An impactful and successful game-based learning program includes:
Identifying the core business goals and how gamification can help achieve them
Investing in Instructional Designers who can develop and run a successful training
Developing programs that have fun aspects to engage the learner in friendly competition and provide a sense of personal achievement
Testing the employee experience and continuously improving the concept
Fun Training Games That Promote The Power Of Play
With the stress of 2020 still affecting our lives, we need fun now more than ever. Depending on the industry, training content, and audience there are several games worth considering to engage your employees. Some games are ideal for powering up your asynchronous learning, such as:
Wheel of Fortune®: Train concepts through familiar word puzzles
Jump: Challenge employees with a twitch-style game that challenges players to reach new heights by targeting boosts, avoiding obstacles, and answering questions
Match 3: Excite employees with the most popular casual game mechanic [2], in which they must create identical combinations of three or more icons and answer questions along the way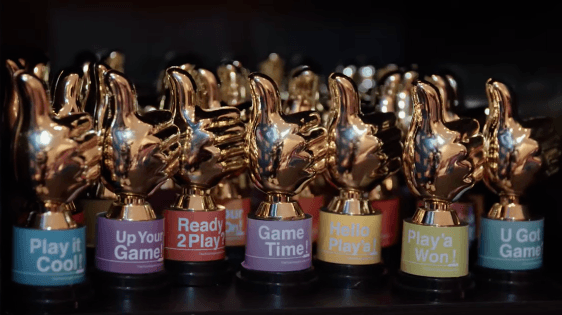 You can also turn single player games into multiplayer experiences and take your training from solitary and dull to social and fun. Many games provide opportunities for networking and collaboration, even in a virtual setting, including:
JEOPARDY!®: Create categories and quizzes in a popular game format to increase retention
Trivia: Encourage employee relationships through trivia questions based on each other

Building a fun training game may take trial and error to determine what best fits the business objectives and employee preferences. No matter what game you decide to implement, it needs to be motivating, entertaining, and rewarding for employee engagement.
If you've used games and are ready to level up, consider creating your own arcade and fill it with games, activities, challenges, videos, learning content, points, badges, leaderboards, and prizes. By creating a destination filled with daily challenges you will reduce learning friction, eliminate boring training, and see a significant increase in engagement and knowledge retention.
Benefits Of Implementing Fun Game-Based Learning
There's a clear connection between building a productive environment and a fun one. Tapping into the power of play allows businesses to stimulate employees' learning retention and improve company culture. Here are a few important benefits of using gamification in the office.
1. Minimizes Stress And Anxiety
Since the start of COVID-19, employees have continued to face increased stress and anxiety. In fact, 49% of employees [3] report having less energy, and 44% of managers [4] observe decreased employee morale. Playing games during training releases endorphins, which help people better cope with mental health issues. Beneficial to new and veteran team members, the social interaction from games helps employees reduce isolation and get to know each other more. After all, happier employees are more likely to pay attention to and engage with your training, which results in higher retention rates.
2. Builds Relationships With Peers
In 2020, 42% of employees were found to be engaging less with co-workers. With millions [5] of people working from home, it's more important than ever to help employees establish positive professional connections. Playing games together encourages team bonding and helps resolve conflict. Games can help your employees learn about their peers and cut out the awkward small talk so that they can more effectively collaborate.
3. Creates Organized Fun
Let's be honest—no one enjoys sitting through long meetings and being talked to by a presenter. Game-based learning makes training interactive and fun. Consider breaking up training with a mind map or brainstorming activity that forces employees to critically think and engage with the material. Challenging employees to practice and apply what they are learning is key, and gamified training gives employees a fun and safe place to try, fail, learn, and succeed.
To make the most of organized fun, implement the following practices in the training:
Motivate: Provide incentives that encourage employees to engage with the material
Make it relevant: Offer actionable takeaways between the training and the employee's job function
Remediate: Give immediate feedback so learners understand what they can do to improve
4. Boosts Innovation And Productivity
Of course, any game-based learning program needs to meet business objectives and focus on overall improvement. Our employees' successes aren't tied to the amount of work or training they complete, but the quality of what they produce afterward. Gamification gives employees a chance to take a step back from a challenging task to refresh their minds and see things from a new perspective. Once they unlock their creative side and break through any psychological barriers, they're more likely to develop innovative ideas that boost productivity.
Discover Fun Ways To Encourage The Power Of Play At Work
In these unprecedented times, adding an element of play will help promote work engagement and build a culture that makes your employees want to keep working. To build a fun work environment through game-based learning, consider the following methods:
Develop games that help employees interact with each other to build lasting relationships
Challenge employees with concepts to tap into their creative and problem-solving skills
Break up meetings with games to refresh employees' minds and help them see new perspectives
Provide incentives that motivate employees to engage and learn
Whether building a standalone training game or a robust gamification training program, it's essential to develop a strategy that meets your business objectives and improves the overall employee experience.
References:
[1] 47 Gamification Statistics You Must Know: 2020 Market Share Analysis & Data
[2] Match-three games dominate US iOS market at 21% of revenue
[3] New Limeade Study Reveals Troubling Impact of COVID-19 on the Employee Experience
[4] Study Finds U.S. Businesses Are Prioritizing Employee Well-Being as They Look to Rebuild
[5] 159% Increase in Remote Work Since 2005: FlexJobs & Global Workplace Analytics Report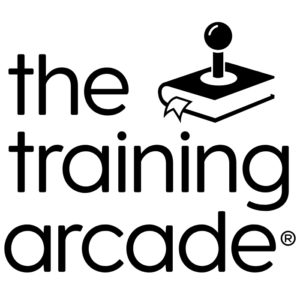 The Training Arcade
The Training Arcade® is a library of 10 games and gamification platform you can customize with your training content to reinforce educational material, assess knowledge retention, measure overall teaching effectiveness, and improve learning outcomes.