Before Integration - The Difference Between LMS And TMS
It's important to know the difference between a TMS and an LMS so you don't end up buying the wrong product, and you can utilize the product you have bought to the fullest extent. If a TMS is a software that helps training companies to streamline and optimize the back-office training processes for Instructor-Led-Training, then an LMS is a software that helps manage eLearning, by facilitating content management, course delivery and tracking of all internal processes. Now we have clarified what the distinction is between both systems we can proceed to dig deeper. So we can discover how we can integrate them with Virtual Training Labs.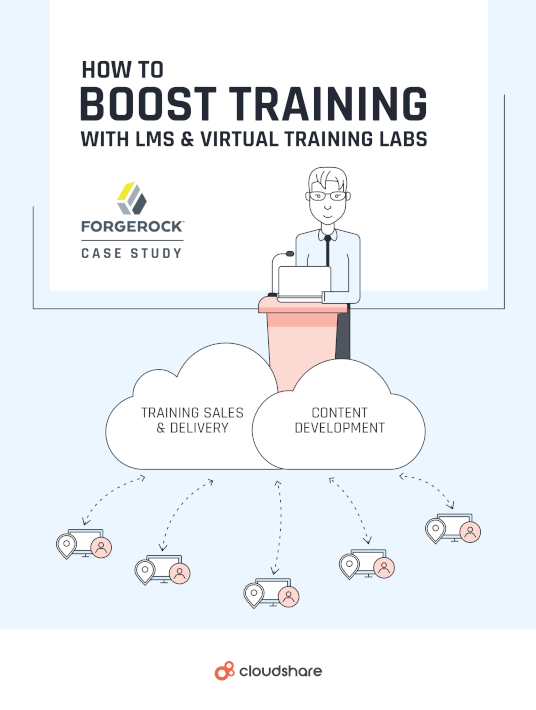 eBook Release
How To Boost Software Training With LMS & Virtual Training Labs
Learn why LMS and virtual labs are mandatory to successful training, how to integrate solutions and get results
About The eBook: How To Boost Training With LMS & Virtual Training Labs
This  eBook is great for those who need to understand the integration of sorts. The way a TMS distinguishes itself is that it helps you with Instructor-Led Training Management. So in case you need to build a complicated calendar or assign trainers and resources to specific classes, tracking expenses in the process per session, region or business unit, these are all aspects you can attend to with a TMS. If you merely want to operate your eLearning on an elementary level, an LMS will definitely suffice. Several companies "simply" need to organize, present and control online courses through an end-user interface.
Regardless of whether the training comes with an online instructor or the eLearning course is entirely based on self-paced online content, both of these forms revolve around preparing learners to work with complicated software and network environments. Some real-world practice is necessary to be able to implement techniques in the actual real world. To make sure a learner feels confident to apply learned techniques we have to make sure the transfer of knowledge happens flawlessly in a way that it sticks, on the long term too.
As Cloudshare puts it:
"Cloud-based IT labs, or virtual training labs, bring complex environments online so students and trainees can benefit from fully interactive experiential learning in a secure and fail-safe atmosphere."
Cloudshare specializes in these connections and integrations, making sure a so-called virtual lab can be used together with an LMS so there is one big information database instead of two separate ones. There are integration combos which are particularly useful which Cloudshare is especially good at facilitating. It involves the following utilization:
Creating classes
Adding and editing students
Managing updates and corrections.
Analysis
It speaks for itself that an efficient implementation eliminates the need for manual entry of data between systems and reduces the possibility of errors. So instead of having to invest the majority of the budget into a framework which is needed to make everything work smoothly, you can instead focus on the actual content itself. Upholding and forever improving company standards. Having more time left to optimize processes on the go.
Awesome Implementation Of Software Integration
Halfway during the eBook How To Boost Training With LMS & Virtual Training Labs they highlight all the benefits of a superior integration. By this time it should be clear what the perks are of combining an LMS with a Virtual lab. To sum them up in a structured manner so there is absolutely no shadow of a doubt, here is an essential list of the 'pros:
1. Scalability And Consistency
If the systems are all-round integrated into a cloud-based solution, companies can expand their customer base and increase their student load without physical or monetary expansion. This way you also mitigate the risks. It's also an efficient method of database preservation. For present and future use.
2. Increase Security And Availability Of Content
As you can keep content and class environments in a virtual space on the cloud, it means the data will remain secure and secluded. At all times you will be able to determine who has access to the content, which relieves the IT department, enabling students independent of location and time to attend whenever they need to. Fast actions, short terms, tremendous results.
3. Facilitate Analysis And Reporting
With the extra energy which can be invested in higher-level analytics, it's easier to track metrics on the LMS side. A more in-depth analysis of student performance in a virtual labs class will become possible.
4. Track ROI
Get great insights into cost-allocation and overall revenue expenditure. Which are integrally linked to management systems and Virtual Labs. If you get insight into how this bundle of information travels throughout the company and is interconnected to payment, you will be enabled to use this data to your advantage.
5. Invest And Grow
Indirectly all these measures create an excess in saved funds because you didn't have to use them. You have more funds to create better content, improve your service and deliver better products; more time, more funds, more satisfied clients and more capacity.
The Perfect Integration Of Systems
All employees require proper training to be more effective and productive in what they do. In order to communicate better and deliver a final great product, ever improving and reflective on their own growth. But great tools are needed to deliver great products. To eventually make sure that revenue streams are optimized in the whole process. Making more time and money available to create better and longer lasting content. Content which an employee truly retains. Preceding the implementation of any LMS its the integration with Virtual Labs which really leverages the potential of the content and execution of a training strategy. From improved overall communication to attending to classes at any location or any time which suits the learner.
A software training solution that integrates cloud-based LMS and virtual labs is an exceptional way to increase the effectiveness of your training including your training revenues. Whatever you do, download the eBook How To Boost Training With LMS & Virtual Training Labs to learn how such an integration can be realized and above all, is necessary beyond belief.