How To Improve Customer Experience With A Customer Training Platform
Loyal customers are the lifeblood of EVERY successful organization. Thus, it's essential to focus on how you can enhance CE to retain your existing customers. Not to mention, win new ones to continually expand your base. Surveys show that customer experience is the leading priority for businesses. The reason for this is simple; brands that focus on CE reduce churn and double their revenues. But how can you leverage a customer training program to improve customer experience?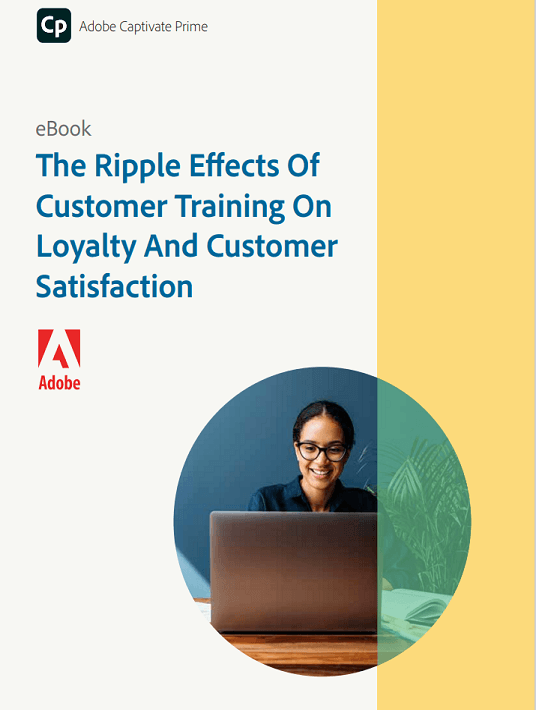 eBook Release
The Ripple Effects Of Customer Training On Loyalty And Customer Satisfaction
Discover how to use learning technologies to enhance your customer retention strategy and boost brand loyalty.
How Do You Improve CX with LMS Technology?
An LMS solution can be the lynchpin of your customer experience strategy. It is journey-centric and gives you the power to influence feelings, emotions, and behaviors through education. These are the best practices when using an LMS for CE:
Set Clear (And Measurable) Objectives
Before you onboard customers, identify the business objectives you intend to achieve with the training. Create metrics and CE KPIs to point you in the right direction. These analytics also allow you to design a training strategy that addresses consumer pain points head-on.
Keep An Eye On Customer Success
Make it all about the customer. They use your product because they want to achieve specific goals. Your training should identify and address these needs to help customers overcome obstacles. Home in on customer feedback as opposed to concentrating on transactional responses. The key is to concentrate on journey-centric feedback.
Support Onboarding And Implementation
Onboarding is critical for your customers' future decisions regarding your product or service. If they're educated about your product, customers are more likely to bring in repeat business. Create a detailed and experiential introduction to your brand that instills confidence and builds an instant rapport.
Make It Multiplatform Friendly
Customers no longer want to be tethered to a desktop computer to learn about your company and its offerings. More than 50 % of internet traffic comes from mobile devices. So, your training should embrace multi-device digital journeys. Also, consider using both online and offline channels, as well as social and formal training approaches.
Use Journey Mapping
Map out customers' processes, perceptions, and needs, as they engage with your brand to improve customer experience. Next, cross-reference these journey maps with key CSAT metrics to better understand your customer experience strengths, weaknesses, risks, and opportunities.
Maximize Upselling Opportunities
Upselling and cross-selling also benefit customers, when done right. For example, you can use the LMS to make targeted product recommendations based on quiz results or simulation performance. This also allows you to provide individualized customer service without being too salesy.
Benefits of Using A Customer Training Platform to Enhance Customer Experience
Enterprise LMSs help companies effortlessly implement training programs that are engaging, accessible, and scalable. Adding or updating online training materials is quick and convenient thanks to intuitive UIs and built-in assets. What's more, you control who accesses the information and track user performance.
As such, the LMS paves the way for a smooth customer onboarding experience since they have round-the-clock access to education-based marketing tools. When done right, you strike a balance between value-added training content and product promotion. All of these factors enhance customer satisfaction, which elevates CX scores.
In fact, experts say that progressive training increases customer satisfaction with their purchase. And LMS solutions make it easy to achieve this by boosting engagement levels throughout the online training process. You can continually expand your support library to meet customers' needs and expectations.
Thus, LMS customer training programs can be customized for every step of the buyer's journey. They also empower sales teams to completely own the post-sale process, since they're equipped with greater consumer insights.
For example, follow up with customers who might be interested in additional services or upgrades. Likewise, your marketing team can use LMS insights to power retention campaigns and improve customer experience. Analytics provide valuable insights about customer behaviors, habits, and pain points you can address in customer training initiatives.
Advanced LMS solutions have dynamic training capabilities. Customers can search and select the learning materials that are most relevant to their current goals or gaps. Another important advantage of using LMS training programs to enhance customer experience is gamification.
These edutainment-geared platforms have broad capabilities to incentivize customers to complete the training program and seal the deal. For example, they may include rewards, points, badges, trophies, and certificates to recognize their efforts.
The Connection Between Customer Experience, User Behavior, and Educational  Content
More often than not, users are qualified buyers who've already shown interest in your product or service. It is possible to link customer experience to user behavior equity if customer education is the fundamental framework. The roles of customer, consumer, and the user now overlap with each other.
However, each role still has distinct touchpoints regarding brand interactions, products, and services. The expectation-confirmation model is a paradigm that best explains how customer satisfaction and user behavior are linked and how the right information can influence both.
Consumer behavior, when buying a product, is mainly influenced by their expectations about its usefulness. These are their perceptions of its inherent value versus their investment. Providing customers comprehensive info about the product or service can sway their decision-making process in your favor.
In other words, brands should focus on two critical goals for success: make the product useful, then give customers the skills or knowledge they need to maximize usability. User behavior, customer satisfaction, and opportunities for repeat business depend entirely on how well you package your product knowledge training.
Bear in mind that customer education extends to every sector. Content and service providers can use a customer training platform to build awareness for their brand AND offer insider tips. It's not solely about self-promotion, as providing value-added resources forms a connection between you and the consumer. In short, you become an industry thought leader they trust and respect.
Customer Training Platform Features You Should Look For
Customers often need guidance to set up and use products to get top value for money. Even if they don't rely on these support resources, their mere existence will offer added peace of mind. If they ever run into a problem, consumers know that help is just a click away. Here are the customer training platform features that every company should consider:
Robust Reporting
Your customer training platform is going to hold massive data. Ensure that you have features for easy reporting and visualizations that allow you to identify trends.
Sales Integration
Sales teams shouldn't have to sacrifice leads during the training process. Find a customer education platform that integrates with your existing sales systems to centralize all your records. For instance, it's compatible with your CRM software so that staffers can follow up and continue their customer outreach.
Personalized Learning Paths
In SaaS, customer training is focused on driving user adoption and information retention. It's critical, then, to work with a platform that helps you create personalized learning paths for each customer's pain points.
Live Training Support
Pre-recorded video lessons are great, but your LMS customer training platforms should also facilitate live instructor training to maximize customer engagement and overall experience.
Real World Application
Enhance the value of your product or service by choosing an LMS solution that enables customers to participate in simulations and scenarios. There's no substitute for real world experience when it comes to overcoming the learning curve. This also allows customers to see your product in action so that they get a feel for the UI and features.
Conclusion
Ultimately, to improve customer experience you need to focus on customer success. How can you help them achieve their objectives by using your product or service? More importantly, how can use consumer education resources to optimize CX and product functionality? Satisfied customers who receive ongoing support and guidance are more likely to come back for more...and bring in referral business.
Download the eBook The Ripple Effects Of Customer Training On Loyalty And Customer Satisfaction today to discover more tried and tested ways to retain your customers and bring new ones on board. You can also join the webinar to learn if the "holy grails" of consumer education are truly achievable.