How Does Game-Based Learning Differ From eLearning Gamification?
The primary difference between game-based learning and eLearning gamification is that game-based learning is often seen as a standalone activity that you can embed into the learning journey. On the other hand, eLearning gamification is a more holistic approach that incentivizes all or certain aspects of that journey. For instance, learners earn badges for achieving certain milestones for completing microlearning activities that reinforce favorable performance behaviors. It makes the core content and objectives fun while also ensuring learning.
The main difference setting the two apart is the integration of game mechanics with the training content. Game-based learning is often more targeted, in that it focuses on a specific skill, core competency, or task. While eLearning gamification uses game mechanics to track performance/progress and spark intrinsic motivation on a larger scale. This is done through leaderboards, badges, points, and incentives.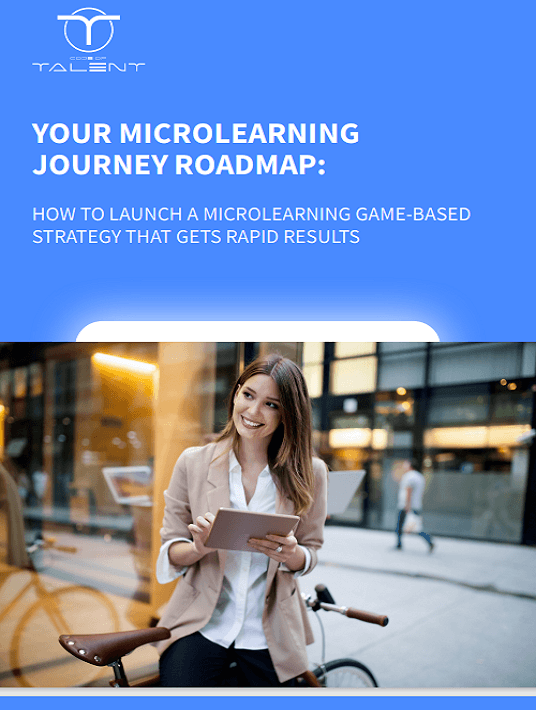 eBook Release
Your Microlearning Journey Roadmap: How To Launch A Microlearning Game-Based Strategy That Gets Rapid Results
Discover how to level up your L&D program with game-based microlearning!
Application Of Game-Based Learning
In an environment involving game-based learning, users practice the skills and concepts in a risk-free setting. Their understanding of the concept being taught is directly proportional to their progress in the learning journey. Some common applications of game-based learning are sales enablement, customer service training, compliance training, soft skills, or technical skills training.
Retention and recall rates are significantly impacted as users are more engaged with the subject matter. When the engagement rate increases, the retention rate automatically does too. Game-based learning is well suited for complex concepts. It keeps the users engaged, yet challenges them. Employees can also put the new knowledge and skills into practice without real-world implications. The feedback they receive refines their skills before trying them in the real world.
Application Of eLearning Gamification
Elearning gamification integrates the current content with engagement software to motivate the employees. It could be basic additions like adding levels or progress bars to the content. Or more complex additions like a point system for correct answers and leaderboards for the employees visible to all. Some common applications of eLearning gamification are on-the-spot knowledge reinforcement, bridging soft skills gaps, ensuring employees don't make errors while on the job, informing employees about product innovations and how it can help their customers.
Gamification is mainly implemented to encourage engagement. Humans have a need to collect, compete and ultimately succeed, and gamification targets that need. Gamification helps them engage with simple training content and wakes them up. There could be a training quiz with a points system when onboarding new employees, or a simple training refresher, or even just a fun way to have a team-building day, such as with a virtual scavenger hunt.
There could also be compliances games like safety games or having virtual competitions to see who knows the new state laws for your industry best. It also motivates employees to complete more courses so they can beat the high scores, move up on the leaderboard, above their peers, and earn rewards.
You don't need to create new content each time so gamification is fast and inexpensive to onboard new employees to the existing training platform. Gamification is appropriate for certain types of training and if done properly, gamification can provide discreet feedback and fuel personal growth.
The training content needs to be simple and easy to understand because if it takes too long to complete, the engagement level drops. This is where microlearning is beneficial when implemented as the users stay engaged throughout the bite-sized training.
Which Should You Choose?
With game-based online training, you can interact with facilitators, managers, and other learners. You are able to ask questions and receive immediate feedback on your progress. The understanding is also tested in real-time and the weak points can be focused upon. With Code Of Talent, you can design your own microlearning journeys around your own content, technologies, and policies. All programs can also be adapted, even on the go.
Choosing between game-based learning and eLearning gamification depends upon the objectives and needs of your organization. If done wrong, it could lead to unmotivated employees and a higher turnover. But if implemented correctly, engagement is expected to increase and you would have happier employees within the organization.
Conclusion
Microlearning is quick to consume, but it's not always quick to develop. Fortunately, this eBook has best practices and tips to choose the best platform in record time. Download the eBook Your Microlearning Journey Roadmap: How To Launch A Microlearning Game-Based Strategy That Gets Rapid Results for more insider secrets.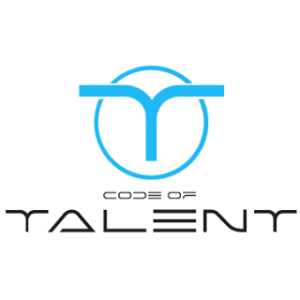 Code of Talent
Code of Talent is an award-winning SaaS platform that helps employees learn and apply fast, in a very dynamic business environment with minimum training time, minimum costs and on the job live impact.