Shooting For The Stars And Falling Short? Sync Your Learning And Development Strategy With Lofty Learning Ambitions
It is normal to aim high. In fact, it's a good thing. Complacent organizations without a great Learning and Development strategy and great aspirations will never do great things. They'll remain stagnant and inert, with lousy and ineffective training programs. Eventually, they'll be unable to compete against competitors that aim higher and do better, especially those that leverage a superior Learning Management System (LMS).
But it is one thing to shoot for the stars with the right people, processes, and technologies in place to get you there. It's quite another thing to aim high while simply sticking to "the way things have always been done". But that's what seems to always happen.
Why? Why is it so many organizations out there aspire to achieve great results from their Learning and Development programs yet rely on the same old stagnant methods to get there? Well, they simply haven't discovered the potential and power of progressive eLearning, to put it simply. It all comes down to blended learning, an approach that involves providing learners with more frequent and unique learning opportunities. It's commonly associated with the 70:20:10 learning framework, which incorporates the idea that 70% of learning is acquired through direct experience, while 20% is achieved through social means, and only 10% is relayed through traditional instructor-led, classroom-based learning.
Ambitious Aims Need Structural Support
According to a recent report on the state of learning in 2016, analysts at Brandon Hall Group (BHG) found that a quarter to a half of organizations have loosely defined learning strategies and don't employ a wide variety of learning modalities and approaches in their Learning and Development programs. This is in spite of the fact that blended learning approaches are continually found to be more effective than traditional learning approaches (i.e. classroom-based, instructor-led training).
For example, companies were asked to rate the effectiveness of blended learning approaches in achieving improved performance. Organizations that provided multiple learning opportunities outside of the classroom with a mix of formal, informal, and experiential learning reported effectiveness at achieving improved individual (56%) and organizational (46%) performance considerably higher than those that do not use blended learning approaches (22% and 19%, respectively). The numbers also show strong correlations between providing out-of-classroom learning experiences and better compliance records, reduced error, improved employee engagement, and reduced time to productivity.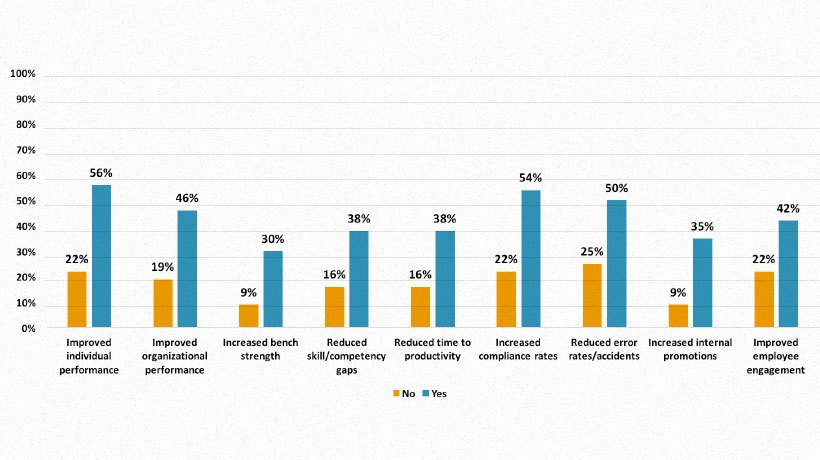 Rethinking And Refreshing Your Learning And Development Strategy
When we look at frequency of learning opportunities for job effectiveness, we also find that there is a discrepancy between how often employers would like their employees to interact with learning opportunities and how frequently learning opportunities could realistically be provided, especially in the context of a traditional learning environment.
For example, more than 60% of companies expected employees to interact with learning opportunities on a weekly or daily basis. Traditional learning environments based on instructor-led, classroom-based training would be hard pressed to achieve this volume of delivery on even a monthly or bimonthly basis.
"This means organizations have to rethink their learning strategy to make learning more of an embedded activity that occurs as part of the normal workflow, rather than separate from it", Learning Analyst David Wentworth explains in the report.
There is at least a seed of hope in all of this. We know from the aspirations of leaders in learning surveyed here that there is at least the desire to provide more training opportunities here. They want their front line workers to be exposed to more training opportunities, and with aggressive frequency. However, that kind of frequency of training cannot be achieved without the desire to also provide multiple training opportunities and provide new modalities of learning, including experiential and social learning, as opposed to simply traditional methods.
The takeaway is this: It is commendable to set the bar high and seek to achieve great accomplishments in Learning and Development, but in order to achieve exceptional outcomes you have to implement a progressive, relevant Learning and Development strategy (if one is not already in place), and also embrace blended learning approaches that combine both formal and informal learning, along the lines of the 70:20:10 framework.
Want to learn more about best-in-class learning strategies and the state of learning approaches in 2016? Download this free Brandon Hall Group report today, exclusively through Docebo.