Rapid Development: Custom Training Tips When Dealing With Remote Employees
No doubt, the learning needs your workforce faces today are like none you've seen before. Custom learning has never begged for a more rapid development, yet many companies face preparation paralysis. We've identified 12 best practices that will navigate you and your team through the uncharted waters of achieving rapid custom training development for your suddenly remote workforce.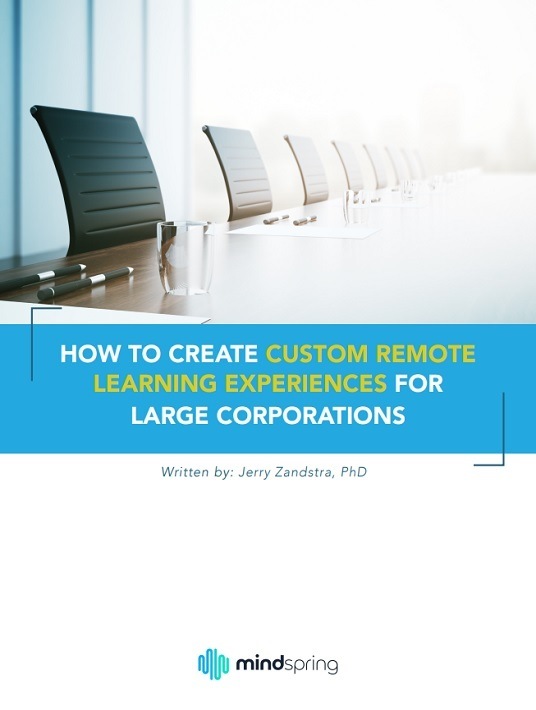 eBook Release
How To Create Custom Remote Learning Experiences For Large Corporations
Learn how to deliver quality training in the shifting sands among onsite, completely remote, and blended learning.
1. Prioritize Rapid Development Custom Training
This is an important first step and, if needed, can be done quickly. First, categorize the topic, determining if time or quality is more important. This isn't to say that both can't happen, but in a rapidly remote situation, you'll need to sacrifice one of those, to some degree—either it goes out quickly or it's done exceptionally well. In order to achieve your aim, you'll need to prioritize one at the relative expense of the other.
2. Gather Champions
The key is to begin with people who have a track record of adaptability. Identify early adopters who've already embraced remote communication. They'll make for great champions, even if they're not experts in learning or even on the L&D team. They could also be SMEs who are excited about helping the learning team develop materials in this current climate or even those who are interested only out of necessity. Start by equipping these people to use the technology tools that we'll get to in a moment.
3. Delegate
Now that you've essentially added additional members to your team for the short term, divide up the time-sensitive materials and work with your champions to create simple content. This allows you to push out the initial time-sensitive material rapidly.
4. Communicate
When you consider the realities of rapid development custom training, it's impossible to overcommunicate. You want to convey that the L&D team is working quickly to create materials learners need in order to be successful, whether in the office or remotely. Achieve this level of communication by keeping emails simple, using instant-messaging tools, and sending out short audio messages in podcast form. These don't require much time, and they instill confidence that effort, strategy, and velocity are teaming up to support the workforce.
Strategies For Design
So once you've determined priorities, gathered and mobilized your champions, and initiated regular communication, it's time to start developing content to push out to your remote workforce. There are many strategies that are effective for remote, rapid deployment. We'll focus on two different areas: first, the instructional strategies used to create the content and, then, the technology tools available for rapid development custom training.
5. Focus On Motivation Facts For Rapid Development Custom Training
Whatever the learning event is, examine why it's important now. Why the immediacy? Keep your gaze fixed on what can be gained and how can it help the learners immediately.
6. Focus On Real-World Application
The need is in the here and now. Identify how this learning helps in the employee's current job, and when possible, provide scenarios and examples that are appropriate for the current pandemic working situation.
7. Create A Speed-Conscious Minimum Viable Product
Consider what you can produce rapidly and simply. None of this needs to be ultra-professional. There are many options that you can turn around today. Think about things like short screencasts and how-to clips. Pump out infographics or job aids in place of videos. And when something does call for a video, swap out professional voice-over in favor of user narration. Host simple podcasts. Administer surveys using plug-and-play assessment tools. Streamline even more by creating templates that can be used across a variety of materials.
8. Utilize VILT
One of the easiest ways to deliver learning remotely is through virtual ILT (VILT) sessions. The transition to using a web conferencing tool is easier and requires less new content development than any other method. But remember that when users are remote, it's important for the facilitator to even more carefully manage group dynamics and orchestrate discussion.
Visual Appeal
Add to your current visuals to increase engagement. Add transitions, charts, and images that provide movement on-screen and reduce the amount of time learners spend looking at a talking head.
Personal Touch
While a talking head by itself wearies learners, a live instructor does help personalize the learning, so alternate between the presenter and the visuals.
Polls And Pivots
While VILT is still instructor-led, it's most successful when it's learner-directed. Use polling to ask genuine questions. Once you have the pulse of your audience, adapt your content to fit the direction of their needs. Of course, this doesn't replace planning ahead. It mirrors live, in-person discussion, where the facilitator often pivots based on audience feedback.
Breakout Rooms
Design small-group discussions to pair with virtual breakout rooms, just like you would do in a live setting. Allow socialization to kick off those breakout sessions, so each group acclimates.
Too often, VILT feels like a webinar instead of a synchronous, interactive event. But it doesn't have to be that way. By taking advantage of the tools web conferencing systems now offer and being intentional in the design and facilitation, a synchronous VILT event can be a great opportunity for your remote workers to interact and reengage. It can be a hallmark learning opportunity.
Strategies For Development
In addition to modifying the instructional strategies, there are many technology tools that make rapid development custom training a far-easier reality than even just a few years ago. The tools discussed here aren't even close to comprising an exhausting list. These are tools we use frequently and to great effect at Inno-Versity. Note that named products aren't paid endorsements.
9. Utilize Rapid Development Custom Training Tools
Look for tools that do the heavy lifting of graphic design so that content writing and development can remain the focus. Largely text-based tools make development easier. Visuals can still play a major role, and it should still be eye-catching, but simplified design prioritizes content delivery. Our tool of choice at IV is Rise 360 in the Articulate suite, but there are plenty of others out there as well. Many LMSs even have built-in rapid authoring tools. Consider this article as a great way to start your search for a rapid development tool.
10. Use Screen-Capture Tools For How-To Videos
You want tools that are easy for your champions to use. These lie on the desktop and can be easily accessed to make one-to-two-minute screencasts. At IV, we love Camtasia and Screencast-O-Matic, but our favorite is Loom. One of the best features is the in-screen video of the developer's face, which pairs with what's being captured on-screen. This creates a personal approach that other screen-capture tools don't offer.
11. Consider Off-The-Shelf Content
For many industry-standard topics, consider an off-the-shelf subscription. When it comes to compliance training, leadership skills, software- or cybersecurity-awareness training, purchasing off-the-shelf learning can be far more cost-effective than custom development. Consider developing smaller microlearning elements as wraparound pieces to customize the portions that need customization.
12. Engage Rapid Development Custom Training Providers
When rapid development custom training is essential, consider working with a custom content provider who has the ability to scale learning on tight timelines. At IV, we work almost exclusively with large, existing L&D teams that need some extra help due to project size or condensed timelines.
Customizing Tip Integration
While every organization in every industry faces similar challenges right now, no two situations are the same. All 12 of these tips have the potential to land your learning right where you need to, but the approach, amount, and adaptations depend on the factors you face. Start with a quick prioritization and champion gathering, then dive in and take your learning on the rapid development journey your remote workforce depends on now more than ever.
The modern corporate environment undeniably needs to implement remote learning practices. If you're wondering how to deliver quality training in the shifting sands among onsite, completely remote, and blended learning, download the eBook How To Create Custom Remote Learning Experiences For Large Corporations, and find out all you need to know! Also, join the webinar Why Curriculum Mapping Is The Cornerstone Of Custom Remote Learning Success, and discover more about the subject.

MindSpring
MindSpring is an award-winning agency focused on delivering engaging and transformative digital content. We create digital experiences using exceptional creativity, the best of learning science, and innovative technology. (Previously Inno-Versity)