How To Prep Your Team For A Post-Pandemic Workplace
These are uncertain times. And it's not just the fear of contagion that's putting people on edge, but the psychological and emotional aftermath. Thus, SMBs must prep their team for new compliance challenges, ease them back into the workplace as well as provide them with ongoing JIT support to address emerging gaps. The catch is that the "new normal" has altered many business practices and safety training tasks. Our downloadable eBook can help you mitigate risks and develop a holistic H&S strategy. Safety Training Success For SMBs: How To Prep Your Team For A Post-Pandemic Workplace covers all the essentials, from producing top-notch videos to hiring the best outsourcing partner for your program. But first, let's review some of the things that staffers loathe about safety compliance training and how to turn the tides.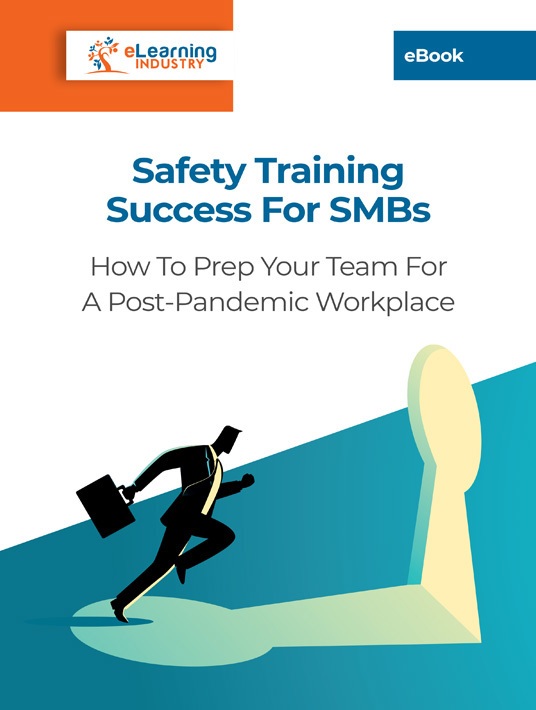 eBook Release
Safety Training Success For SMBs: How To Prep Your Team For A Post-Pandemic Workplace
Find out how you can implement a successful health and safety training strategy in your organization.
6 Things Employees Loathe About Safety Training
1. Outdated Demos
There's simply no excuse for outdated safety training videos. You can always reuse existing assets to create fresh content. Or reshoot demos with the help of top performers. Feathered bangs might be nostalgic, but they're also a distraction. Employees are so focused on the retro style that they lose sight of the compliance training objectives. Plus, it diminishes the real-world value because tasks and technologies are no longer relevant.
2. Cookie-Cutter Certifications
Certifications are ideal for compliance training because they track individual progress and hold employees accountable. However, they need to be personalized and role-specific. To illustrate, customer service staffers must be aware of unique compliance issues and H&S tasks that pertain to their job duties. One-size-fits-all certifications are good for broad topics. But safety training calls for niche knowledge and experience. So, allow employees to pick and choose resources that are relevant to their work responsibilities. Or develop personalized paths to address common mistakes or compliance risks.
3. Lack Of Mobile Accessibility
Nothing angers modern employees more than limited accessibility. It's frustrating to log in to the training platform, only to discover oversized images and unintuitive navigation. If your online course is designed exclusively for PC users, you're robbing mobile learners of valuable compliance resources. One of the best ways to bring your safety training strategy into the digital era is a responsive LMS. This automatically displays the most suitable version based on the user's device. You should also optimize multimedia for mobile viewing and include subtitles for anytime, anywhere training.
4. Technical Jargon
Your coronavirus safety training content must be easy to assimilate. In other words, employees don't have to pull out a dictionary to decipher every sentence. If you do need to include technical jargon, include a pop-out glossary for the sake of clarity and convenience. There are 3 key problems with using complex vocabulary. Firstly, it's difficult for employees to absorb the takeaways. Secondly, it hinders emotional connectivity. And, finally, employees feel out of their depth. Should they be able to understand these terms? Did they skip a crucial module or safety training activity?
5. Theory Over Practice
Many organizations are guilty of putting theory above practice. Their primary focus is memorization versus real-world application. Employees only need to remember the information long enough to pass the safety training exam. However, their goal should be long-term retention and practical use. Every employee training participant needs to apply those policies, protocols, and coronavirus safety precautions on the job. Simulations, branching scenarios, and examples are just a few tools to facilitate mistake-driven learning and experiential knowledge.
6. Information Overload
Even if the content is easy to understand and fosters real-world application, cognitive overload could render the experience useless. Our brains can only process so much information at once. Thus, you must break the safety training topic into bite-sized pieces to make it stick. For example, safety training courses feature 5 distinct sections that cover individual sanitation protocols. Every module or activity covers related tasks and skills. But employees can take their time and move on once they've absorbed the information.
How Do You Prep Your Team For A Post-Pandemic Workplace?
Many small-scale businesses assume they don't have room in their budget for outsourcing. Or that they can put safety training on the back burner because they have a limited staff size. In reality, SMBs reap numerous rewards from third-party content providers, ranging from fast turnaround times to reduced spending. The key is finding the right partner for the project. Here's a brief glimpse of what you'll find in our eBook, Safety Training Success For SMBs: How To Prep Your Team For A Post-Pandemic Workplace:
Ways COVID-19 Impacts Global Safety Training Initiatives
Reasons To Launch Safety Training Courses In Small-Scale Organizations
Tips To Produce Relatable Safety Training Videos For Your Team
Safety Training Topics To Cover In Your Compliance Library
Safety Training Support Resources That Are Always Worth The Investment
Office Safety Training Activities To Add To Your Employee Development LMS
Workplace Safety Training Implementation Pitfalls And Tips To Prevent
eLearning Tools That Are Essential For Coronavirus Safety Training
Tips To Pick The Perfect Coronavirus Safety Training Solutions Provider
Online Safety Training Outsourcing Secrets Every Company Should Know
This is uncharted territory for most organizations. So, how do you narrow the list of topics? Which activities to upload to the LMS? Download your digital copy of Safety Training Success For SMBs: How To Prep Your Team For A Post-Pandemic Workplace today. It's hot off the presses and packed with valuable tips to stretch your budget and mitigate compliance risks, as well as secrets to create engaging content in-house or choose an outsourcing partner that specializes in your industry. Last, but not least, you'll discover how to choose the right tools for the task so that you can populate your online training library rapidly.