The Solution-Based Learning Guide: Is Your Organization Focusing On The Symptoms Or The Cause?
While many organizations take measures to evaluate their training programs and pinpoint problems, most tend to focus on the symptoms rather than the root cause. Thus, their strategies may fall short of expectations because they don't target the underlying issue. This solution-based learning guide has all the info you need to expand your project scope, troubleshoot L&D gaps, and choose the best outsourcing partner for your organization.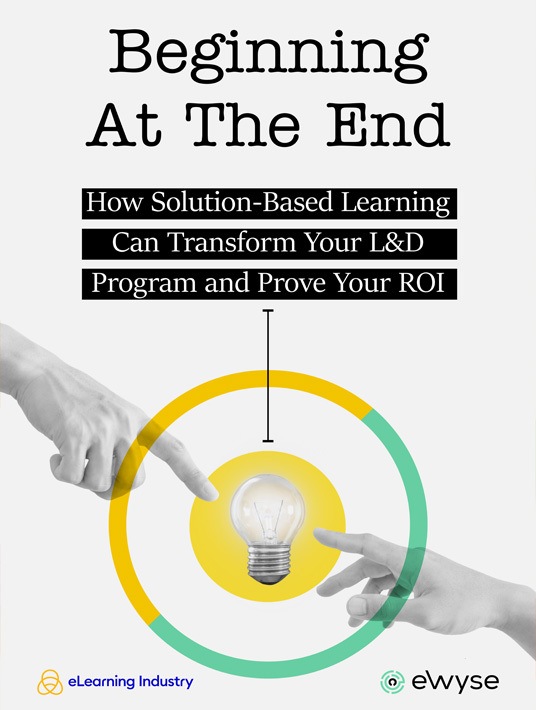 eBook Release
Beginning At The End: How Solution-Based Learning Can Transform Your L&D Program And Prove Your ROI
Discover the many benefits of solution-based learning, the steps involved, how to get internal buy-in, and much more.
Skipping Steps Is A Slippery L&D Slope
One of the most common mistakes that organizations make is jumping right into the development process. While it might seem like skipping ahead and forgoing needs analysis will lead to cost savings, it can actually decrease your ROI in the long term. Evaluating your current approach and identifying the problem allows you to create initiatives that will have the biggest impact, instead of devoting resources to activities and modules that don't align with your business objectives or desired outcomes. With solution-based learning, you also have the opportunity to assess the effectiveness of your eLearning program and retrace your steps if the best results aren't achieved.
About This eBook
How do you embark on your solution-based learning journey? Which red flags indicate that it's time to consult with an expert? How do you find the best agency for your L&D initiatives? Here's a sneak preview of what's inside this guide by eWyse and eLearning Industry:
Beyond Development: Expanding The eLearning Project Scope
What Are The Steps Involved In Successful Solution-Based Learning Projects?
Tell-Tale Signs That It's Time To Consult With An eLearning Expert
Where Do You Start? The Need For Broader Needs Analysis
Ways To Make A Strong Business Case For Solution Based-Learning
How Solution-Based Learning Helps You Prove Training ROI
Secrets To Set Measurable Goals And Achieve The Best Results
Tips To Choose The Right eLearning Agency For Your L&D Program
Get Your Copy
Download the eBook Beginning At The End: How Solution-Based Learning Can Transform Your L&D Program And Prove Your ROI today to discover how you can leverage the solution-based approach to achieve your objectives and make your eLearning development process more problem-centered.