What Are The Best Employee Retention Practices? - Top Upskilling And Reskilling Strategies
One of the perks of launching an upskilling and reskilling training program is reducing employee turnover. That said, you need the right tools and techniques to retain top performers and build key competencies cost-effectively. The strategies below can help you cut recruitment and new hire onboarding costs, boost employee satisfaction, and achieve long-term business success. But, that's just the tip of the benefits iceberg when you launch an employee retention program.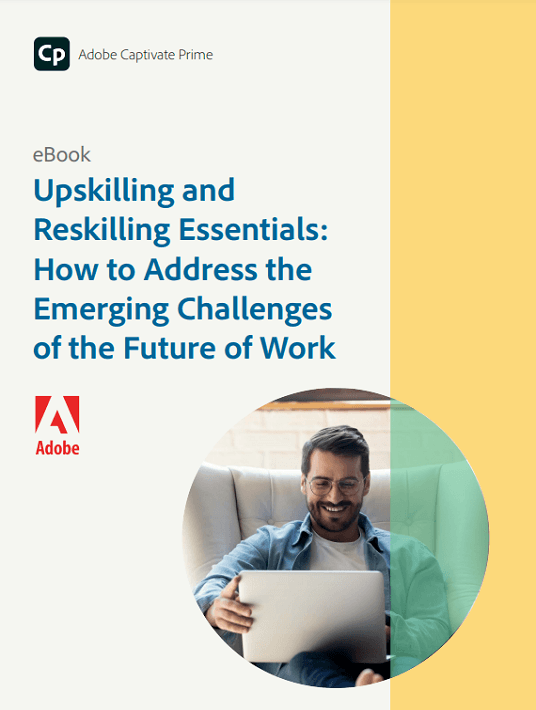 eBook Release
Upskilling And Reskilling Essentials: How To Address The Emerging Challenges Of The Future Of Work
Discover how to cultivate core competencies and build crucial skills to overcome remote work obstacles!
What Are The Main Drivers Of Employee Retention?
Before discussing how to upskill and reduce staffer turnover, it's crucial to understand why employees stay on in the first place. Does training increase employee retention? How does your corporate culture factor into the employee turnover equation? Aside from salary and their benefits package, here are some of the top reasons why employees remain with their current organizations:
Smooth onboarding
Supportive company culture
Fulfillment and job satisfaction
Personalized online training
Advancement opportunities
Effective team dynamics
Run surveys, polls, and questionnaires as part of your employee retention program to find out what makes your staffers tick...and stick around. This data helps you customize every aspect of your L&D strategy because you understand what they expect from your organization and how to meet their individual needs.
How To Upskill Existing Employees And Sharpen Retention
Personal talent development is highly sought after by job candidates who can contribute their unique experience and expertise to your business. Thus, it's no surprise that existing employees expect ongoing support and personalized resources to address emerging gaps on the spot. These retention strategies in the workplace can help you lower attrition rates and improve performance management in 2021 and beyond:
1. Launch Personal Learning Plans
Employee retention training centers on individualization, in that employees should have the opportunity to pursue their own paths based on roles and duties. For this reason, many organizations launch personalized plans to bridge gaps rapidly and allow for greater L&D flexibility, which increases satisfaction scores. As an example, one of your sales employees can focus on personal areas for improvement and upskilling opportunities to land that big promotion. They're able to pave their own paths thanks to personal home pages and recommendations to broaden their talents autonomously.
2. Use Gamification Badges To Spark Employee Motivation
Employees may need a little nudge to actively participate in upskilling and reskilling courses. Gamification badges not only spark their intrinsic motivation but help you track performance and overall progress. The key is to align badges with specific behaviors and skill development milestones. For instance, you might award a badge upon completion of a customer service certification path, which ensures they've mastered interpersonal skills fundamentals. Another great thing about badges is that staffers can show them off to prove that they have the necessary know-how and experience, making them stand out from the crowd as potential leaders and/or training mentors.
3. Fuel Friendly Competition With Leaderboards
A successful employee retention program typically involves a good dose of competition. We're not suggesting that you encourage all-out brawls by pitting peer against peer, however, leaderboards can foster comradery and ignite their competitive spirit. The secret is to give everyone an even playing field. For example, new hires are already at a disadvantage when they join the team if the top performer has an excessive amount of points. The newcomer can never catch up because the experienced staffer has gained too much leaderboard ground. Thus, you can restart the board after a specific time period or group employees based on their stage of the journey. Another option is to launch a fresh leaderboard for every certification path or course if everyone enrolls at the same time.
4. Offer Just-In-Time Training Tools
JIT tools are ideal for managing employee retention because they provide discreet ongoing support. Employees can access the library whenever the need arises, such as when they detect an underlying skill gap or are unable to perform a task. They even have the opportunity to upskill without having to make room in their busy schedules because all of the activities are bite-sized. Real-life scenarios are a prime example of microlearning that offers practical, hands-on experience minus the risk. Last, but not least, Just-In-Time training helps reduce employee turnover because they have a safety net to fall back on, which bolsters their self-confidence.
5. Encourage Social Learning Support
Social learning and peer-based feedback is another targeted approach to improve employee retention while cutting L&D expenses. For example, employees can share their insights and unique experiences through User-Generated Content. Everyone has access to topic or task-centered message boards to save time and address gaps right away. You can even set up boards that focus on specific skills or competencies to upskill with ease. Above all, social learning facilitates knowledge sharing remotely so that every member of your organization can contribute and exchange ideas.
6. Empower Team Leaders With Skill Dashboards
Employees should have detailed oversight when it comes to skill development. Preferably, a personalized skill dashboard that's packed with recommendations, upcoming courses that tie into their job roles, and feedback. They know what's up next in their certification path based on past training performance or they're able to view their spot on the leaderboard. That said, leaders must also have a clear overview of their team's performance and progress at a glance. For instance, how many of their employees have already completed mandatory skills training and earned the coveted badges. In short, leaders need built-in support so that they can, in turn, support their departments and tackle emerging pain points head-on.
How To Leverage An LMS To Gather Actionable Insights
The global pandemic has reshaped the way we think of remote work and virtual training. It's no longer a luxury that only Fortune 500 companies can afford, as more and more SMBs switch to telecommuting to mitigate financial and safety risks. Fortunately, you can implement a Learning Management System, like Adobe Captivate Prime, to gather actionable data and leverage it for your employee retention techniques. For example, identify patterns that may indicate a deeper issue with your online training program or skill-building support library. Reports and data visualizations equip you with the insights you need to upskill staffers and continue to cultivate their talents instead of having to find replacements.
Download the eBook Upskilling And Reskilling Essentials: How To Address The Emerging Challenges Of The Future Of Work to learn how to foster internal talent, regardless of your budget or staff size. You can also join the webinar to leverage learning to move your business in the right direction.