TalentLMS Pricing Plans: Flexibility Galore!
Cloud-based software subscriptions have taken the world by storm (cloud - storm, see what I did there?), and for good reason. Cloud-based software is easier to start with (no infrastructure required), easier to deploy (just open an account), and easier to manage (the Cloud operator handles backups, updates, and upgrades).
The subscription model comes with its own benefits too. If, for example, you just want to run a 3-month long eLearning program, you are not required to pay the full price of the LMS, as is the case when you purchase most desktop software. You can just subscribe for as long as you need. Even better, you will never be left with a piece of native software that lacks the latest features, or doesn't work with your new OS update. As long as you are subscribed, your software will always be up to date.
Monthly or annual subscriptions are also great for enterprises, because the payments are periodic and predictable (compared to having to upgrade your LMS whenever your eLearning vendor puts out a new release), and can be treated as an operating expense for tax purposes.
TalentLMS, of course, is both Cloud- and subscription-based, and comes in a number of pricing and feature tiers that can cover every basic or advanced corporate eLearning need. Let's examine the available options so you can pick just the right one for your budget and use cases.
TalentLMS Pricing Tiers
Free
If you are very budget conscious and only want to train a handful of users, this might be the best plan for you. Ditto if you just want to evaluate TalentLMS for a little while, before proceeding with a full subscription.
Of course there are some limits -- you can only have up to 5 users, and at most 10 courses. Other than that, though, and with the omission of a few more advanced enterprise options, the Free tier gives you a fully featured LMS with no time limits or other strings attached. In fact, you don't even need to enter your credit card details to get started with it.
Paid Plans
TalentLMS paid plans come in "Standard" and "Unlimited" tiers, which differ in the amount of users and features that are supported.
While both Standard and Unlimited plans have a limit on the number of active users, Unlimited plans allow you to have, well, unlimited registered users. Plus, if you want more active users than those allowed by your plan, Unlimited plans allow you to increase your active user quota by paying a small charge ($4) for each additional user.
Paid plans are offered in both annual and monthly billing options. As the annual subscriptions come with an extra discount over monthly ones, they are recommended if you plan on running a long-term eLearning program.
Small
TalentLMS' smallest paid plan is great for SMEs or small organizations with a few dozens employees (or, at least, a few dozens employees than need training).
At just $29/month (annually billed), it gives you affordable eLearning deployment for up to 25 users and unlimited courses.
Small Unlimited ups the prices to $79/month, and allows for 25 active users (unlimited registered users), and the option to increase your active users by $4 per additional active user. If your company has several teams of 25 people or less that it would like to train in rotation (so that not all of them are active at once), this is a great plan.
Basic
Next up from Small is the Basic plan, which clocks in at $99/month (for annual billing) and increases the supported users to 100, and adds Single Sign-On, so you can integrate your eLearning portal login with your company's intranet.
Basic Unlimited gives you unlimited registered users (with active users still capped at 100), and adds Triggered Actions (a TalentLMS feature that lets you automate certain eLearning operations).
Plus And Premium
For larger businesses there are TalentLMS' "Plus" and "Premium" plans, starting from $199/month, which offer unlimited courses Single Sign-On support, Triggered Actions, and Custom Reporting.
Plus supports up to 500 users (or 500 active users, for Plus Unlimited), and Premium supports up to 1000 users (or 1000 active users for the Unlimited tier).
Custom Reporting, which is only available on the Plus and Premium plans, refers to the ability to design and generate new reports for your eLearning portal using your own queries, filters and data fields.
Annual And Monthly TalentLMS Pricing
By paying for a year in advance (annual pricing plans) you get a significant discount, compared to month-by-month pricing.
This can translate to substantial savings if you know that you will be using TalentLMS long term, e.g. the Plus plan is $199/month on monthly payments but comes down to just $179/month with an annual payment.
On the other hand, if you only plan to run your training program for just a few months, or you just want to try out TalentLMS beyond the free tier, or, finally, if you simply don't want to pay the full annual amount in advance, it can make sense to opt for the monthly subscription.
Note that Annual and Monthly plans are available for both the Standard and Unlimited tiers.
Custom Plans
If you need to support more than 500 active users (the limit on our Premium Unlimited plan), then our Custom plans might be just the ticket for you.
Tailored specifically to each big customer and allowing for up to 50,000 users, TalentLMS Custom plans are meant for the largest of enterprises and organizations. They also come with volume pricing that offers an even greater value for training at scale.
As your size and needs may vary, and to allow to us to better provision and fine tune for your use case, custom plans cannot be opened from the TalentLMS website. Instead, you can contact our sales and support team for more information and for getting started with a new custom plan.
The Price Is Right
Cloud-based software frees you from installation, update and maintenance concerns, and subscription payments let you avoid up-front costs and commitment, and "pay as you go". And besides the fact that it lives on the Cloud, the TalentLMS pricing options you get are super flexible and accommodating for all needs, today and tomorrow.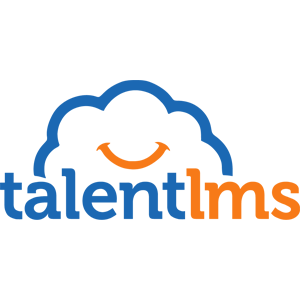 TalentLMS
Easy to learn, easy to use, and easy to like, TalentLMS is designed to get a "yes" from everyone, including C-level execs, budget heads, and busy employees. Now, instead of checking out, your whole organization leans into training.