Find The Right Coronavirus Safety Training Solutions Vendor
Frankly, we can all use a helping hand these days, whether it's to tackle our grocery shopping list or alleviate a heavy workload. SMBs, in particular, can benefit from outsourcing partners who expedite online training development and reduce spending. However, you need the right Coronavirus safety training solutions provider for the task. A company that's passionate about your industry and overcomes its compliance challenges, preferably, without breaking the bank. How do you pick the perfect coronavirus safety training company when time is of the essence? No need to cut corners or make any hasty decisions, as this article features 7 tips and tricks to vet vendors today.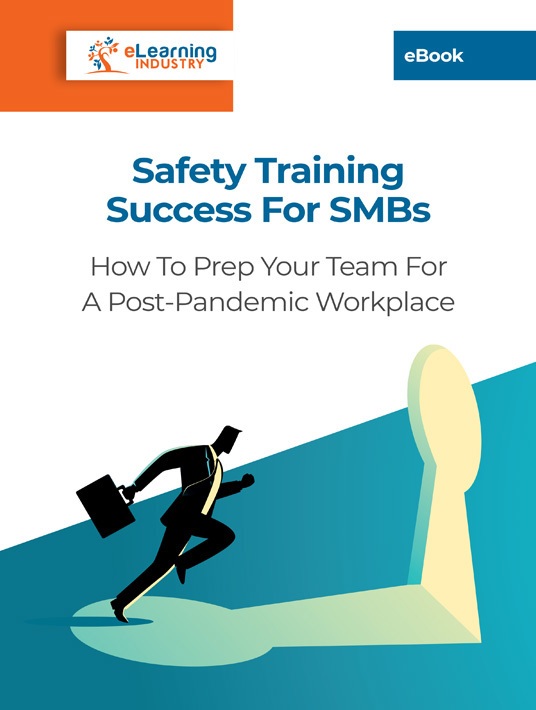 eBook Release
Safety Training Success For SMBs: How To Prep Your Team For A Post-Pandemic Workplace
Find out how you can implement a successful health and safety training strategy in your organization.
1. Search An Exclusive Safety Training Content Provider Directory
A free online directory takes the guesswork out of vendor vetting because it includes qualifications and specialization areas. Companies are also able to provide a brief bio so that you can evaluate their background, as well as the key selling points that set them apart from other coronavirus safety training providers. Another standout directory feature is the "trending eLearning content providers" section at the top, which showcases the top 3 companies you may want to consider for your safety training program.
2. Evaluate User Reviews
User reviews are often a gold mine for training managers because they offer free insights. You don't have to hire the vendor for online safety training only to discover that they're underqualified or inexperienced because reviewers have already tested the waters. Every user is able to share what they liked best and least about the experience. They must also provide some background info, such as their industry and staff size. As a result, you can focus on reviews with a similar use case or project scope. In addition, all the reviews kick off with a summary statement. This allows you to save time and skip reviews that don't align with your priorities.
3. Assess Performance Overviews
Performance overviews comprise of 6 individual star ratings: communication, achieved results, responsiveness, value for money, deadlines, and quality of service. These totals are tallied up for the overall rating, which is a percentage. There's also a likelihood to recommend score. Every reviewer can share their own star ratings based on the evaluation criteria. Then the grand total is featured at the top of the page. Additionally, you can sort the main directory listings by rating to quickly identify top outsourcing providers.
4. Ask For In-House Recommendations
Your staffers may have valuable information they aren't even aware of. Maybe they've worked with safety training outsourcing companies in the past. Or they're part of a networking group with safety training pros. So, ask for recommendations and consider all your options. You can even host a live event where everyone can offer suggestions and tips to streamline the process. If your team is fresh out of ideas, you might consider social media groups. There are numerous pages and online communities dedicated to online training outsourcing. Their members can help you find the best Coronavirus safety training provider for your industry.
5. Peruse Online Portfolios
Every Coronavirus safety training company, regardless of their experience or niche, should have an online portfolio. This portfolio showcases their best work so that you get a feel for their design skills and expertise. However, it must also be paired with basic project info, such as online training objectives and outcomes. These elements provide context and allow you to assess their work practices. They should also have a landing page that highlights USPs and solutions, as well as contact info so that you can submit requests.
6. Submit RFPs
Since we're on the subject of vendor RFPs, let's dive into the proposal process. After you pick a handful of vendors who meet all your requirements, it's time to draft requests. This covers everything from project scope and budget to evaluation criteria and follow-up. The goal is to get responses from vendors that map out the timeline, support services, and cost estimates. You can even send targeted questions to narrow your shortlist even further or set up meetings with your top choices. Bear in mind that RFPs aren't set in stone. Additional content, add-on services, and faster turnaround can increase the price tag.
7. Contract Test Projects
Many organizations go through the entire vendor qualification process and end up with two or three amazing vendors. They're in your price range, specialize in safety training, and have stellar ratings. So, how do you break the tie? Why not hire them for test projects to see how they perform in the real world. It might be a brief Coronavirus safety training simulation or module that requires minimal resources. The purpose is to see how vendors handle the project from start to finish. Do contract negotiations go smoothly? Do they communicate on a regular basis? Are they responsive? What's the quality of the finished product? Are they willing to make minor revisions? In short, test projects mitigate risks because you can evaluate their work ethic before signing long-term contracts.
Keep in mind that your new Coronavirus safety training solutions provider can help you long after the pandemic has passed. In fact, the goal is to find an outsourcing company that becomes a long-term partner. They can navigate emerging challenges with you and devise creative training interventions. Ultimately, you want a guide through the choppy waters of compliance who values collaboration and two-way communication. So, try not to rush through the vendor vetting process and don't skip any of the crucial steps, such as submitting RFPs, meeting with top contenders, and contracting test projects.
Health and safety training should be high on your list of L&D priorities, now more than ever. If you want to find everything you need in order to launch an effective safety training strategy for your organization, download the eBook Safety Training Success For SMBs: How To Prep Your Team For A Post-Pandemic Workplace and benefit from its valuable insights and best practices.