How To Identify A Customer-Friendly LMS: 7 Common Elements To Observe
If you're implementing an LMS for the first time, you'll be stretched in all directions. Money is tight, and you must ensure the cost savings associated won't be swallowed by migration costs. Your HR colleagues are excited about the reporting possibilities, as are your senior leaders. Your L&D team are itching to get the best features out to their learning environment. All this, and you need to deliver against your basic objectives: upskill your workforce, increase employee satisfaction, and save money. How can you tell if an LMS is going to benefit you, in all those ways, to be regarded as a customer-friendly LMS?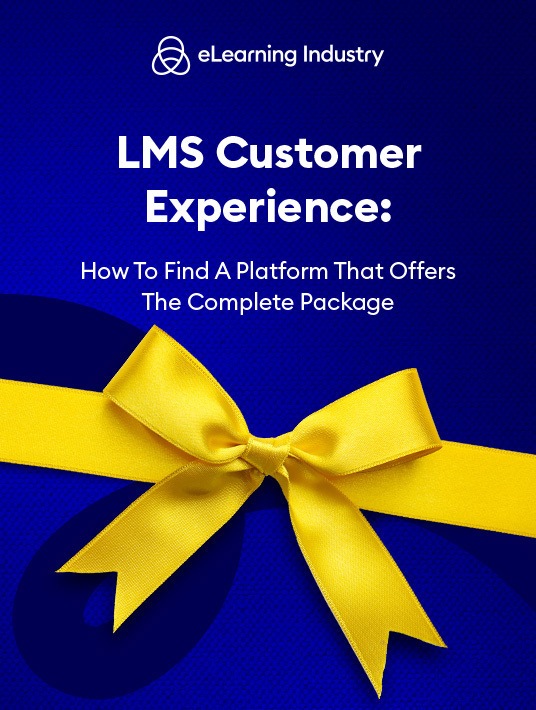 eBook Release
LMS Customer Experience: How To Find A Platform That Offers The Complete Package
Find out why LMS Customer Experience really matters, the benefits of delivering a Superior CX for your organization, and how to set your LMS expectations before purchasing a new platform.
The best LMS solutions will deliver an excellent LMS customer experience, both for users and administrators alike. The system should transform the learning environment in every way: from exciting and engaging online training courses, to reliable and fast reporting. Every step from migration to template design and analytics should be smooth and intuitive. These are the 7 key traits that you need to look out for in your LMS vendor selection:
1. Intuitive User Interface
Every interaction with an LMS should be smooth, intuitive and consistent. A developer creating a new eLearning template should find the LMS as easy to use as the online learners themselves. Design features must be easy to access and use without additional training. Individual learners should see a tailored training path that they can follow throughout their entire eLearning journey. The LMS support team and other HR colleagues must also be able to easily access the necessary dashboards and analytics.
2. Customer Service
If you're implementing a company-wide system, you will need to ensure you have sufficient support. This will be needed through the implementation process and when the system is active. Make sure you understand the essentials: how do you report a problem? What's the response time? Is this support service included in the pricing structure or requires an extra fee? Look for a combination of phone/email helpdesk, live chat and FAQ/knowledge base support. Companies with the best support tend to be those offering free demos or trials so that you can try before you buy.
3. Easy To Customize
Most of the customer-friendly LMS solutions will allow you to personalize the system to your company's needs. This should cover reporting, assessment, branding, look & feel, and style. LMS reporting should be based on your requirements, not a standard set of reports. It must be easy to replace the reports loaded with the software with your own tailor-made set. You should be able to define access by specific user groups. Lastly, incorporating your branding elements should breeze, including your logo, color scheme, and relevant graphics.
4. Easy To Scale
The LMS you choose should match the current company size, with the option to scale as necessary. If your company grows or changes, you shouldn't be penalized with heavy costs for adjusting the user base. New features must be available to you as technology develops, so that you continue to feel the benefit of your LMS. The system should work consistently across different languages, countries and operating systems. A truly customer-friendly LMS alleviates company-wide growing pains by being a flexible solution.
5. Stress-Free Content Management
A well-designed and customer-friendly LMS will have smooth content management at its heart. This should start with migration, which must be time-efficient. Online training resources and users can be migrated with ease. A customer-friendly LMS will allow for sharing resources across training paths, as well as adding and removing online training content and users. You should not have to recreate online training resources in order for them to be used in the new environment. Unless, of course, you want to make use of the new design features within your LMS to improve your eLearning templates.
6. Online Resource Libraries
Many customer-friendly LMS vendors now provide online resource libraries for their customers. These feature everything from online training tutorials on how to use the tools' popular features to printable troubleshooting online guides. This equips your organization with the tools it needs to use the LMS most effectively, as well as to educate your less tech-savvy employees on how to access the crucial online training materials they require.
7. Advanced Troubleshooting Options
There are certain LMS obstacles that are more complex or time consuming. In most cases, you'll need to enlist the aid of a trained IT professional to remedy the glitch or coding error. For example, a handful of your employees are unable to log into the system due to an authentication issue. A customer-friendly LMS comes complete with advanced troubleshooting support options so that you can optimize functionality. Such as a support ticket system whereby you can report errors and receive a quick follow-up email or phone call from a specialist. Or, an active user community where you can get tips and tricks on how to solve the issue on your own.
How to spot a customer-friendly LMS system? Start by looking for the solutions with the best online reviews for customer service and affordability. Then dig deeper to make sure the system will migrate smoothly and interact seamlessly with your environment. Get yourself a demo or a free trial. If the vendor doesn't offer them, that's often an easy dismissal. Make sure you can customize the look and feel of the system as well as the reporting and assessment options. Last, but not least, check that this can be done without a huge investment in training and rollout. The best LMS vendors will be eager to show you their customer-friendly credentials. Prepare yourself by knowing the key traits to look out for, and your LMS investment will be sound.
Do you need an LMS that delivers a superior customer experience to help you fulfill your online training objectives and boost ROI? Download our free eBook LMS Customer Experience: How To Find A Platform That Offers The Complete Package to discover how to use LMS reviews and rating to evaluate your next LMS, and how to use an online directory to find and evaluate LMS Vendors that offer the ideal level of LMS Customer support.